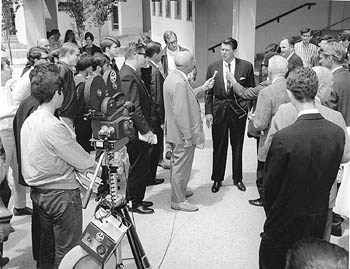 Covello & Covello Historical Photo Collection

Ronald Reagan Visits UCSC: Ronnie was here May 18, 1967, as our governor. He addressed the Board of Regents on the very controversial tuition issue. There was a huge student protest against him.

Bruce Bratton

DEL MAR HISTORICAL NOTES. In doing research for the Gala Reopening last weekend, which was enormously successful, I came up with a few things that may interest historians. It was not the world premiere of China Clipper, the film that opened the Del Mar on August 14, 1936. A sneak preview of China Clipper was held July 30 and the world premiere happened Tuesday, Aug. 11, 1936, at the Strand Theatre in Chicago. We have the newspaper reviews from the Chicago Evening Journal to back that up. Yes, the original inaugural program for the Del Mar says "world premiere," but they were just overly enthusiastic. I also found out from graphic artist Jim Phillips that his mentor Ralph Grey, who left many fine illustrations around Santa Cruz, had a cartoonist/artist cousin named Harold Grey. Phillips thinks it was Harold Grey who designed and painted the Theatre Del Mar sign on the back of the building that we see every day. Harold Grey went on to create one of the world's most famous comic strips, Little Orphan Annie. We'll be checking into that.

MORE GREAT FLUORIDE NEWS. The Centers for Disease Control (CDC) just announced that "nearly two-thirds of U.S. residents who receive water from public water systems now receive fluoridated water." The total U.S. population receiving fluoridated water is approximately 162 million. The CDC press release goes on to say that recent estimates "indicate that water fluoridation reduces tooth decay among children by 18 percent to 40 percent." Dr. Bruce Donald, Santa Cruz dentist and chair of the Monterey Bay Dental Society's Fluoridation Task Force, says, "We are particularly pleased to see the significant results in California, which increased from 15.7 percent fluoridated in 1992 to 28.7 percent in 2000." Dr. Donald continues, "Even so, California ranks 44th among all the states in the percentage of its population served by fluoridated water. The incidence of dental disease among the state's children is nearly double the national average." It's really odd to read percentages of state population that receive fluoridated water: District of Columbia 100 percent, Illinois 93.4 percent, Indiana 95.3 percent, Connecticut 88.8 percent, Maine 75.4 percent, New York 67.8 percent, Pennsylvania 54.2 percent, and here at number 44 is California at 28.7 percent. At least we're ahead of Utah at 2.0 percent.

DARK PLEASURES. Josh Hartnett's 40 Days and 40 Nights could have been a good new sex comedy, but it's so gross, so stupid, and about as subtle as a train wreck, to use an old expression. Don't go for any reason whatsoever. Also don't for any reason go to see Dragonfly, not only because it has Kevin Costner in it but when was the last time you saw a good film about birthmarks? Todd Solondz's newest film, Storytelling, is easier to take than his Happiness or Welcome to the Dollhouse. Matter of fact it's an excellent film with stuff that will have you completely absorbed all the way through. Monsoon Wedding is really about the mix of cultures between America and Delhi, India. You can't take your eyes off the embarrassing USA commercial stuff all through the film, and you end up noticing all the Indian stuff we've adopted into our lives. Go see Monsoon Wedding at the Del Mar.

WE WERE SOLDIERS. Another war film, with big stars, more blood and gore and of course big-time box office, as more and more Americans go to war films since Sept. 11 to get the feel of patriotism. Some reviewers have said about Mel Gibson's role as the lieutenant colonel leading his troops that he portrayed the officer as religious, caring, completely protective and friendly to his men, first into combat and the last to leave the combat scene. In short, he was what the Army would call the perfect officer. I talked to an old friend who was an Army officer in Vietnam for 14 months after training for eight years. He said that wasn't Hollywood's or Mel Gibson's interpretation, it was the way officers actually were. And not just one or two but most officers. Few men got to be or even see these officers in action, my friend stated, but "first into combat and last to leave" was true. Compassionate, dedicated, it was leadership in action. He continued that We Were Soldiers is already sending more vets to shrinks to deal with the reality of that film. My friend added that we had no business being there, we were there for the wrong reason, we won every battle there, but lost the war. Only see this film if you like good war films. On the other hand, Hollywood probably has dozens more now being filmed--they're big business.

QUICK MENTIONS. Ben Katchor, artist and creator of Julius Knipl, Real Estate Photographer, Beauty Supply District, and his most brilliant book, The Jew of New York, will make a rare West Coast appearance at the Magnes Museum in San Francisco on Thursday, March 21, at 7:30pm. He will give a talk on "The Great Museum Cafeterias of the Western World." This Sunday is the Poet and Patriot's 20th Anniversary celebration, which starts around 4pm. Yes, it's true that John Tuck and I bought the first beers there and we'll be there again Sunday to make sure everything's OK. Calico Winds, a women's virtuoso woodwind quintet, will play music by Bach, Berio, Mahler and DíRivera Friday, March 8, at Cabrilho College at 8pm. Get tickets by calling 479.6331 or at Rhythm Fusion or at the door at 7:15pm that night.

CALLING ALL SURFERS. The omnipresent Tom O'Leary suggests a raft of surfers, or a surfeit of surfers. Kim Stoner, who's surfed for more than 30 years, says it's really called a crowd of surfers, which may be real, but it does lack pizzazz. Mike Brown thinks it should be a slack of surfers. And the fun never stops. Keep them coming, we'll find one that fits. After that we can start naming those new colleges going up at UCSC--now there's a challenge.
---
Reach Bruce at [email protected] or 457.5814, ext. 400.
---
[ Santa Cruz | Metroactive Central | Archives ]