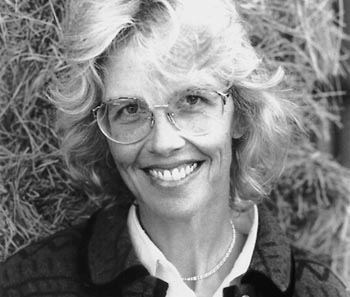 Galloping Gourmet: A herd of wild horses couldn't keep Jane Smiley away from writing novels.

See Jane's Horse Run

The author of 'Horse Heaven' weighs her chances at the track

By Tai Moses

JANE SMILEY is driving down to Southern California to see Wow race at Santa Anita. Over a somewhat crackling car phone, the author of the racetrack novel Horse Heaven sings the praises of her 3-year-old Thoroughbred colt.

"When he was born, he was just so fabulous looking that we called him Wow. He's gray, he's very pretty, and a year ago I sent him off to the racetrack, and he's trying to make his way. He's been a little slow to realize his potential--in other words, he won't be running in the Derby this year."

Wow, whose official name is Hornblower, has three starts, or races, under his saddle, and his performance has been admittedly less than spectacular. He's a little late to his own party. But "he seems to enjoy it, and he's happy," says Smiley, who lives in Carmel Valley. She's squeezing in this Santa Anita trip between book tour appearances for Horse Heaven (Ballantine, $14.95, paper), a galloping, deftly plotted delight of a novel with a Dickensian cast of two- and four-legged characters.

"There's a structure involved," she says, explaining the convoluted plot of a horse's racing career. "Wow has been in what you call maiden allowance races, and he hasn't done very well--they've been too fast for him. If you can't keep up with the allowance races he has to race with the claiming crowd."

Having one's horse race with the claiming crowd is the horseracing equivalent of having one's book end up on the remainder table--there's no shame in it, but neither is there much glory. It's also risky, especially if the owner is attached to the horse, because the animal can be claimed--or purchased--by someone else up to 15 minutes before the start of the race. One of the most memorable characters in Horse Heaven is a claimer named Justa Bob. Justa Bob is an equine mensch, a working-class horse whose downwardly mobile spiral (along with the unexpected conclusion) is one of the novel's most compelling story lines.

Fortunately, Smiley thinks it's unlikely that--as happened to Justa Bob several times--Wow will get claimed and go off to a different owner, since he's keeping his amazing potential a highly classified secret.

"I think he's still hiding his light under a bushel basket," she says hopefully. Jane loves Wow. And not just because he's gray, her favorite color.

"The horse who inspired Horse Heaven was a gray who died about a year and a half ago," she says. That was Mr. T, Smiley's first and most beloved horse and the model for a character of the same name in the book. Mr T, she says, taught her just about everything she knows. Indeed, Mr T's fictional doppelgänger is a wise old former champ with prescient insights into both human and equine behavior--and an unusual method for predicting the outcome of horse races.

Wow doesn't get the distinction of having inspired a literary character. He's too young. "He was born right about the time that I began to write Horse Heaven. But I have a 3-year-old, who's not at the track, who's the model for the horse Limitless. He's a beautiful brown horse."

As of this writing, Smiley owns 14 other horses. Their names are Fabulous Fanny, Persephone, Scout (a pony), Rapid Response, Chipper, Frozen Sails, Iona Prospector, Our Wild Rose, Mapleton, Sylvanshine, Cheerful, The Great Ray, Ethereal and Kiss Me. Several of Smiley's Thoroughbreds have brought home some very respectable purses from the track: Iona Prospector won $89,000; Mapleton has earned $58,000 and Rapid Response (whose nickname is Emma) has put $36,000 in the bank so far.

Great Ray is another track hopeful, although the 2-year-old hasn't been sent to the training farm yet. "He seems a little sleepy; we're waiting for him to grow up, but he's well bred to run," she says. Both Ray's sire and dam were successful race horses, and Smiley says a horse can typically be expected to behave the way its parents behaved. "I'm expecting him to wake up sometime this year and say, 'Oh yes, this is what I want to do!'"

Two Kentucky Minutes

FOR THE RECORD, besides the 15 (and counting) horses, Jane Smiley has three kids, three dogs, three ex-husbands and one boyfriend. She has celebrated 50 birthdays, written 10 works of fiction and won one Pulitzer Prize (for her 1992 novel A Thousand Acres).

One wonders how the Pulitzer stacks up to the tantalizing prospect of winning a race like the Kentucky Derby, which is a goal of so many of the human characters in Horse Heaven. But winning the Derby is not Smiley's particular quest. "I have more of a Breeder's Cup dream," she admits. "I guess that's my greatest dream, to win that Breeder's Cup turf race."

Anyway, winning the Breeder's Cup, the Derby or any big stakes race, she explains, is statistically much more rare than winning a Pulitzer. She says there are 35,000 Thoroughbreds born each year, and we both agree that there are fewer (we hope) than 35,000 novels published every year.

"The way I always express it is--people know how hard it is to get your novel made into a movie--I always say it's easier to get your novel made into a movie than to breed a stakes horse."

What Smiley would really like is to have Horse Heaven made into a TV series: "A wonderful sort of Northern Exposure or ER type--but with much more chicanery mixed in. That would be my dream. Sam Shepard would be great as Farley. There are a bunch of actors and Hollywood people who have horses at the track, and I would give them all parts in my TV series."

Talking about horses and books with Jane Smiley is some kind of heaven itself. Unfortunately, the farther south and the closer to Wow she drove, the worse our connection grew. I had to strain to hear the few last garbled sentences that elbowed their way through the airspace--she was telling me her interesting theory about baby boomers and horses.

"I always think that baby boomer couples get to be about 35, 40 and the man buys a motorcycle and the woman buys a horse. ... You could [garble] say there's not a sucker like a [garble] woman who loves a horse."

I felt like such a sucker when she said that. Then the car phone emitted a final crackle and the line went dead before I could ask if she was wearing her lucky socks for Wow's big race.
---
Jane Smiley reads from Horse Heaven on Thursday (March 8), 7:30pm at Capitola Book Cafe, 1475 41st Ave., Capitola. (462.4415)
---
[ Santa Cruz | MetroActive Central | Archives ]