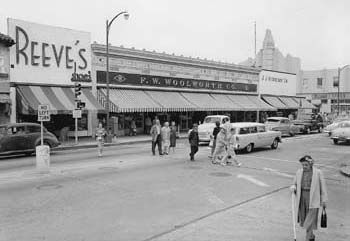 Covello & Covello Historical Photo Collection

Pacific Avenue Between Walnut and Lincoln: This was taken Aug. 29, 1957, in the old days, when you could actually buy things you needed downtown. Now this is the temporary World Bazaar, Gap and things like that. The photographer was standing in the intersection of Soquel and Pacific, where Borders will be.

Bruce Bratton

THOSE PLAZA PLANS. Folks, including the city and especially the Downtown Plaza Committee, have wondered for years why the property owner never filed even so much as a sketch of his plans for a five-story building at the corner of Pacific and Church. Now he has filed a "pre-application drawing," and we can see what he's been talking about. It doesn't change any plans or enthusiasm for a plaza at that location. If he'd filed those sketches 10 years ago and still done nothing with the property, we'd be exactly where we are today. The City Council-appointed panel or task force on developing a plaza will probably have met March 8 for the first time. If all went according to plans (I'm writing this Monday morning), our Plaza Committee will have presented a list of community uses, activities and ideas that we gathered from those 3,000 folks who signed the petition, and we'll make our point as clear as possible. Our point is that just about everybody in the county and just about every visitor wants a plaza on the corner of Pacific and Church if 1) we can work out something with the owner; 2) there's no "social problem" and 3) the city doesn't lose much money in the deal. We think we've got all that handled and are proceeding full steam. The Downtown Plaza Committee is having a monthly meeting pretty soon, but the library's closed and we haven't found a new place yet. The San Jose Mercury got it wrong--we have not submitted any plans or designs or fountains or statues, we only showed architect Hugh Carter's idea for a plaza. We want to involve a lot more thinking and planning before making any decisions. Our city deserves a world-renowned and incredibly beautiful and useful plaza after all it's been through. Call the committee at 475.9172 to keep in touch.

THREE DITZY FILMS PLUS ONE. There is not one good reason on earth to see What Planet Are You From?, the Gary Shandling bit o' tripe now showing. Annette Bening is always very good, but even she doesn't justify this film. Bette Midler and Danny DeVito's Drowning Mona is a much funnier film. It's a murder mystery with just enough kinky twists to keep you awake. There's something odd about the way they photographed Madonna in The Next Best Thing. After about three camera shots, you begin to notice she's got a shadow over her forehead in every take. It's the only reason to see this film--just check out how odd this shadow is. Sometimes you can see the shadow bounce up and down, sometimes it doesn't keep up with her movements. It's like cartoon shading. Her acting, and Rupert Everett's gay character, aren't worth discussing. I didn't like The Cup, the film about the Tibetan monks, a TV set and the World Cup of Soccer. Disney would have called it 101 Dali Tibetans or Those Darned Monks. It does show another side of monastery life, so if you were thinking of joining one, you may want to see it. The Del Mar and Rio theaters are in escrow. Koar Institutional Advisors of Beverly Hills hasn't closed escrow yet, but the group hopes to be the new owners of both the Del Mar and the Rio. I spoke with George Thompson, management director of Koar about the acquisition. He said he'd been talking with Ceil Cirillo and Jesse Nickell and said he knows about the community issues involved with both theaters. Thompson said Koar is a "community-sensitive owner" and is looking for tenants or would "embrace the idea of a performing-arts center there." Koar doesn't know yet what it will do with the properties, and the group develops, rents or manages other such pieces. My guess is that Koar is in it purely for the bucks and will go with whoever or whatever comes up with the best offer.

A SAD WEEK. Losing both Bill Colvig and Doug Rand in the same week was a real loss for our community. Bill was an inventor, a political activist, a gay-rights activist, a musician, a craftsman, a committed outdoorsman and longtime partner of Lou Harrison. Bill's contributions to our musical world go back at least as far as the Sticky Wicket and the beginning of the Cabrillo Music Festival. Doug Rand, formerly of the Resource Center For Non-Violence, led the fight against the visiting war ships and against the Civil War battles at Roaring Camp and, of course, took justifiable pride in the creation of the Collateral Damage statue near the town clock. Doug was a true believer and organized and led the winning City Council political campaign last year. I haven't heard about special celebrations or services for either of these great men as of print time, but they'll be announced.

MORE ON MOVIES. I saw the original Fantasia in its first release. It changed my life: I've been a classical music fan ever since. The new Fantasia, even with IMAX dome projection, doesn't have the musical or creative impact. It is worth going to San Jose's Tech Museum to see the cinematic qualities and what high tech has added, but the content of the film is lacking. I actually got a promise from the director/manager of the Cinema 9 and Riverfront theaters that he'd die trying to get us a new THX digital-sound trailer to tack on the front of the feature films. After the first thousand viewings, that moo-cow trailer and the hammer fix-it man get a bit tiring. If they keep showing those same old THX things, maybe we could all start screaming together and drown out the noise?

THE REAL LULU CARPENTER. Historian, author, archivist and international authority on Frederick Augustus Hihn, Stan Stevens, told me a few things about the soon to be legendary Lulu Carpenter. Like a very few things. Lulu once had a business where Espresso Royale is now located. Lulu did not own a dress shop or a bar or a coffee house, but a millinery shop. My computer thesaurus didn't know what a millinery shop was, but Mr. Webster sez it's a shop that makes, trims or deals in hats, bonnets, headdresses, etc., for women. Lulu's shop was badly damaged by a fire in May 1936. More about Lulu or how long the store was there hasn't been documented yet.

WHAT A SUMMER! Just think how exciting and different your summer would be if you rented out, or otherwise shared a room or two, with a visiting actor/person from Shakespeare Santa Cruz. These folks start arriving as early as late May and stay through the entire summer. You could probably get a couple of free tickets out of it, plus you'd get to hear all the backstage gossip and maybe you'd be housing some future Shakespeare star like Mel Gibson or Leonardo DiCaprio! Call company manager Sara Wilbourne at 459.5810 or email her at [email protected]. A bit later, the Cabrillo Music Festival will need some rooms, so be thinking about that too.

NEW MUSIC WORKS CONCERT. This will be a very special concert, because both Gene Lewis, who died two weeks ago, and Bill Colvig were a large part of the New Music Works as an institution. EMU systems is sponsoring this concert, which takes places Sunday (March 13) at 7pm at UCSC's Music Center Recital Hall. New Music Works will be performing a world premiere of a work by Hyo-shin Na, Tender Buttons by Bay Area-based composer Charles Shere based on a verse by Gertrude Stein, a solo harp piece by George Barati dedicated to Ruth Barati and a performance of Lewis' Quartet. You'll hear what new music is all about: the good, the different, the challenging. Call the UCSC ticket office at 459.2159 or try Streetlight Records.
---
Bruce critiques films every other Thursday at 12:50pm on KUSP (88.9FM). Reach Bruce at [email protected] or 457.9000, ext.400.
---
[ Santa Cruz | MetroActive Central | Archives ]