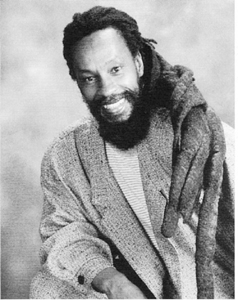 The Midas Touch: Ras Midas is gonna shake his Calabash Award come Saturday night.

Better Than the Grammys

The Sixth Annual Calabash Awards showcase hits the Cruz this weekend

By Peter Koht

According to Ras Midas, "If there was no Santa Cruz, then I wouldn't live here in the States." Born in Jamaica, Midas left at 13 and eventually wound up in our tiny coastal town mostly by accident. A major recording star with a huge fan base in Europe and Africa, Midas spends about six months of the year here. In recognition of this residency, Ras will be honored with a Calabash Award on Sunday night for his lifelong contribution to the ethnic arts. The honor, says Ras, "is better than a Grammy."

Now in its sixth year, the Calabash Awards have become a local institution whose integrity greatly outstrips most industry events. This year's list of gourd getters is impressive. Aside from Midas, capoerista master Itabora, guitarist Robert Lowery, Hawaiian dance instructor Leolani Lowry, Rainbow Theater and the African American Arts Troupe producer/director Don Williams, reggae ambassador Rocky Bailey and International Rhythm facilitator Arthur Hull will be honored.

"It originally started with Ethnosete," remembers Calabash event organizer Ana Marden. "We were trying to support ethnic artists in the area and were meeting under the auspices of the Cultural Council. They pitched in some money. For a while we were using that money to sponsor workshops, but eventually decided the best use of the funds would be to highlight the ethnic arts in the community. SCEAN [Santa Cruz Ethnic Arts Network] had been doing an awards show, but they had stopped, so we decided to take up that idea and run with it."

Choosing a memorable name for the show was the easiest task.

"We picked the calabash gourd because it is part of so many different cultures, but each one uses it in a different way. Some use it as an instrument, others as a utensil and others still for carrying water."

A more difficult chore was deciding who should get a squash.

"The first year we decided to do the show, the core group of volunteers came up with a list of people that we thought should receive one. We're only halfway through that list, and it's been six years."

The Calabash Awards tries to be all things to all people fairly successfully. Each year, recipients are drawn with the intention of representing a wide variety of art forms from different ethnic traditions. Additionally, the winners span across gender lines and geographical origins. An effort is even made to represent talent throughout the age spectrum from the very young to the very, uh, experienced. This year is no exception.

Ideologically, one goal of the Calabash Awards is to show the shared cultural experience of the entire race while highlighting a few select artists. Though the recipients may not actually be aware of this laudatory goal, they do appreciate the sentiment. Robert Lowery sums it up best: "Well, I mean, it's always nice to know that someone's thinkin' about you."
---
The Sixth Annual Calabash Awards Showcase Sunday, March 13, at 7pm at the Cabrillo College Theater, 6500 Soquel Dr., Aptos. Tickets: $15/advance, $18/door, general; $8/advance, $10/door, children 12-and-under/seniors. Call 831.420.2700 for information.
---
[ Santa Cruz | Metroactive Central | Archives ]