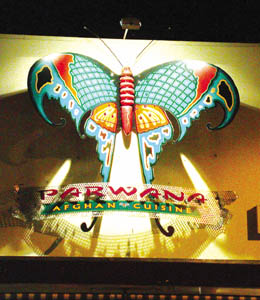 Photograph by Stephen Laufer

The Mothman Delicacies: At Parwana, you can enjoy delicious Afghan dishes or just form a cult around this cool sign.

Awesome Afghan

And now for something completely different: the former Bea's finds delicious new life as the area's first Afghan eatery

By Christina Waters

Even if you've rarely found yourself craving the ancient cooking of Afghanistan--and especially if you've never experienced it before--a charming new dining room at the corner of Soquel and Seabright is ready to expand your culinary consciousness.

Parwana is, surprisingly, the first Afghan restaurant in our melting pot of ethnic eateries, and judging by its instant popularity, Santa Cruz is way overdue for the fragrant pilaus, simmered vegetable stews and grilled meats of this far-away region (think Indian curries, Kurdish spiced yogurts and Pakistani kebabs).

A longtime groupie of Afghan food, I was looking forward to lunch at Parwana last week. Visions of earthy dried spices, tart sumac and heady mint powered my interest. Parwana restaurateurs have transformed the former breakfast landmark with the voluptuous rhythms of Middle Eastern music, whose aural calligraphy is matched by faux tile wainscoting, silk sari tablecloths and hanging hexagonal chandeliers reminiscent of ones I've seen in the bazaars of Cairo. It's all very fresh and welcoming, right down to the red runner dividing the room's dozen tables.

Even if you don't quite know what you're ordering, the menu offers clear descriptions of such all-star appetizers as aushak--steamed dumplings filled with leeks and topped with sensuous and very non-Western meat sauces, all sprinkled with the ubiquitous dried mint ($3.95). Do not miss this dish! This dish is so wonderful it is wisely offered in an expanded entree-size portion ($8.95) as well.

We began with the aushak and a must-have portion of buranee kaddu, an addictive creation of garlicky sautéed pumpkin topped with a tart sour cream dressing ($4.25). These two appetizers showed off the range of Afghan cooking, from the simply sensuous to full-bodied complexity. Even better, they were so completely distinct as to heighten each other's dominant flavors. If you've never encountered pumpkin as a savory vegetable, this dish will take you for a ride. As with the others, this one reflects the emphasis on dried herbs, yogurt, root crops and squashes predominant in a high desert environment.

All of these foods taste delicious with the national libation, tea, and it's worth emphasizing that no beer, wine or alcohol of any kind is available (not even BYOB) on site. But you won't miss it given entrees such as chicken kebab ($10.95), presented a la northern India with outstanding basmati rice and a gloriously jolting side of puréed cilantro, garlic, walnuts and vinegar. The tart dried sumac spice, which looks and tastes like a blend of tea, lemon peel and dried roses, was strewn across the grilled chicken and the rice. Fabulous! The huge plate was also abundantly garnished by a "salsa" of onions and tomatoes, plus sour cream and yogurt spiked with onions, cucumbers and more garlic. Garlic must be the culinary portal to the collective unconscious.

My entree of qabuli pallow (say it out loud and you'll see its point) is touted on the menu as a "traditional favorite Afghan dish." It could easily become a favorite Santa Cruz dish, given its sumptuous quantity of browned rice pilau topped with ribbons of fresh carrot and plump raisins ($10.50). Tender pieces of spiced stewed beef topped the pillow of pallow (apologies) and this dish was similarly accompanied by the bracing tomato relish and cooling yogurt dressing. Everything we sampled was so good, so genuine in its construction, that the real trick was to restrain ourselves enough to sample the baklava or the creamy Afghan pudding, firni, topped with pistachios. Unfortunately, we only had room for a demitasse cup of bracing, truly strong, truly fine Najjar Lebanese coffee perfumed with cardamom ($1.50). Not a problem--we've already planned our next meal at Parwana. See you there.
---
Parwana
Address: 1209 Soquel Ave., Santa Cruz
Phone: 831.458.1988
Hours: Noon-9:30pm Sun, 11am-9:30pm Tue-Thu, 11am-11pm Fri, noon-11pm Sat, closed Mon
Ambience: **1/2 Creative décor puts the Afghan high country into a California context.
Service: ** Very friendly and accommodating
Cuisine: *** Authentic recipes receive fresh, light treatment in delicious Afghan dishes prepared with expertise.
Overall: Parwana is a vibrant and welcome addition to the increasingly active east side scene; no alcohol is consumed on premises.
---
[ Santa Cruz | Metroactive Central | Archives ]