Buy 'Interrupteur/Tautologos 3,' a reissue of two 1970 performances by Luc Ferrari.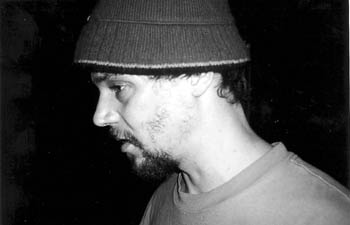 Just Say Oui: It's not a raspberry beret, but it'll do when 'Sounds French' comes to the Rio Saturday.

The Franco Files

For French electroacoustic innovator Luc Ferrari, le jour de gloire est arrivé!

By Mike Conneaux

Something there is that does--or doesn't--love the French. Some of us get all ga-ga over the accent, the cheese and cultural contributions like Serge Gainsbourg and miming; others feel our stomachs churn at the very same things.

Then there are those recent political events that have prompted some Americans to boycott French products and events--including upcoming shows in Berkeley and Santa Cruz. Now let's look at this rationally: On the one hand, you have Chirac politicking in France in opposition to war in Iraq. On the other hand, you have the pioneering electronic music composer Luc Ferrari sharing his "electroacoustic" musings with the world. Connecting the dots from Chirac to Ferrari is a bit like seeing a constellation of Saddam Hussein formed by exactly two stars--a miscalculation of astronomical proportions.

Nevertheless, the organizers of the "Sounds French" celebration of contemporary French music received exactly one email that did just that. "the emlc of the by area has requested a boycott of the luc ferrari show, and all other french products and exports," writes an anonymous caps-locked emailer. "i'm complying to [sic] their wishes. let him play in iraq, with chirac."

As of presstime, we weren't able to contact (or verify the existence of) the EMLC. No matter. According to "Sounds French" organizers, the event isn't political in the slightest. "These are great artists," says Veronique Larcher. "The fact that it's French is just secondary." So let's push politics aside and get down to the musique, shall we?

Sounds French to You

The month-long New York series 'Sounds French: New Music From France" is ambitious in its scope, with 23 events on the agenda designed to give New Yorkers a feel for the contemporary French sound. Lucky for us, Larcher was meeting with John Zorn in New York last month, and just so happened to meet the cultural attaché from the French embassy while she was there. In the end, she managed to snag the legendary Luc Ferrari for performances in Berkeley and Santa Cruz.

Long before DJs started cutting up tracks on the turntables, Ferrari was practicing the art of sampling and mixing music. Along with celebrated composers like John Cage and Pierre Henry, Ferrari threw himself headlong into the musique concrète movement back in the '50s, which employed field recordings of sounds from the urban and natural environments. Thusly anchored in recordings, the emphasis on found sounds distinguished the musique concrète movement from other computer-based music that synthesized sounds from scratch. Ferrari brought Cage's famous line, "Music is all around us, if only we had ears to hear," to a whole new level, making music from recordings of a road trip through the American Southwest and a small village in Yugoslavia, and incorporating voyeuristic recordings from public places into a musical context.

"I called it a sound poem around a real voyage, since it may very well be that poetry is playing life like an accordion," says Ferrari, "and that composition, in some cases--especially mine, and increasingly in my life--is a perverted game with truth."

Ah, the French. They have quite a way with words.

Nearly 50 years after Ferrari began his perverted experimentation, New York illbient turntablists like DJ Spooky and DJ Olive are incorporating elements of the musique concrète style into their recordings and performances. Gregor Asch, a.k.a. DJ Olive the Audio Janitor, has been developing "vinyl scores" for the turntable, a concept that turns the turntablist into a painter of sorts, using prearranged, prerecorded pallets of noises to paint multitextured soundscapes live in front of an audience. Asch isn't shy about his intentions to elevate the art form of turntablism, titling pieces with baroque names like "Composition 11 for Three Turntables," but he remains cheekily aware of the genre's weirdness in titles like "Perpetual Sound Check."

Produced by the same people who brought us the "Electron Salon" series of experimental music, "Sounds French" will of course have plenty of the cutting-edge visuals from Warren Stringer, whose visual synthesizer, Sky, can be manipulated live like a musical instrument. Unfortunately, there won't be stinky cheese or an abundance of French accents on hand, leaving Francophiles like me no choice but to rent Belle de Jour ... again.
---
Sounds French will be performed Saturday, March 15, at 8pm at the Rio Theatre, 1205 Soquel Ave., Santa Cruz. Tickets are available at Streetlight Records; $10 adv/$14 door. For more info visit www.elsaproductions.com or call 440.2829.
---
[ Santa Cruz | Metroactive Central | Archives ]