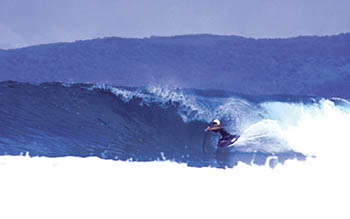 Blue Rush: Surf kayakers descend on Steamer Lane this weekend.

Kayaks in the Lane

This weekend, they're large and in charge of the local waves

By Stu Huntsman

Just in time for Ashura, the Islamic single-day fast recognizing creation, comes the 17th Annual Santa Cruz Surf Kayak Festival. Spending the day along the cliffs of Steamer Lane is definitely not the worst way to share a moment with our Islamic brethren pondering the creation of the cosmos, as long as nobody expects me to fast or anything. Because I find that the miracle of meat on a stick goes great with kayak competitions, I highly recommend this combination for sulking surfers whose beloved lane will be unavailable for the weekend.

The three-day event (March 14-16) is the largest surf kayak competition in the world, and will play host to some of the world's finest surf kayakers. This year, men, women and juniors will also be competing for slots on the U.S. West Surf Kayak Team, which will compete at the 2003 World Championships in Ireland.

But the pros won't be the only ones at the Lane this weekend--the festival caters to novices and intermediate-level kayakers as well. (Unfortunately, I missed the deadline to register, but I'm assuming they don't even have a "Fabulously Inept" category anyway.) There will be a special "rodeo" competition that sounds like it might involve saddles, kayakers and great white sharks, but no--that's just a surfer's fantasy. The rodeo kayakers will be riding waves and busting out whitewater stunts.

Food booths and a sound system with music and play-by-play coverage will keep onlookers inflated and informed, respectively. Beneath the festival tents, you'll find some of the newest gear from a variety of top-of-the-line manufacturers. You might even be able to walk home with some of it, along with all the art, food and wine available, at a silent auction benefiting Save Our Shores and Surfrider Foundation.
---

Santa Cruz Surf Kayak Festival
For more info on the event, call 831.458.3648 or visit www.asudoit.com.

Schedule of Events

Friday
7am-5pm: Preliminary Expert Heats
12-5pm: Silent Auction
10am-5pm: Festival Booths Open

Saturday
7am-5pm: Competition Heats
10-5pm: Silent Auction; Festival Booths Open; Free Kayak Demos

Sunday
8am-3pm: Final Heats
10am-1pm: Silent Auction
9am-3pm: Festival Booths Open; Free Kayak Demos

[ Santa Cruz | Metroactive Central | Archives ]