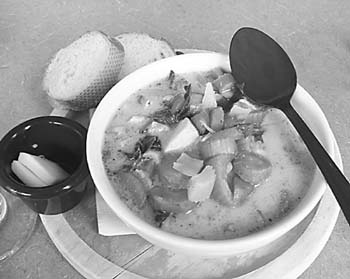 Photograph by Stephen Laufer

A Ladle Delight: Those who have enjoyed a bowl of Mama's Chicken Soup at the Bleu Spoon know it is truly 'for the soul.'

Kind of Bleu

The mighty Aptos bistro serves up some delectable cafe cuisine

By Christina Waters

OVER AT THE Bleu Spoon, New American cooking tastes a lot like great cafe fare of another era. Only better. The former '50s coffee shop turned retro bistro positively rocks with great dishes.

Lita and I were won over by every bite we sampled one evening last week, when le tout Aptos filled the cozy back dining room. We preferred a small booth along the front wall of glass, opposite the L-shaped counter that reminds me of every "on the road" movie ever made. The setting, like the menu, is solid 100 percent Americana. From calamari to meat loaf, roast chicken to beef brisket, this is sensible flavor-forward food made to be enjoyed, not interpreted.

Lita is an island aficionado and immediately went for an evening special of grilled salmon filet with a tropical papaya and melon salsa ($16.95). I decided to get into the cool weather heartland mood with an order of Black Angus bistro steak. Incidentally, these prices--and yes, they are part of the reason why the Bleu Spoon is such a hot spot these days--not only cover the freshly prepared entree, but include your choice of soup or salad as well.

Fresh and aromatic with herbs and garlic came an order of flat, fragrant focaccia--just in time to inhale along with our wines by the glass (both $6.25). My Mazzacco '99 Cabernet Sauvignon was luscious, huge and filled with cherry velvet. Lita's Napa Cellars 2000 Merlot was a more modest affair--merlot always is--but delightful with dinner.

Struggling not to stuff ourselves with the killer bread, we tackled our large dinner salads, festooned with brilliant magenta ribbons of beets and carrots. Roasted sunflower seeds sparkled like hippie diamonds among the emerald forest of greens. We savored every bite drenched with a beautifully made balsamic vinaigrette. Next, however, came some really serious entrees. Generous, yet smartly presented, Lita's ample fillet of salmon arrived perched on two sweet baked yams and topped with chunks of ripe fruit salsa. Abundantly flavorful, it made sense of this very Pacific Rim pairing of tropical fruit and rich seafood.

My slices of rare, delicious Black Angus steak fanned out across a layer of creamy polenta--laced with Asiago, parsley and spinach--so good it should probably be outlawed. (But if it were, a huge cult following would undoubtedly spring up overnight.) Destination polenta is here (and even available as a $2.50 side dish) at the Bleu Spoon.

My steak also came with a topping of fresh tomatoes, garlic and Provençal olives to which my oral response was something like "Oh my God!" Are you getting the idea that we loved our dinners? A small thicket of fresh steamed green beans added delicious balance to my entree. I couldn't believe the huge hit of true beef firepower I was experiencing for only--please sit down before you read this--$16.95. Beef that was not only delicious, but treated with the respect rarely accorded to filet mignon at fancier places. And the wonderful salmon rapidly disappearing from Lita's plate was equally praiseworthy. Great cooks are the rule at the Bleu Spoon.

Now our first choice for dessert would have been the evening's boysenberry cobbler. But others beat us to the punch, and so we shared an order of something wonderful in the way of a Linzertorte of raspberry, topped with toasted, chopped hazelnuts and drizzled lightly with wisps of chocolate ($5.50). Expertly presented, the dessert hit all the right spots. A topping of whipped cream played counterpoint to the tart berry interior, while the subtle toastiness of the hazelnuts worked magic with the chocolate. We split that gorgeous creation right down the middle and never looked back. May there be a Bleu Spoon in every mouth.
---
Bleu Spoon
Address: 207 Sea Ridge Rd., Aptos
Phone: 685.8654
Price: Reasonable
Ambience: *** Designer diner and then some
Service: ** Friendly and helpful
Cuisine: *** 1/2 It does what it sets out to do--classy Cal-American comfort food--brilliantly. Outstanding value.
Overall: A hit hideaway for anyone devoted to fresh, bold flavors and inventive variations on favorite foods
---
[ Santa Cruz | Metroactive Central | Archives ]