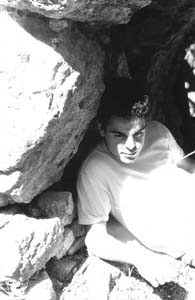 Polo's Pony: Ashkon Davaran plays Katib in the Players Group production of 'Marco Polo.'

Photograph by Klea McKenna





How Low Can Polo Go?

In an inspired revisionist comedy, Marco Polo is a lech and a scoundrel

By Mike Connor

ACCORDING TO HISTORICAL record, Marco Polo, the son of a Venetian merchant, allegedly traveled around Asia for 24 years in search of trading routes. A few years after his return to Italy, Polo was imprisoned for unexplained reasons, during which time he supposedly dictated his book, Description of the World, to his cell mate, the Arthurian romance novelist Rusticello de Pisa.

Writer/director Ali el-Gasseir takes the tenuous myth of Marco Polo--author, explorer extraordinaire and discoverer of spaghetti--and fleshes it out into the sordid, oft-times hilarious story of a lecherous businessman. Here Polo is a man whose most exciting adventures in Asia only revolved around great deals ("I once made 150 percent profit trading salts for musk!"), a man who, without the better judgment of his cell mate, would have named his book Yellow Fever: Marco Polo's Romp in the Brown Eye of Bangkok.

Cut to bedroom scene, where a sleazy, silk pajama-clad Marco Polo (Richard Thierot) is groping Constanza (Jessica Hammon), a pouty, pregnant prostitute who wants to get married. She corners the reluctant Polo with the Genovese law that deems premarital sex a crime punishable by death. The smooth-talking Polo succeeds in charming the pants off her, but lands in jail anyway after he's accused of spying by Constanza's jealous client Angelo (Kenneth Rudnicki).

Polo winds up in a cell with Katib (Ashkon Davaran), a cordial ukulele-playing Muslim. Imprisoned as an infidel, Katib spends his free time writing romance novels and advising Marco Polo on how to escape from prison. Polo's fate hinges on his ability to convince the French ambassador (Scott Perkins) that he, Marco Polo, will make an excellent ambassador to the East. In his somewhat broken English, Katib tutors Polo in the arts of deception and sophistry. He explains how well-told stories like George Washington and the cherry tree become legend, while poorly told lies lead to failure, like Nixon's "Gate of Water." Although neither man has been to China, Katib helps Polo write a book about his journeys throughout China for the ambassador--a book of pure bullshit.

The plot gets thicker, but not as thick as the Constable (Brenden Godfrey), who misspeaks more than our modern-day master of malapropism, George W. He describes Katib's crime as "sacriligiosities to Jesu Christi" and, when he finds a dead body, laments, "This homoeroticus is no longer vitalized."

While all this might just sound like historical farce (which it often is), the play does touch on the power of persuasion and how it is used today, using clever anachronisms to make connections to our own time. Marco Polo often alludes to the more controversial subjects of semiotics, racism and media sophistry, but these are mostly upstaged by clever song and dance and fine lowbrow comedy. The players hit their marks overall, even if the aim is to hit the funny bone more often than the higher truths.

The gravity of the drama between Katib and his wife Rahwiyah (Jean Johnstone) arrives too late in a production that has already established itself as irreverently farcical. Katib considers recanting in a heart-to-heart with his Rahwiyah. "It's just words; in my heart I will be a Muslim." His sentiment is heartfelt, but lacks poignancy--since the very same character cheerfully helps a racist ignoramus finagle his freedom.

Throughout Marco Polo, two clowns outfitted in Venetian-style masks (Nate Larson and Kyla Langen) interrupt the action, jumping in with songs and dances to playfully expand on loaded comments. These wisecracking pranksters open the play with a one-sided game, engaging the audience in a dialogue of inspired gibberish. The unpredictable narrators gently pry the audience away from the certainties of language. With songs like "Words, Words, Words" and "The Mistaken Identity Tango," the clowns offer insightful and entertaining vignettes. If only they had more meat to chew on, this funny and thoroughly entertaining play could really hit the sophists where it hurts.
---
Marco Polo is performed at the Four-Eighteen Project, 418 Front St., Santa Cruz, on Saturday, March 16, at 3 and 7pm, and Sunday, March 17, at 8pm. Tickets are $5 at the door.
---
[ Santa Cruz | Metroactive Central | Archives ]