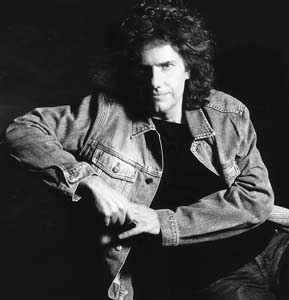 Sound Ideas: Metheny has overhauled his band's instrumentation, expanding his trio to a sextet with younger talent.

Special Edition

Pat Metheny goes global with a new group, a new sound and a new record

By Scott Cooper

AFTER THREE YEARS of touring and recording with a trio, jazz guitarist Pat Metheny is back on the road and on the record with a full-size band, and he's jazzed about it.

"This whole new edition is probably one of most interesting ones we've had," Metheny says about the new Pat Metheny Group (PMG).

The latest version of the PMG features his longtime pianist Lyle Mays and longtime bassist Steve Rodby, as well as a new international cast of supporting musicians. The sextet is currently touring behind its new release, Speaking of Now, an adventurous yet soothing collection of more Metheny music.

Longtime fans of the guitarist's dreamy, cotton ball tone may be intrigued by some new sounds and musical ideas, albeit not from his guitar.

"I've made some records where every guitar is some weird hybrid guitar with 42 strings or something like that," he says. "This record's not about that. This is more about the sound of the group with six guys."

While Metheny sticks with his signature Ibanez PM 20 guitar, the new band members' international flair steers the group to a brave new world. His new drummer hails from Mexico, the trumpet player is Vietnamese and the percussionist is from Cameroon--the latter two add vocals as well. Though the multicultural approach seems to be the "in" thing, Metheny denies it played a part in his choice of new band mates.

"I never really have bought into the idea of music having a nationality," he says. "I think music is much bigger than humans even. It's something that goes far beyond the mundane issues of race and geography. As the world is getting smaller and smaller and smaller, with communications being the way they are and information being available via recordings and music and everything else to musicians all over the planet, it's going to become more and more difficult to sustain the mythology that says, 'Oh, jazz is America's greatest art form' or 'Jazz is America's classical music' and blah blah blah. All these things I hear, terms like world music, are just marketing. It doesn't hold up in the face of the actual reality of music. I think more in terms of music being one big thing and humans being one big species."

Avant-Garde Angles

Instead, Metheny formed his new band after being impressed with the new players' musicianship, regardless of their ethnicity, particularly drummer Antonio Sanchez.

"I had heard Antonio playing with Danilo Perez," Metheny recalls. "His playing just stunned me in a way. It was so advanced and so versatile. It occurred to me that maybe this guy could be good for us, even though he was playing in a different zone stylistically than we generally function in. Antonio's strengths include things that are stylistically compatible with things we've already done, but they also include a whole bunch of stuff that we've never gotten to, and that's really exciting."

But Sanchez is only one of three new band members who have forced Metheny to "re-evaluate everything."

"There are certain kinds of things that I can play or write with these guys that I just couldn't play with anybody else or write for anybody else," he says.

Singer and percussionist Richard Boda, who was already successful as a solo artist, joined after Metheny called to ask if Boda knew any other percussionists. "He thought for a second," Metheny recalls, "and he said, 'Me! You should have me do it.'"

Trumpet player and vocalist Cuong Vu brings a little bit more avant-garde angle to the group, as well as a trumpet--something the PMG has never before had. "Having players like Cuong in the band allows us the latitude to think about things that we hadn't thought about before."

Far-Flung Band

When the six first played together, it had the appearance of what a friend of Metheny's called a United Nations band.

"It was this sort of far-flung band," the guitarist remembers, "but when we all got together and played, it was kind of a magical combination that just clicked. There were lots of different things that different people could do at different times, but at the same time we could harness the troops to make a sound that I think is represented well on the record.

"And probably the thing that is most unique about this particular lineup compared to other ones is that it's the first time that we've had guys in the band who are clearly one generation younger than the three of us who have been there for a long time. The funniest part of that is that all three of those guys grew up listening to Pat Metheny Group records. They know our thing cold. It's kind of built-in to them genetically or something as musicians."

"I think that has caused us to go back and look at our thing from a slightly different angle, including some of the historical aspects of what this group is about, what influenced those guys to become the musicians that they are today. It's been a really great thing for both contingents--the old cats and the new cats."

In particular, the interplay between Metheny's ideas and Bona's singing has brought new joy to the 47-year-old guitarist. Those familiar with Metheny's catalog may know that though his records, including Speaking of Now, feature vocals, they do not feature lyrics. "They don't sing any lyrics," Metheny says. "They're just making it up. I give them the melody and whatever syllables they want to sing, they just sing them. So having a really great singer like Richard can be seen as an incredible benefit because those ideas started out being sung, albeit badly, by me, then get this glorious treatment from this guy who's a really great singer."

Like his knack for leaving the words out of the equation, Metheny struggles to add titles to his compositions. "My system is to take every possible idea that I can have and put them all on a piece of paper, then pick the one that I'm going to be the least embarrassed saying on the microphone when I announce the tune."

For a guy who has won more awards than most of us knew existed and who has changed the course of modern jazz, embarrassment is hardly a real concern.
---
The Pat Metheny Group performs Thursday, March 21, 8pm at the Civic Auditorium, 307 Church St., Santa Cruz. Tickets are $35-$60, available by calling 420.5260.
---
[ Santa Cruz | Metroactive Central | Archives ]