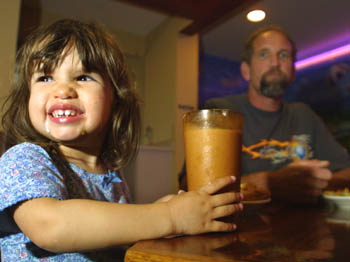 Photograph by George Sakkestad

Joy of Eating: Jim Kohman and daughter Mariel take advantage of Carpo's kid-friendly atmosphere.

Carpo Diem

Fresh, fast food: It was a great idea when it started, and it's a great idea still

By Christina Waters

HARD TO BELIEVE it's been 20 years, but that's exactly how long we've all been heading out toward Soquel to snap up dinners of fresh, fast food at Carpo's. Yes, I did say fresh, fast food. When Carpo's opened, everybody was thrilled--and the only question left is why on earth hasn't this concept been cloned in every corner of the county? Fast food that's good for you and tastes fine. Awesome. Add "inexpensive" to that equation, and you've answered the prayers of every family in town.

Carpo's does it, as Di and I were reminded last week, by keeping things simple and non-labor-intensive. You, the hungry customer, stand in line to place your order. Hmm, I adore the shrimp and crab sandwich, I thought. Carpo's burgers are truly legendary, Di agreed.

But we wanted to explore some "high-end" stuff. The giant menu can be seen from just about everywhere in the main Carpo's dining room, which is ablaze with children, adults reading paperbacks and couples smearing ketchup on each other's French fries. It's like a scene straight from Breughel--merry, boisterous and full of life.

The evening special of fresh broiled salmon ($12.95) sounded yummy. So did the seafood kebab, packed with fresh snapper, prawns and scallops ($7.50). An order of onion rings? Why not! What's the point of being a grown-up if you can't have what you want? Especially for only $1.95.

We decided that for $2.75 a glass, some Woodbridge Merlot was the deal of the century. And just to test-drive the desserts, we ordered a slab of chocolate cake, a piece of juicy olallieberry pie and a mountainous wedge of apple pie ($2.75 each).

AFTER YOU order and pay, the Carpo's people (staffers are uniformly pleasant and helpful) give you a little device that looks like a remote control. "It'll buzz and vibrate when your order's ready," our checkout hostess explained. Di was about to make a vibratory remark, but I stopped her, and we headed out with our glasses of wine to find a table on the patio under one of the friendly heat lamps.

Sure enough, the buzzer soon went off. We headed for the front counter and picked up two trays overflowing with goodies, picked out utensils and condiments--you serve yourself from central islands--and sat back down to feast.

The red wine was actually quite good, we agreed, as we inhaled the steaming-hot, large and delicious onion rings. Expertly deep-fried, these bodacious babies were crispy on the outside, moist and sweet inside. Of course, they were even better dipped in ketchup.

My broiled salmon--a generous slab of fillet--was beautifully cooked, not overdone, and served on a bed of delicious white rice pilaf. A healthy landscape of fresh green beans and carrots--steamed just to the al dente point, so help me--held down the other side of my platter.

Di's kebab offered lots of seafood action in the way of fresh snapper (which could have been moister), prawns and scallops interspersed with red and green bell peppers. All very delicious, as was a side of fusilli in olive oil dressing and more of those great beans.

The chocolate cake, from Black China Bakery, was superb, as always. And we loved the tart, juicy housemade olallieberry pie. Only the too-sweet, monotone apple pie failed us. With any luck at all, there could be a Carpo's in your neighborhood. Or at least there should be.

* I know it sounds obvious, but traditional lunch and dinner hours can get overloaded at Carpo's. Get European and dine at Carpo's after 8pm. Things calm down and you have your choice of seating.
---
Carpo's
Address: 2400 Porter St., Soquel
Phone: 831.476.6260
Inexpensive; counter service
Hours: Sun-Thu 11am-9pm; until 9:30pm weekends
Ambience: ** Outdoor patio seating is pleasant, and the well-designed interior maintains a smooth traffic flow
Cuisine: ** Way better than anyone could expect, the food here tastes good and fresh--and it's delivered pronto. Upmarket diner with an emphasis on freshness.
Overall: Only a snob could fail to be charmed by Carpo's
---
[ Santa Cruz | MetroActive Central | Archives ]