[ MetroActive Central | Archives ]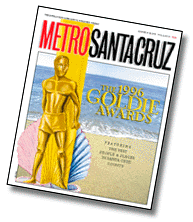 This Week


March 14-20, 1996

Cover
The Metro Gold Awards:
Metro Santa Cruz salutes all
the good stuff that makes this
place so cool, while local readers
decide on the best places in town,
the best government waste,
the best silly ordinances,
the most irritating local personality,
and the best nickname for Santa Cruz.

News
Nuz: Terrace of dreams, berth defects, family trials.

Spill the Wine: A duo of pests are reducing some prized Santa Cruz Mountains vineyards to skeletal stalks. Some vintners are replanting, some are selling and others are simply saying their prayers.

Arts & Entertainment
Snail, Snail, the Gang's All Here: A bevy of local legends turns out for the Catalyst's 20th birthday party.

Notes From the Underground: Old schoolers, abusive skaters, and indie knees kick out the jam at the Vet's Hall.

Pissed!: Gangsta rap is dead; the time has come for a Goth rock superstar.
---
This page was designed and created by the Boulevards team.
Copyright &copy 1996 Metro Publishing and Virtual Valley, Inc.