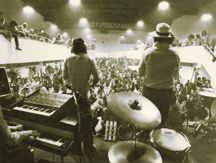 Steve Gladstone

Open Wide: Twenty years ago Sunday, the rafters of the new Catalyst on opening night were ringing to the tunes of Juice, one of SC' s most memorable bands from the '70s. Old-timers still credit the Cat with putting St. Paddy's Day on the party map in this once-backwater town.

Santa Cruz legends Snail and Jerry Miller, plus a bevy of other stars, return to celebrate the Catalyst's yearlong 20th birthday party

By Kelly Luker

We're standing in the fern-bedecked grotto of the Catalyst, shuffling through some long-forgotten memories. Jerry Miller, with his thumbs tucked into the back pocket of his jeans, scuffs a cowboy-booted toe across the floor as he looks through the giant fountain to some elusive time. For Miller, who shot to fame with the '60s band Moby Grape, this ol' Santa Cruz dance hall was practically a second home to him and his band's many reincarnations over the next few decades. His band was part of the inaugural show when the Catalyst unveiled its new pleasure palace on the south end of Pacific Avenue 20 years ago this week.

So, it comes as no surprise that longtime Catalyst staffers voted overwhelmingly to invite Miller and another legendary Santa Cruz band, Snail, to perform on Sunday, kicking off a yearlong anniversary hoedown for this venerable establishment.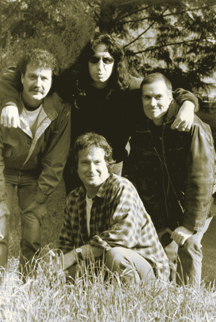 Michele G. Benson
Happy Trails to Us: Expect a jam-packed party for the reunion of that original, musical Santa Cruz slug, Snail, at the Cat on Sunday.
There's a fair handful around town who remember the old Catalyst, a beat coffeehouse that straddled Pacific Avenue and Front Street where the newly rebuilt St. George Hotel is now situated. Located in the abandoned grand dining room of the original retirement hotel, the Catalyst attracted a steady stream of beats, bohemians and college students with its Old World charm and laid-back atmosphere.
Originally owned by a collective of Santa Cruzans known as the Consumers' Co-op, the Catalyst was ready to fold until one of its regulars, a former schoolteacher named Randall Kane, offered to take it over. "I drifted into the nightclub business willy-nilly. I only got into it so I'd have a place to hang out when I had free time," Kane recalls.
The old Catalyst presented interesting logistical challenges, problems Kane more bluntly calls a "nightmare." For one, customers could reach the coffeehouse-cum-roadhouse through Front Street or, more interestingly, through the lobby of the retirement hotel, a rather surreal experience. Needless to say, the elderly did not appreciate rock bands ripping until the wee hours of the morning.
Kane decided to move uptown to the site of an abandoned bowling alley, and on St. Patrick's Day 1976, the new Catalyst was unveiled. Kane can never be accused of mincing words. "It's just a wild coincidence that we opened on St. Patrick's," Kane says. "Back then, nothing was happening on that day. The only places celebrating St. Paddy's was New York, Chicago and San Francisco, big hotbeds of phony Irish bullshit."
The two-story building was a polished wood and stained glass party central that would book musicians as diverse as the Circle Jerks, Tina Turner, Pearl Jam, the Red Hot Chili Peppers, Curtis Mayfield, Emmylou Harris, Hugh Masakela and Rick Nelson. No musical style, from rockabilly and world beat to grind-core and ska, has missed a turn on the Catalyst stage.
Of course, to the old guard, this shiny new venue just wasn't the same as their beloved--yet enfeebled--old Cat. Although Kane tried to recapture some of the original essence with similar overarching skylights, huge potted plants and, of course, the centerpiece fountain, the lazy coffee culture was quickly replaced by the city's clubbers, attracted to the Catalyst's behemoth dance floor, professional sound and lighting, and newly acquired hard-liquor license.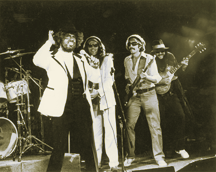 Steve Gladstone
BoBo's Gotta Brand New Bag: Gary "Bo" Tighe, booking manager for the Catalyst, does his best James Brown, while Michael Trujillo, Glen Marks and Dino DeFendis contribute as the Famous Flames during the 1981 Catalyst Follies, raucous rock & roll charade long since abandoned.
Happy to Be There
But the real place to be was the incomparable Friday afternoon Happy Hour, where riot-sized crowds jostled and drank to the tunes of Jake and the Abalone Stompers. For many, it required the skills of a chemist, counterbalancing the alcohol with cocaine, in order to keep going from 5pm until the end of the final act at 1:30am, then retiring to Paul's, Cindy's or Denny's for pork chops and eggs.
Some of the Catalyst's employees became mini-celebrities themselves. There was bouncer Brian with the drop-dead good looks, who scored a cover story from one of the alternative newspapers at the time. Manager Eddie McShann once had to tell a good friend of mine that her boyfriend would not be allowed back in until he got rid of the gun shoved down his pants. The key to this anecdote, though, was how "Black" Eddie, a retired boxer, gently finessed the situation.
Like any institution, the Catalyst has weathered its share of negative press over the years. The first year in its new location saw a bitter union battle that pitted employees against each other, and both Kane and his bartenders began acquiring reputations as less than hospitable. And for all the money sunk into the cavernous dance hall, both musicians and the audience still complain of the lousy acoustics, particularly if the crowd is running small that night. But it's like that punchline to a family's conversation about an errant relative--he may be a jerk, they finally conclude, but he's our jerk.
The Cat may give people reason to bitch, but it's our hometown rock & roll haven. This juke joint has survived some outrageous slings and arrows and built a reputation that has put Santa Cruz on the map with bands and music lovers around the world.
Jerry Miller, who warmed up the Catalyst crowd many a night while guitar picking and singing with Loaded and Rolling, Swifty Toulouse and, of course, the Jerry Miller Band, will headline this Sunday with a lineup that's part old and part new. "Fuzzy John" Oxendine has been drumming with Jerry Miller since 1968. Tiran Porter of the Doobie Brothers will be on bass, and Robert Hulten will be sharing guitar duties with Miller.
For Miller, returning to the Catalyst will be like old home week. The guitarist recalls when he first moved to the Santa Cruz Mountains in the late '60s. "I was walking around those hills and I heard a band playing over yonder," he recalls. Wandering up to the funky mountain shack, he found the boys from Snail rehearsing. According to Miller, that was the start of a relationship that saw them booked together at more shows than they can remember.
Like Miller, Snail was one of Santa Cruz's favorite hometown groups. And, like Miller, Snail watched defeat being snatched from the jaws of victory through a series of misfortunes that cost these musicians deserved fame. Miller's band, Moby Grape, one of the best exports of the San Francisco sound, disintegrated behind feral business dealings and drug-damaged bandmates. And Snail was poised to become Santa Cruz's Next Big Thing. A hot record deal resulting in decent sales and national tours was derailed by the twin misfortunes of a collapsing record company and, more tragically, a brain aneurysm suffered by lead vocalist/guitarist Kenny Kraft.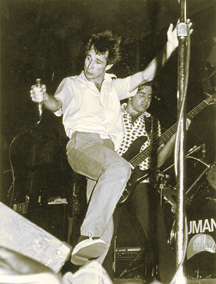 Su Suttle
That's Shoe Business: Sterling Storm, lead singer of the Humans, gets a foot up on the competition during a wild concert at the Catalyst in 1980.
New Trails
Kraft Bob O'Neill, another original vocalist/guitarist with Snail, are relaxing on the deck of manager Robert Crow's Pleasure Point home. Joining them is bassist Brett Bloomfield, who's been kicking around with the band since 1978. There must be something in rock & roll that keeps 'em young, because Kraft, like Miller, is still sporting a full head of hair and Steven Tyler-sized waist.
When Snail was delivering the sermon, whether at the Catalyst or any of a dozen other venues around town that have since disappeared, boogie believers would fight to get in for their share of the religious experience. Forget the pews, though--no one could stay seated when this band was rockin'.
As Snail's rep grew, so did their fortunes. As Bloomfield says, "When it's all happening, you don't ever imagine not making it."
Snail made an appearance on American Bandstand, followed by a tour with Styx that had them opening for an audience of 45,000 in Atlanta. But in 1981 the music nearly died. The 31-year-old Kraft was felled by a brain aneurysm, the result, he was told, of a birth defect. He spent six weeks in hospital, two of those in intensive care.
Says Bloomfield, "I often look back and wonder if we all walked away too fast--but we had to work." Other bands had day jobs to support them, says Bloomfield, but "music was all we did. We made music to live."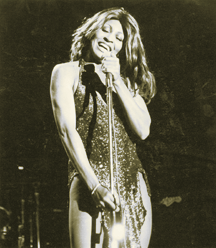 Steve Gladstone
What's Legs Got to Do With It?
Tina Turner takes a turn on the Catalyst stage. Over 600 musicians and bands--including Nirvana, Papa John Creach and Neil Young --have visited this Santa Cruz hot spot.
O'Neill remembers a few of the pitfalls along the way, including a little snafu at the Catalyst. "The record company gave us a 30-foot motor home for touring," O'Neill recalls. As the boys from Snail got read to mount the stage for their show that night, a repo man came knocking at the door. "He's ready to take the motorhome," laughs the guitarist, "with all our clothes--everything."
While Kraft was recuperating, O'Neill joined a few different bands, including the always-popular-on-the-marquee Inflatable Dates. When Kraft recovered, he started a band called Room with a View.
Over the years, Snail pulled together for other reunions--one in 1986, another in 1987 and the last in 1989. What keeps drawing them back together? "I've never had more fun than playing in this band," Kraft admits. And they all seem to agree that the Catalyst would be their first choice for a reunion place. "I've played all around the world," Bloomfield says, "and the Catalyst has to be one of the most energetic places." Who knows? There may be life after the reunion. Adds Bloomfield, "Maybe we can take this beyond reminiscence. There's a return--especially in Europe--to old-time rock & roll."
As they wrap up the interview, Bloomfield adds one other anecdote. He was walking up one of the side streets near Twin Lakes Beach when he happened upon a parked car with a sticker that probably best summed up the experience of catching his band live: "I met her at a Snail concert." So, for all those who met her--or him--at Snail, here's your chance to do it again.