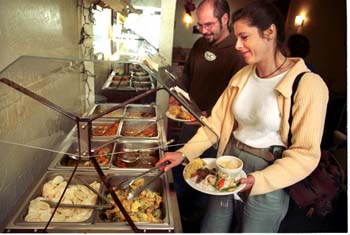 Photograph by George Sakkestad

Steam Heat: Lori Yellen-Lilley and Bobby Dehn step up to the plate for Real Thai Kitchen's lunch buffet.

To Thai For

At Real Thai Kitchen the classic flavors and spices of a fabled cuisine are given their due and served with gracious warmth

By Christina Waters

THE IRRESISTIBLE sound of tinkling gamelan music filled Real Thai's two small dining rooms with a soothing magic. We've been coming here since they opened almost 10 years ago. So have many of the regulars we saw last weekend, judging from the warm greetings between staff and patrons. The warm welcome is part of the charm at Real Thai Kitchen. So are all the simple decorating touches, from vibrantly painted wooden flowers to dramatic prints of traditional dancers--I especially admire the sequined tapestry of gods and elephants in procession.

The low-key exoticism of the decor blends with homey touches like the golden altars over the front counter. A bit too homey is an all-you-can-eat buffet steam table that ruins some of the dinnertime ambiance. But no matter. The rosy tablecloths and spiffy banquettes along the side and back walls give a definite bistro feel.

Kelly and I found the music hypnotic as we sipped glasses of a dry sauvignon blanc from Concannon ($3.95) and decided on appetizers. A platter of chicken satay ($6.95) was perfectly rendered, moistly addictive dipped into peanut sauce and chased with some crunchy, pickled cucumber relish. Another house favorite arrived that proved to be one of our new favorite hands-on dining experiences. Called Meing Com ($6.95), the menu describes it as "seven favorite Thai ingredients." What arrived was a wrap-your-own fresh spring roll situation involving a stack of large spinach leaves and little portions of toasted coconut, peanuts, minced lime, red onion, tiny dried shrimp and diced fresh ginger. The deal is to create a little cone with the spinach leaf and then put some of each item inside. Our charming and patient waitress demonstrated. Then you top it with some of the sweetish lemongrass sauce and eat "all in one bite," as we were told.

Everything explodes in your mouth. The tart of lime, the crunch of peanut, the saltiness of the shrimp, the sweet sauce. The lime hits the high note. It was unusual and lots of fun.

A salad of roast duck shreds atop chopped iceberg lettuce (yes, there is a role for iceberg) yielded an encyclopedia of intense Thai spicings--onions, mint, cilantro, chiles, spicy lime, garlic and lemongrass. A handful of fresh cilantro topped the creation, adding a thick layer of its flavor to the licorice aroma of Thai basil permeating each morsel of rich meat. If there had been some cellophane noodles in this dish, it could have been an entire meal--and truly a who's who of Thai spicing in a single dish.

But we had more to come.

Real Thai does southern Thai curries simply and well. Kelly's Gaeng Dang ($7.45) came with an enamel tureen of rice (as did mine), and was loaded with Thai sweet basil, lean chicken and a forest of bamboo shoots. My order of the house signature dish, Gaeng Ped Yang, spicy duck curry ($8.45), was a brilliant creation of roasted duck (not enough) and fiery coconut red curry laced with spinach and tomatoes. A terrific combination. I consider this one a destination dish and often come to Real Thai just to feast on its haunting balance of sweet, hot and earthy flavors.

Glowing with all those spices--ignited by chiles--we cooled our palates with a shared order of sticky rice stuffed with banana ($3.95). This curious and compelling dish looks and tastes exactly as described. A banana is completely surrounded by sweet, sticky rice and then steamed in a banana leaf, like a Thai dessert burrito. Black beans dot the white mounds of rice, adding a distinctive, non-Western touch.

Real food, real spices, real people--in short, this is the place to get real.
---
Real Thai Kitchen
Address: 1632 Seabright Ave., Santa Cruz
Phone: 831.427.2559
Hours: Open daily; lunch 11am-3pm, dinner 5-10pm.
Ambiance: ** Simple and non-designer, the interior shimmers with touches of authentic handicrafts.
Service: *** Sensitive, friendly and always helpful, this staff seems personally committed to the food and the patrons.
Cuisine: ** 1/2 A sure hand with classic dishes, with the occasional burst of glory.
Overall: Whatever comes and goes, Real Thai lives up to its name.
---
[ Santa Cruz | MetroActive Central | Archives ]