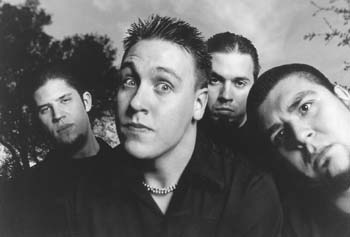 Photograph by Paul Brown

Old Friends From Young Years: The members of Papa Roach (from left, Tobin Esperance, Coby Dick, Jerry Horton and Dave Buckner) are bent on rock survival.

Roaching the Subject

Papa Roach is ready to infest the world with defiant punk-rock attitude

By Sarah Quelland

ALTHOUGH PAPA ROACH has played more than 400 shows since 1993, opening for the likes of Limp Bizkit, Kid Rock and Static-X, it was only last May that the band introduced itself to Santa Cruz, performing at the Catalyst with hometown heroes the Lonely Kings and Three Left Standing.

Papa Roach blew away the crowd with its explosive hip-hop, metal, hard-core and groove sound and outrageous punk-rock attitude. After four years of relentless touring--from pizza joints and small joints to major clubs and festivals like the Vans Warped Tour--the long hours and hard work have finally opened the door for this promising young band to break big.

Last fall, Papa Roach (commonly known as P-Roach) signed a deal with DreamWorks Records (home of Powerman 5000, Buckcherry and Long Beach Dub Allstars), and the band's label debut, Infest, is due April 25. In the meantime, the industrious four-piece from Vacaville shows no sign of slacking off. Since wrapping up in the studio, the band has jumped back on a rigorous touring schedule that brings it to the Catalyst on Thursday (March 16). If things go well after April 25, it may be some time before P-Roach plays a local club this size again.

After a deafening buzz, P-Roach--vocalist Coby Dick, guitarist Jerry Horton, bassist Tobin Esperance and drummer Dave Buckner--took DreamWorks up on its offer and went into NRG Recording Services in North Hollywood, where Limp Bizkit recorded Significant Other, with producer Jay Baumgardner (Slipknot, System of a Down and Coal Chamber). The new album showcases the band's infectious sound: a heavy melding of Limp Bizkit aggression, Green Day punk and Bush melody that dances the line between underground and commercial appeal.

Technically, Infest is P-Roach's fifth album. Fans are familiar with the previous independent releases, Caca Bonita (1995), Old Friends From Young Years (1997), 5 Tracks Deep (1998) and Let 'Em Know (1999), as well as the recent teaser cassette featuring "Last Resort" and "Dead Cell."

The new album includes keenly polished versions of old favorites, several strong new songs and a hidden track that lets the guys explore new musical territory. Two versions of Infest will be released: one cleaned up for delicate ears and one bearing that telltale black-and-white sticker. "Legacy" will be exclusive to the sanitized version, while "Blood Brothers" can be found on the more explicit album. It looks like diehard fans may have to double up.

P-Roach maintains a strong connection to its fans on and off the stage, and the band's outgoing nature and electrifying performances have earned it tremendous loyalty from its supporters. Part of the connection stems from the lyrics, which have a deeply personal quality. Vocalist Dick takes his inspiration from subjects that have challenged him, his friends and his peers, including divorce ("Broken Home"), suicide ("Last Resort"), domestic abuse ("Revenge"--formerly "Revenge in Japanese") and alcohol addiction ("Binge"). He describes his earnest lyrics as "deep and to the point."

Watching P-Roach live is an exhilarating experience. At first glance, Dick is all boyish charm with rosy cheeks and spiky hair, but onstage, his wild, frenzied madness and spontaneous unpredictability--what he calls his fire--are unleashed.

Add in the high-powered intensity and overall skill of Horton, Esperance and Buckner, and P-Roach seems unstoppable. Perhaps the most impressive thing is watching the fans at the front of the stage singing along with Dick. As often as not, he'll dip his microphone in the crowd and let his audience sing for him.

It's impossible to predict the future, but these are definitely interesting times for P-Roach. The band could blow up like Korn or continue packing them in on the club circuit. Whatever happens, P-Roach has worked hard for its success. Fugazi's Ian MacKaye has been quoted as saying, "Don't wait for the opportunity, make the opportunity," an idea P-Roach seems very passionate about. Upon getting signed, Dick was emphatic when he stated, "We're going to maintain our work ethic."

The band is named after Dick's grandfather, and Dick says the name has become symbolic through the years. He explains that a cockroach can "survive anything: earthquake, nuclear holocaust. They come in small numbers and then they infest. We want to infest the world." In dangerous times like these, taking on the cockroach as a symbol of personal strength may not be such a bad idea. If nothing else, it's a fitting motto for a band hell-bent on longevity as well as creativity.
---
Papa Roach performs with Loadstar, No One and 7th Standard on Thu., March 16 at 9pm at the Catalyst, 1011 Pacific Ave., Santa Cruz. Tickets are $3 (18+). (831.423.1336).
---
[ Santa Cruz | MetroActive Central | Archives ]