Vote Here!
Cast your ballot in the 2005 Goldies Readers Poll.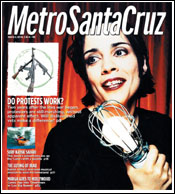 For the Week of
March 16-23, 2005
Cover Story: Do Protests Work?:
Two years after the Iraq war began, protesters are still marching, without apparent effect.
Collision Course: Surfing, river kayaking and surf kayaking come together at Steamer Lane for the 19th annual Santa Cruz Surf Kayak Festival.
Nüz: Marine Doppelganger; A Sense of Where You Are.



Rev: Paris Is Burning.



The Shut-Ins: 'Nobody Knows' is smart, not sentimental, in portrait of a motherless family.
Bliss Whipped: Short Cut to Nirvana: Party!



Oud, What an Ugly War: Iraqi musician Rahim AlHaj uses an ancient lute to express anguish, anger and hope of his people.
The Rock Show: The Supersuckers; The Loyal Sons and Daughters.



Us vs. Them: Or why baby cows taste better when you call them veal.



Loud Mouth, Soft UnderBelly: Marga Gomez targets Hollywood's sacred cows.



Please don't forget to write! Metro Santa Cruz welcomes letters. Like any great work of art, they should be originals -- not copies of letters sent elsewhere. Include address and daytime phone (for verification purposes only). Letters may be edited for length and clarity or to correct factual inaccuracies known to us. Postal: Metro Santa Cruz Letters, 115 Cooper St., Santa Cruz, CA 95060. Fax: 831/457-5828. Emailers, please include name, city of residence and phone number. Letters printed will list email address unless otherwise specified. Letters to the editor are not currently published in the online version of this paper.
Copyright © Metro Publishing Inc. Maintained by Boulevards New Media.