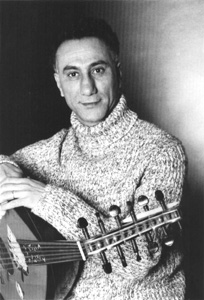 Lutes of Love: Rahim AlHaj's oud conveys the plight of the Iraqi people.

Oud, What an Ugly War

Iraqi musician Rahim AlHaj uses an ancient lute to express anguish, anger and hope of his people

By Peter Koht

Occasionally a performer will roll into town without the slightest desire to put on a spectacle for the amusement of the masses. An Iraqi exile living in America during a time of war, Rahim AlHaj is more concerned with the content of his music than with its reception.

"What I am doing now is trying to spread information. I am not entertaining people. If you come to see me, then I have a message for you."

For AlHaj, this message is conveyed through the sounds of the Iraqi oud, an ancient lute that AlHaj believes is the "grandfather of all instruments."

"My theory and my concept of music is that it has tremendous power. You can express yourself musically without singing a word. Music can be powerful enough to be understandable and accessible to anyone, regardless of their background. If I spoke to you in Arabic, you would not understand it, but you would be able to understand my music, no matter where you came from."

This ability to transcend cultural and ethnic lines without resorting to the use of the human voice is a rare talent--one that AlHaj carries with considerable grace. His talent is an extension of the incredibly long cultural history of Iraqi music.

"I went to the Institute of Music in Baghdad which is the Julliard of the Middle East. There you study two years of classical Western music, two years of traditional Arab music, and then spend the last two years developing as a solo performer, which includes lessons in composition."

Graduation from this institute nearly guarantees a career as a professional musician, but despite his growing fame and prestige, AlHaj found himself at odds with Saddam Hussein. After the first Gulf War, AlHaj began to agitate for political reform, and was forced to flee Iraq. He initially found refuge in Jordan and Syria, but then immigrated to the United States. He lived in exile for 13 years before he managed to return to his home city on a visit that both shocked and saddened him.

After playing a concert with the Syrian National Orchestra, AlHaj and his brother drove from Damascus to Baghdad. For AlHaj, the city that he found at the end of their journey bore little resemblance to the one in which he had grown up. There was no electricity, no clean water, and sewage was everywhere.

Despite these dire conditions, one of the most shocking effects of the occupation for AlHaj was witnessing the physical condition of his alma mater. Rather than finding "the most sophisticated and honored" conservatory in the region, he found "an empty building. It was looted and some of the buildings are burned. There are no instruments, no students and no teachers. I cried and cried to see the legacy of Iraq just ... gone."

He also found that the musical realities in Iraq had shifted. "Most of my musician friends have left; they are either dead or have fled."

For example, there are 16 Iraqis in the Syrian National Orchestra now. In Baghdad, the music has become mostly chant and religious songs. When people are poor, they go to God to help them. They say 'We don't need music, we need God.'"

"This generation is living without song. There are no words to describe it. A whole generation will understand that music is forbidden and music is not good. How many years will we need to change this concept?"

Rather than giving into despair or frustration, Rahim AlHaj is working faithfully to keep secular Iraqi musical traditions alive.

Through his compositions and concerts, AlHaj has succeeded in portraying the plight of his people through their most ancient musical traditions. Unlike so many classically trained musicians who glorify the past at the expense of innovation, he has adapted maquams (traditional Iraqi musical scales) to address contemporary issues. A compelling performer, his single instrument is capable of portraying the anguish, the anger and the hope of the people of Iraq--a group for whom the latest occupation is but another episode in 25 continuous years of suffering.

Despite the overwhelming odds and the horrendous human cost of the occupation and the war, AlHaj sees a simple solution to Iraq's current woes: "To do it right, make things! Start construction. Let the international community become involved and rebuild things to help people get their lives back. Fix the electricity and give us clean water. Give these people a chance to build things for themselves and to finally be free."
---
Rahim AlHaj performs Tuesday, March 22, at 7:30pm at Kuumbwa Jazz Center, 320-2 Cedar St., Santa Cruz. Tickets: $16/adv, $20/door; $14/students and seniors (door only). Available at Streetlight Records in Santa Cruz. For more information, visit www.zookbeat.com/events/index.html.
---
[ Santa Cruz | Metroactive Central | Archives ]