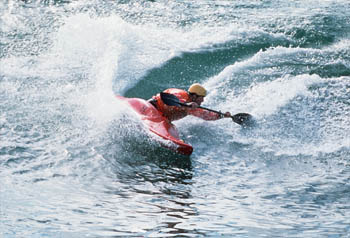 Sink Oar Swim: Surf kayakers will be fleeting at Steamer Lane March 19-21.

Life in the Fast Lane

The SC Surf Kayak Festival at Steamer's put the sport on the map. Can it survive its own success?

By Steve Palopoli

When fans of a particular sport see a big festival working their territory, they often turn up their noses with a comment like, "What have they ever done for us?"

But it's doubtful any surf kayakers have had those kind of thoughts about the Santa Cruz Surf Kayak Festival. With the SCSKF, it's not so much a question of what have they done for surf kayaking lately. It's more like: Would surf kayaking even exist as a sport without them?

True, there were surf kayak contests as far back as the 1960s in the U.S. and Britain. But surf kayakers, long the red-haired stepchildren of surfing, were still getting zero respect and seemingly shouldering the collective bad vibes of the entire oceangoing community into the '80s.

Not to brag, but one could argue that it all began to come around for the sport in the early '80s, when Santa Cruz first began fooling around with a contest for the sport. By 1985, the SC Surf Kayak Festival was firmly established as a yearly event. By 1988, a team chosen at Steamer Lane was being sent off to Ireland to represent the U.S. in a world competition. Three years later, that team took the world title.

Two years later, Santa Cruz was hosting the world championships--and the U.S. team won again, by the way. That same year, the number of kayaks designed for ocean surfing shot up.

By the time Santa Cruz hosted the World Championships again in 2001, the sport had found an unprecedented popularity. The Santa Cruz Surf Kayak Festival is now the largest such competition in the world, and Dennis Judson, who organizes it each year with Adventure Sports and 100 or so volunteers, is a victim of his own success. His master plan for cracking the mainstream has largely been realized, and as he prepares to meet a Discovery Channel crew that will be covering this year's event, he stops to ask himself why he still puts himself through the year-round whirlwind required to put together the three-day festival.

"A lot of it is guilt," he says, with a laugh. "We created this thing."

He's kidding, but he's not kidding. For these folks who like to take strange trips in a long boat, it's been a long, strange trip.

This year's event, which will be held at the Lane March 19-21, is one of five contests that will determine the U.S. West Surf Kayak Team for the 2005 World Championships, which will be held in Costa Rica. Along with the competition heats now comes the culture of parties, booths, hardware and education about the sport that's grown up around the event.

Even now that surf kayaking has gained some acceptance--and it still generates plenty of controversy, to be sure--the education part of the event is still key. The event features not only the expected expert and high-performance categories, but also divisions for novice and intermediate skill levels.

"It was always supposed to be an educational tool," says Judson.

To that end, this year's event will feature the first-ever brochure to face a topic that has engulfed not just surf kayaking, but surfing, since the very beginning: etiquette. Surf kayak enthusiasts are drawn to the sport because a kayak allows them to got a lot of waves--many of which surfers wouldn't even want, but some of which they do, and finding a road map to peace between the two camps is no easy thing.

"We have a responsibility," says Judson of the etiquette issue. "The kayaker has to realize he can take a lot of waves, and he can piss people off."

Still, Judson thinks too much has been made of the controversy around surf kayaking.

"I get far less junk from people out in the ocean," he says. "I get some, but so does everybody."
---
The Santa Cruz Surf Kayak Festival will be held March 19-21 at Steamer Lane. Competition begins 7am Friday, 8am Sat and Sun. For information, call 831.458.3648.
---
[ Santa Cruz | Metroactive Central | Archives ]