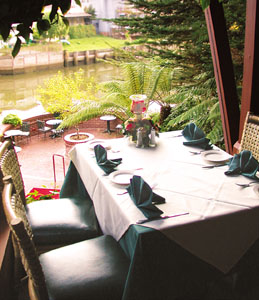 Photograph by Stephen Laufer

Ready ... Set: The Shadowbrook or Jurassic Park? You be the judge.

Retro Dining

Shadowbrook knows its customers and knows what they want--reassuring flavors and recognizable menu items

By Christina Waters

The legendary dinner house was filled to capacity when we visited on two recent midweek evenings, an impressive achievement in this or any economy. Helping the Central Coast celebrate anniversaries, graduations and birthdays for half a century, Shadowbrook's physical plant is memorable. The murmur of contented diners fills the multilevel warren of rooms festooned, as if in a Spielberg movie, with a faux wilderness of plants, thousands of tiny white lights and even entire trees soaring through the floorboards.

With a new chef on board, there's an ambitious five-course tasting menu on offer for a hefty $46 per person. No pretensions to current trends or designer concept mar the straightforward approach to pleasing the customer. Waiters recite, the basket of soft rolls arrives swiftly and the popular time warp offerings--surf 'n' turf, mud pie, prime rib--are aimed squarely at the middle-of-the-palate. One evening our waiter rattled off the menu as though auditioning for a soap opera; nonetheless, generous pours of an excellent Zundé Zinfandel 2000 ($7.50/glass--suitably large stemware is available only upon request) put us in the mood to pitch our conversation above the encircling noise level. Pricing tends to be patron-friendly, save for appetizers and the elaborate tasting menu (who can actually consume an appetizer, soup, salad, entree and dessert and walk away unaided?). From the tasting menu, we chose a lobster galantine ($12.95) and salad of Belgian endive and Bartlett pears ($7.95), and from the regular menu, Kelly went for almond-crusted sea scallops ($21.95), and I caved in, as always, to a plate of sautéed duck breast joined by duck confit ($21.95).

Defying the old cliché, Shadowbrook's generous entrees outshone the appetizers, most of which proved disappointing. Presentations appeared hurried and poorly designed, or just plain unattractive. The pricey galantine, three slices of salmon and scallop mousseline, bore a single nugget of lobster in each center. The flesh-hued circles sat in a tired-tasting, thickened cream Newburg sauce. The salad appeared thrown together, with several spears of endive and slices of pear poking out from a central slaw of chopped endive swimming in a cloying mustard sauce. Toasted nuts added the only thrill in this too-sweet, unattractive starter.

On another visit, Jack opted for a '50s-style cocktail of five rubbery shrimp in a glass of cocktail sauce that might have worked at an institutional luncheon. Another starter of sea scallops was pleasant, though the tender scallops had been scorched black on the tops and were ill-treated by a lackluster tangerine sauce topped by acrid shallot crisps (both $9.95). An entree of petite filet mignon, however, was delicious, done perfectly and perfumed lightly by the sentimental flavor of charcoal grilling ($20.95). It was beautifully matched by a glass of syrah-intensive Le Cigare Volant from Bonny Doon Vineyard (a half-price Winemaker special, for $5.75). Another evening's entree of sea scallops arrived fat and succulent, expertly cooked just to the point of tenderness, crusted with almonds yet almost destroyed by a strident, thickened sherry cream mushroom sauce. I found the overbearing sauce unappetizing , but also admired the spunky sea scallops, as well as their crowning roast potato cake topped with wonderful baby spinach. Would that there had been more of that sensuous spinach.

An a la carte side of roasted asparagus was delicious ($3.50). My entree of duck, done two ways, was both delicious and ugly --a gloppy landscape of brown. Brown slices of rare duck breast napped by a rich huckleberry glaze, brown central band of confit--some of it still cold, some of it barely room temperature--and brown wild rice, pecan and root vegetable side. The duck was earthy and wonderful to eat, unappealing to view. But in such low light, viewing the plate is clearly not the point.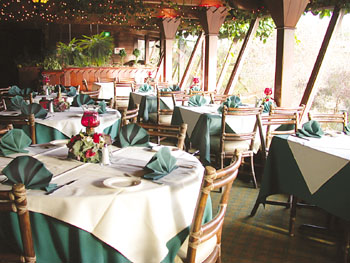 Sit Back and Enjoy the Greenery: Not even the floor can stop the lush plant life at the Shadowbrook.
Greatest Hits
There are delicious food ideas here, sauced from another era. Puzzling. Determined to embrace Shadowbrook's greatest hits, I ordered the celebrated Pacific Rim salmon creation on our second visit ($19.95). Arriving at the table too swiftly, yet obviously preassembled, the generous salmon fillet was served over transparent sea greens which, warmed by the fish, were remarkable in flavor. Several pretty pools of ginger-wasabi and ponzu sauces enhanced the creation, providing some actual spiciness, and the carrots and peppers stir-fried in miso vinaigrette were also tasty. Service throughout our two dinners ran behind schedule; we needed to assert our requests in order to keep the meal flowing--yet given the hundreds of tables and circuitous pathways to tables, this can be a matter of sheer logistics. On our second visit, the waiter all but ignored us, leaving requests to hapless, well-meaning bus persons to convey and execute.
Like those cozy posters by Thomas Kinkade, there is nothing confusing, nothing that requires an explanation on this menu. Shadowbrook dining is the ultimate in reassurance. What it offers is what it offered the last time you visited. A special chocolate dessert sampler ($10.95) offered tiny morsels of two nice ideas and one underwhelming execution. A single hazelnut lace crisp bore a rosette of sensational chocolate pots de crème, and a small chocolate truffle cake laced with bing cherries packed a true chocolate hit. Only a strawberry-and-white-chocolate napoleon fell flat, damaged by a runny "mousse." More strawberries than chocolate actually showed up on this crowded plate. Another order of crème brûlée was, as expected, just fine--predictable and comforting. Very much the Shadowbrook cuisine. But then, given the packed dining rooms, this is exactly what the clientele want. Giving the customers what they want is, after all, the key to success.
---
Shadowbrook Restaurant
Address: 1750 Wharf Rd., Capitola
Phone: 831.475.1511
Hours: Dinner nightly, lunch Mon-Fri in Rock Room, Sunday brunch
Ambience: *** Gracious and very group-friendly
Service: ** Skilled and perfunctory.
Cuisine: ** Nice dishes inconsistently interspersed with ill-conceived specials
Overall: Shadowbrook offers what it has always offered -- a nonthreatening, attractive sanctuary in which to celebrate life's special occasions.
Full Bar
---
[ Santa Cruz | Metroactive Central | Archives ]