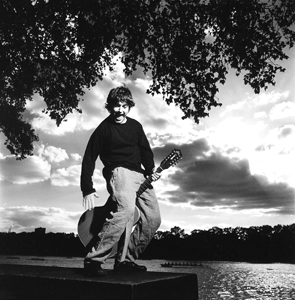 My Other Car Is a Violin: Hopefully Keller Williams can figure out how to correctly hold a guitar before his Rio show.

Rio Grande

How do the people behind the Rio Theatre keep their unpredictable happenings so hip? They just ask: 'What would Joan Jett do?'

By Mike Connor

If you're Joan Jett--which is, admittedly, statistically unlikely--you get what you want. When you're getting ready to kick off your tour at the Rio Theatre in Santa Cruz, and what you want is a little privacy in your green room, you will be delighted to learn that the folks at the Rio will simply build you a private bathroom. It's still there, upstairs in the green room, affectionately referred to as "The Joan Jett Bathroom."

Owner Lawrence Bedford thinks it was worth every penny.

"Joan put us up there," he says, referring to the Rio's post-Jett status in the booking world. "Once you have Joan Jett on your résumé ... it's an entryway into everything else that's been going on here."

Some highlights since that fateful day: musicians like Michelle Shocked, Greg Brown, Habib Koite and Angelique Kidjou brought the noise; cinematic events like the Hip-Hop Film Festival and an ongoing series of Microcinema shorts lit up the screen; performances like Circus Contraption, Hair and the Residents commanded the stage; genitalia-oriented events like The Vagina Monologues and Puppetry of the Penis helped us all get a little more intimate with our nether regions.

But, in the immortal words of our Philosopher in Chief George W. Bush, "I think we all agree: the past is over." Indeed, it's the future we have to look forward to, and the folks at the Rio have plenty of ideas for it, even if it does involve a war in Iraq.

"We just did 'Poets Against the War' last week," Bedford says. "If there's a war, the Resource Center for Nonviolence will be showing a slew of antiwar movies like Catch 22 and a documentary about the School of the Americas, and we'll be doing a show next month, Women Against the War, with Holly Near. Things will change monthly as the state of the war changes."

Radar Men, Train Hoppers And Techno-Grass

While that's socially/politically responsible and all, it's comforting to know that the fun, artsy stuff has not gone the way of the poor little Harelip Sucker Fish (they will be sorely missed). The Rio is still running the "Grab Your Shorts" Microcinema International series of short films on the first Sunday of every month, along with a series of Italian masterpieces on third Sundays. The Cultflix series doesn't have a regular schedule, but they do have their next program lined up for April 11: two campy sci-fi films, Return to the Center of Time and Radar Men From the Moon, promising cheesy plots, horrendous acting and special effects that would make Ed Wood cringe. Best line from Time? "You're very pretty ... for a girl."

Serious film buffs will be pleased to know that, due to the success of last month's presentation of Akira Kurosawa's Seven Samurai, the Rio will be showing Kurosawa's groundbreaking Rashomon on March 22.

Immediately after the Sept. 11 attacks, investment banker Taran Davies decided it was time to turn his hobby of documentary filmmaking into a career. Within weeks, he was on his way to Afghanistan to get a firsthand perspective on the people of Afghanistan. The resulting film, Afghan Stories, runs twice on March 21 at 6:30pm and 8:30pm.

On March 30, the Rio will present a special screening of a documentary about the late Lou Harrison, complete with a post-film discussion and live performances of some of Harrison's works.

Or, if you prefer riding guitars, the one-man-band powerhouse Keller Williams (see photo) may give you a vicarious rush as he loops, picks and rides eight guitars into a frothy fury of (in Williams' own words) "solo acoustic jazz funk reggae techno-grass" on March 20--a must-see for String Cheese fans.

All in all, a consistently erratic and interesting schedule of programming that seems ungoverned by any sort of master plan. "We take requests," Bedford explains. When asked to nail down the type of venue he's running, he's evasive, but insists it's not just art house stuff. "We're an 'If you don't keep you eye on us, you're going to miss something' house."

Says publicist in chief Jesse Rose DeRooy, "We often ask ourselves, what would Joan Jett do?"

Probably not as much as the Rio, but she still rocks.
---
Keller Williams performs Thursday, March 20, at 9pm at the Rio Theatre, 1205 Soquel Ave., Santa Cruz. Tickets are $18-$20. For more info on any Rio events, call 423.8209 or visit www.riotheatre.com.
---
[ Santa Cruz | Metroactive Central | Archives ]