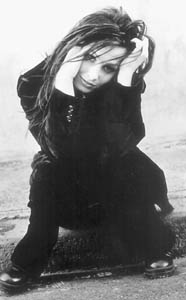 Kasey and the Sunshine: The young Australian singer/songwriter invites comparisons to Emmylou Harris and Lucinda Williams.





Aussie Roots

Kasey Chambers grew up in the Australian outback, but her music is pure Americana

By Kelle Walsh

IN HER standard black garb and pierced every which way, Australian singer/songwriter Kasey Chambers looks the part of an indie Lilith Fair rocker, kicking her way into adulthood.

In a way, that's what she is. But for 24-year-old Chambers, the rock & roll is tempered with strains of Hank Williams, Gram Parsons and Emmylou Harris. Her songs, full of honesty and grit, come straight of the Americana roots-music tradition, via the Australian outback.

"I'm not much like my generation/ their music only hurts my ears," she croons on "Cry Like a Baby," the opening track on her stunning debut CD The Captain.

Ever since the CD's U.S. release last fall, Chambers has torn a wide swath through the contemporary alternative country music scene. She charms audiences (like the one at her first Snazzy show at Kuumbwa last November) as well as critics, who praise her scratchy fresh sound: "The Macy Gray of [alternative] country," said one.

Along the way Chambers has collected a solid fan base of heavy hitters from the tell-it-like-it-is school of songwriting. Steve Earle calls her "the best female hillbilly singer" he's heard in years. Chambers herself was shaken when her idol, Lucinda Williams, sat front row at every show when she headlined in a Nashville run. Williams later said that Chambers was her favorite new artist.

Fronting a fine family ensemble, the Dead Ringer Band--which features her father Bill Chambers on lead guitar, brother Nash as producer and mum Diane handling the merchandise--this Australian troubadour is indie in the truest form.

Chambers' own story is as fresh as her music. It's an exotic tale to American ears, full of dingoes and 'roos, and hippie parents who tuned their kids to a Nashville pitch while sitting around campfires in the Australian outback.

She was just a baby, her brother Nash a toddler, when her parents decided to leave civilization behind for a simpler life in the bush. For nine years the family traveled Australia's Nullabor Plains following the fur trade. At night they sang songs for entertainment--Chambers' muse was nourished by Johnny Cash, Hank Williams and Jimmy Rogers.

At 13, she won a songwriting contest. It was enough to convince her that she had a knack, and encouraged by her parents, she began to record her life in lyrics. By then the family had taken their campfire habitual into pubs and inns across south-central Australia, playing a mix of American country-western and their own originals, eventually garnering national fame in the country music community.

The country mold was broken, or at least splintered, in early 2000 when Chambers--who had since moved to the front of the stage in the family act--nabbed the Aria award (the Australian version of the Grammy) for Best Female Artist. A record contract, a gig on Letterman and rave reviews in every major and alternative music journal soon followed, catapulting Kasey Chambers into the international spotlight.

At the core of all the attention is, of course, the music. Songs Chambers wrote between the ages of 15 and 22 are delivered in an unaffected and honest manner. Her sound often invites comparisons to Iris DeMent, Julie Miller, Emmylou and even a young Dolly Parton. She warbles and twangs, belts out long notes and catches air on the high ones. She skips through ditties like "This Flower" ("Well this flower is my soul/But it's not half of what I owe/I should give you every rose that ever grew"), holds a lonely cry in the achingly painful "Don't Go" and gives it up in the Appalachian foot-stomping "Last Hard Bible."

Showing all the pluck and mettle of a young woman who can snare her own dinner, on "We're all Gonna Die Someday," Chambers wails: "They can kiss my ass lord, they can kiss my ass. If they want to kiss my ass well they better do it fast 'cos we're all gonna die someday."

If The Captain is any indication, it's a safe bet we're going to be hearing a lot more from Kasey Chambers.
---
Kasey Chambers plays Kuumbwa Jazz Center, Thursday, March 22, 7pm. Tickets available through Snazzy Productions, 831.479.9421, www.snazzyamericanamusic.com.
---
[ Santa Cruz | MetroActive Central | Archives ]