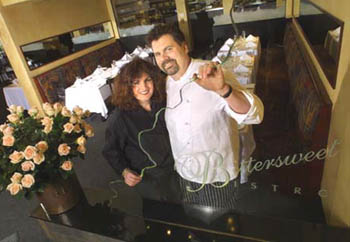 Photograph by George Sakkestad

Deer Park Stars: Bittersweet owners Tom and Elizabeth Vinolus have made Aptos' Deer Park a culinary destination.

Bistro Bonanza

Tom and Elizabeth Vinolus continue to fine-tune their brasserie-sized bistro in Aptos' historic Deer Park

By Christina Waters

Simone thought the banquette looked cozy. And so it was, affording me a view of the multichambered dining room warmly lighted by sconces. Bittersweet Bistro minimizes its size and creates the illusion of small niches where diners can feel free to take their time over chef Tom Vinolus' fresh culinary ideas.

A listing of nightly specials augmented the regular menu last week--a listing so well constructed that it contained everything we wanted. Two wine specials--one an amusing red blend called Tudal's Tractor Shed Red, and a dreamy chardonnay from Bien Nacido Vineyard made by Pelican Ranch (both $9 a glass)--made delicious sense.

Eyeing seafoods, Simone ended up caught in one of those classic double binds between thyme-crusted mahi mahi and grilled wild sturgeon. The mahi mahi choice was given a big nod of approval from our skillful server. Meanwhile, in the kingdom of red wine, I was suffering culinary mood swings. Filet mignon with gorgonzola? Or oak-roasted rack of lamb? Simone inhaled audibly at the phrase "rack of lamb." The choice was made.

In the nonstop conversation that insued, we deftly navigated from Schopenhauer to Jan-Michael Gambil and from Bloomingdale's to Hungarian fencing styles. Moss cannot grow on Simone. Francese and sourdough baguettes helped fuel the dialogue until our botanical-garden-sized salads arrived.

Looking sensational, a mound of endive and mesclun liberally enhanced by Roquefort and topped with warm, oak-roasted pear slices ($10) found Simone's fork. A successful concept, the salad was ringed by tender orange sections and tossed in a hazelnut vinaigrette.

My fire-roasted asparagus salad ($10) was almost as delicious, though its tangle of lettuces obscured the intricate knot of fresh asparagus hidden in the center. Drizzled with a Meyer lemon dressing, the creation was lavish with shaves of aged Locatelli cheese. We lingered long over these starters, though Simone did manage a diplomatic aside to the effect that her salad "really would have been enough for three people." Simone always tells it like it is.

Breaking the old cliché that appetizers are usually more interesting than entrees, our Bittersweet main dishes were true stars. A trio of rare lamb chops adorned a central altar of mashed potatoes good enough to rival my mother's. Stunningly fresh and lightly laced with garlic, they were simply addictive, as was the accompanying bed of sautéed spinach ($30).

My companion's fillet of mahi mahi--aromatic with thyme and Meyer lemon beurre blanc--was similarly accented by plush potatoes and a cushion of sumptuous fresh spinach. So good were these entrees--and perfect with the chosen wines--that we almost reached the point of no return. But we quickly came to our senses. We were at Bittersweet, where desserts are fabled.

Desserts here ($7.50 each) are greeted with audible exclamation marks. Mine was the evening's warm apple bread pudding, in which a cascade of diced apples sprang forth from a tier of bread, moist and fresh from the oak fire--so sculptural, especially topped with a scoop of vanilla ice cream, another scoop of barely sweetened whipped cream and festooned everywhere with cookie topknots and powdered sugar. Destination bread pudding, make no mistake.

Simone's Meyer lemon Napoleon--always my favorite Vinolus dessert--had grown more baroque than remembered. Little islands of tropical fruit accented the central, multitiered creation of intensely lemony pastry cream and crisp, rounds of gossamer pastry. Flame grapes studded the lemon cream--a touch I would have omitted, but Simone was flushed with joy over the whole experience. "Very soothing, as well as delicious," she confessed, recovering enough poise to manage a graceful exit.
---
Bittersweet Bistro
Address: 787 Rio Del Mar Blvd., Aptos
Phone: 831.662.9799
Style: New American cuisine
Hours: Happy hour/late lunch daily 3-6pm; dinner Sun-Thu 5:30-9pm, Fri-Sat 5:30-10pm; Sun brunch 10am-2pm
Ambience: *** Gracious, uncomplicated décor maximizes generous ceilings and spacious, lodge interior; classy lounge adjoins
Service: ***1/2 Excellent staff--smart, alert, warm and unpretentious
Cuisine: ***1/2 Elaborate presentation of abundantly filled plates. Superior ingredients, expertly crafted sauces and ornate desserts.
Overall: Bittersweet may not be an intimate bistro, but it preserves bistro attitudes toward robust, direct flavors via beautiful contemporary dishes
---
[ Santa Cruz | MetroActive Central | Archives ]