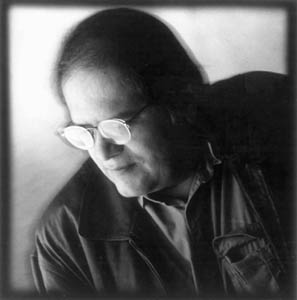 Rubber Soul: Poet Ray Gonzalez cites the Beatles with helping him discover the lyricism of language.

Border Crossings

Ray Gonzalez's writing fuses history, myth and memory

By Morton Marcus

THE LATINO poet and essayist Ray Gonzalez says his voice would not exist had he not grown up in the isolated yet rich landscape of the desert.

Gonzalez, who will be reading in the Santa Cruz area next week, is the author of seven books of poetry and the editor of 11 anthologies of Latino writing, among them Muy Macho: Latino Men Confront their Manhood and After Azatlan: Latino Poets of the Nineties.

Born and raised in the border city of El Paso, Tex., Gonzalez writes poems and essays rooted in memories of the city and the surrounding desert. What makes his work unique is that the person speaking from his writings is not just a resident of the barrio. While he is conscious of the conflicting social forces around him, he remains acutely aware of the historical and mythic implications of being born in the peculiar location of desert, city, border, river and bridge that define the boundaries of his world.

In a way, Gonzalez's work summons the image of a contemporary Native American shaman, who is simulanteously aware of the physical and spiritual aspects of every place and event of which he is part. The snakes, lizards and spiders of the desert are as totemic as they are real; the Rio Grande river separates not just two countries, but two cultures and histories; and the bridge over that river serves not only as a conduit for the lives that cross it, but links the past with the present.

But Gonzalez is too modest to acknowledge such grandiose claims for his work. He says he hated poetry and literature in high school and got terrible grades in English.

He began writing as a boy by "reading comic books," which "got me writing odd, little science fiction stories in tiny notebooks I kept hidden under the bed. This fantasy world was the start of my writing life. Then, in 1964, the Beatles changed everything. Rock & roll and Top 40 radio got me writing and imitating song lyrics, discovering the sound of words."

In 1970, he went to the University of Texas El Paso and took a Modern Poetry class with poet Robert Burlingame.

"He changed my life, opening my eyes to poetry, and I haven't stopped since."

What are the ideas that dominate that poetry?

"I don't think any ideas should dominate poetry," he says, "but I think my concerns include the individual's place in the massive tides of racial, cultural and historical forces. I also write a great deal about the voice of the individual acknowledging the power of the natural world."

And what does the poet hope to accomplish in his writing?

"My writing is my way to connect to the world," Gonzalez says. "As a younger poet, I thought it was a way to release pain, sorrow, and the almost stereotypical idea of the forlorn, alienated artist. As an older writer, I laugh at that because poetry is an enrichment of life, a celebration of our failures and our triumphs.

"I want my writing to be read and perhaps have the reader see that the illumination of language is the light toward praising who we are as individuals. Of course, in the real world with its realities, my writing is also affected by my Mexican-American background and the place I was raised--the desert southwest of El Paso and the volatile U.S.-Mexican border."

Gonzalez sees himself as part of the continuum of the vital stream of Latino literature that has become a mighty river in the past 30 years.

"For many Latino writers, writing was a very political tool," Gonzalez says. "It was a lethal weapon in responding to racism, civil rights, the Vietnam War and family conflict and division. It has taken decades for Latino writers to get to a place where they have larger audiences and readership for their work. The younger writers are both fortunate and might be highly challenged. Their elders have paved the way, but as Latino writers become more established, the younger ones can't turn their backs on their traditions to simply be a part of the highly racist American literary canon and establishment. They have to know where they came from, in order to take Latino literature to the next century of impact and creation."

At the same time, Gonzalez views his work as different from other Latino writers in several ways. First, he says, his writing "is dominated by English, my language of education and perception, with a few Spanish words. So, it is not as bilingual as other Latino writers."

He says his work also reflects many American poetic influences, for example Robert Bly and James Wright.

"My work is also very autobiographical, and personal experience and family are certainly common themes among Latino writers, but coming from the isolation of the desert has given my personal identity the need to fuse both the natural landscape with human experience."

All the elements of memory, culture, myth and history cohere in Ray Gonzalez's work, particularly in his latest book, Turtle Pictures, a mélange of chant, poetry and prose vignettes. The book could be described as a Millennium New Year's party where the past and present of Chicano history celebrate survival, and the future of America stands at the threshold of redemption or destruction.
---
Ray Gonzalez reads Wednesday (March 28), 8:30pm, at Bookshop Santa Cruz. He will give a talk Thursday (March 29), 11am-12:30pm, at Cabrillo College, Room 507; and 3-4pm at Cabrillo College Watsonville Center, Room 4. An interview with Gonzalez will air on "The Poetry Show" on KUSP-FM (88.9) Sunday (March 25), 8-9pm.
---
[ Santa Cruz | MetroActive Central | Archives ]