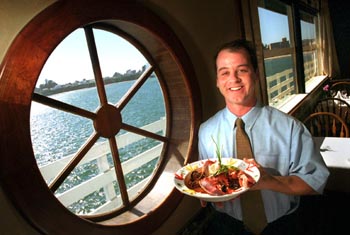 Ocean Seen: Dishes like lobster cioppino are right at home in owner Steve Carniglia's waterfront restaurant.

Carniglia's Rules

In a class by itself, Carniglia's holds down the wharf with its operatic approach to Mediterranean menus and California ingredients

By Christina Waters

THE FAUX CARAVAGGIO paintings are gone, but the Mediterranean artistry is still flourishing at Carniglia's. Especially during the winter months, when the coastline belongs to year-round residents again, the wharf is a wonderful place to spend an evening. The view over the waves at Steamers toward Lighthouse Point is never better than at sunset. With its sophisticated menu, spacious (if sparely decorated) setting and unparalleled view of the waves and coastline, Carniglia's is a waterfront gem. But Jack and I like it because it's also romantic. Our waiter was precise and friendly in reciting evening specials last week. A dreamy combination of day-boat scallops encrusted with dried porcini mushrooms and sauteed atop a bed of farfalle pasta ($16.50)--it was called Capesante--cried out to me. Not literally, of course, but I always surrender to sea scallops. I could eat them for breakfast.

Eyes always peeled for a succulent beef encounter, Jack ordered the Filetto al Pepe ($24.50)--a carnivore fantasy of tenderloin wrapped in peppercorns and prosciutto served with wild mushroom sauce. Sunset over the water provided all the excuse we needed to toast winter's end with a bottle of Savannah-Chanel Zinfandel 1997 ($27). We are fans of this local zinfandel, and the wide goblets allowed ample breathing room. A basket of housemade focaccia and francese kept us company until our salads arrived.

My spinach salad ($7.50) was as gorgeous as Jack's orchestration of greens and fresh vegetables ($4.50). Fresh spinach leaves had been layered into a vertical ziggurat--not the usual presentation--and then surrounded with islands of crispy pancetta, tiny dabs of caramelized red onions and pools of Sea Star goat cheese from Davenport all shimmering in excellent balsamic vinegar. Salt, sweet, tart and sour in each bite!

With Italian vinaigrette on the side, as requested, Jack's salad was a thoughtful composition of baby lettuces with long julienned strips of carrots, fennel and peppers along one side, mandolin-cut "coins" of golden zucchini along the other. A fat olive here, a tiny orange cherry tomato there--it was quite pretty, its edges dusted with a pretty botanical garnish, and just as delicious.

Entrees were excellent. My evening special turned out to be a hearty, likable bowl of farfalle pasta, laced with sun-dried tomatoes, fresh porcini mushrooms and spinach, topped with huge, extremely tender sea scallops that had been dredged in ground, dried porcinis before sauteeing. The earthy wildness of the mushrooms permeated each bite--the effect was sensuous and exuberant.

Jack's tenderloin was perfectly cooked, and as plush as velvet under a forest of sauteed porcinis. On the side were carrots, fennel and completely comforting Euro-style roasted potatoes. The prosciutto might have been unnecessary, but the crushed, roasted black peppercorns added rustic piquance.

"I'm really happy with this dish," Jack grinned, letting the zinfandel and aged beef work their alchemy. He mentally added Carniglia's filetto to his short list of killer steaks.

Not only do desserts not disappoint at Carniglia's, they are brought to your table for selection. The pastry tray offered a balance between chocolate and fruit possibilities--so we tried both. The house tiramisu--I know, I swore I wouldn't--was impeccable. And authentic. Barely sweet, it was a thin slice of multi-layers of mascarpone cheese and rum-soaked genoise, all dusted with chocolate ($6.50). It was easily enough for two people to share, but Jack was busy levitating over a slab of torte covered with ripe raspberries ($6.25). Both voluptuous desserts were adorned by unsweetened whipped cream, ripe strawberries and a beautifully drawn tracery of fruit purees. Our meal ended with a shared glass of Bonny Doon's impeccable Vin de Glacier ($4.50). Carniglia's is as generous with portions as it is with expertise--and besides, it's truly a room with a view.
---
Carniglia's
Address: 49A Municipal Wharf, Santa Cruz
Phone: 831.458.3600
Hours: Open for lunch 11:30am-3:30pm; dinner from 5pm. Closed Tuesday.
Ambiance: ** 1/2
Service: ***
Cuisine: *** 1/2 From appetizers to pastry tray, this place is devoted to dining with gusto. The kitchen has real flair, and dishes offer sensory appeal on multiple levels.
Overall: Carniglia's achieves that difficult feat of providing culinary depth without a trace of tourist-fare condescension. A delicious reason to visit the wharf.
---
[ Santa Cruz | MetroActive Central | Archives ]