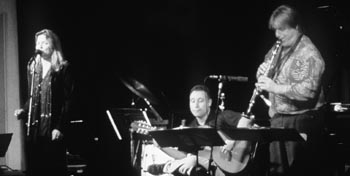 Front and Center: Jazz performers like Santa Cruz singer Claudia Villela (left) can get up close and personal with appreciative crowds at Kuumbwa.

Next Jazz Generation

The Kuumbwa Jazz Center celebrates 25 years of honoring jazz masters and educating tomorrow's players

By Heidi Johnston

THERE'S NO DOUBTING that the Kuumbwa Jazz Center has remained the heart and soul of the area's jazz scene since its opening in downtown Santa Cruz 25 years ago. But the nonprofit music society, which celebrates its 25th anniversary with a concert Monday at the Santa Cruz Civic Auditorium, has also spent the past two and a half decades bucking national trends.

"We've clearly come a long way, growing the organization from completely grass-roots beginnings with absolutely no money at all and no professionals to run anything," Tim Jackson, the center's executive director, explains.

The society that founded the jazz center began with a trio of resourceful individuals. KUSP programmer Rich Wills, singer Sheba Burney and surfer and jazzer Jackson started with a series of concerts at the Capitola Theater, later raising money to open a permanent venue on Cedar Street in Santa Cruz.

Kuumbwa has proven surprisingly successful, building audiences and expanding jazz programs even when the number of national outlets for jazz are declining. Willard Jenkins, former executive director for the National Jazz Service Organization and author of an astute analysis of the jazz presenters enigma, "Where's the Jazz Audience?" acknowledges that Jackson and company buoy the jazz circuit with phenomenal acumen. A big part of that savvy, say performers long connected with the Kuumbwa, is a genuine love of the music and a deep respect of the performers.

"When you have people at the helm that are artists and musicians themselves, the feeling is that you'll be taken care of," singer Gail Dobson says, noting that the center is one of the primary reasons she and her talented family of musicians have stayed in Santa Cruz since 1977. "A lot of times in your hometown you are overlooked, but the Kuumbwa Jazz Center cares about the people who live here. There's a lot of respect."

THE STRICT FOCUS on the music is easily witnessed at Kuumbwa concerts. Distractions are kept to a minimum--no cigarette smoke, none of the usual bar-scene cacophony. "We're not interested in setting up any kind of social scene or anything that doesn't revolve around the music," Jackson says. It's an attitude that has also made the center attractive to other presenters, people like Snazzy Productions' John Sandidge, who has rented the hall many times during the past 15 years for his own shows.

"I present music that is made to be listened to, not dance or party music. With this in mind, it is important that people be able to hear what's going on musically," Sandidge explains. Constant improvements to the sound system and to the layout of the house have kept pace with industry standards, he adds.

Such value on performance and attention to the needs of artists and audiences has won the Kuumbwa and its organizers many loyal fans among legendary artists. Grammy-winning jazz pianist Mose Allison returns to the Kuumbwa annually. "The stage is set up well," he says. "You have a full view of the audience, and they can all see you."

Jazz tenorman Joe Henderson (who played the jazz society's very first concert in 1975) agrees. "Playing at the Kuumbwa is like playing for connoisseurs," he says. "The audience is involved, and listeners respond to the notes and chords as though they were reading the climax of a great novel."

During the 25-year history of Kuumbwa, organizers and fans have seen the passing of many jazz greats, but Jackson says the forecast for jazz is bright and the talent pool deep. "In the music itself, there have certainly been some big changes," he says. "I think that jazz really is in a much healthier spot now that it was in 1975. There is much more public awareness, and the music is taking some interesting directions."

While the new generation comes up, longtime performers like Dobson and her family use Kuumbwa to educate. Dobson teaches for the center's Youth in Jazz program. Jazz-education programs also include a summer jazz camp and honor band. Adam Berg and Zack Mathews, both 18 and students at local high schools, were nominated for the honor band after competitive auditions against students from other area schools. Their extra-curricular enthusiasm has been fused into the formation of their own band, Monte Cruz.

"I think the program is awesome," Berg says. "They give us a chance to meet kids from other schools and the opportunity to play with musicians of higher-than-average skill."

Honor band leader Scott Nordgren explains that one reason he took the position was the influence the Kuumbwa Jazz Center had on him as a youth. "One of my first encounters as far as playing jazz was at Kuumbwa," he says.
---
Diana Krall plays Monday at 7:30pm at the Santa Cruz Civic Auditorium, 307 Church St., Santa Cruz. Tickets are sold out. (420.5260)
---
[ Santa Cruz | MetroActive Central | Archives ]