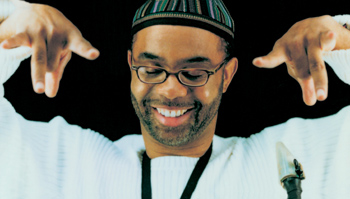 Cool Imaginings: Kenny Garrett contemplates why he must play one third above the band at all times.

Saxing Up the Alto

Kenny Garrett puts the cool back into the bastard child of the sax world

By Peter Koht

The alto sax has a checkered history. Charlie Parker and Cannonball Adderley made it famous back in the days of "Donna Lee" and "Anthropology," but since the death of the Bird, the alto cool quotient has taken a hit. While tenor lovers count John Coltrane and Pharaoh Sanders as their instrumental prophets, the main messiahs of the E-flat horn have been blessed with names like Phil Woods and Sonny Sitt. Even though it's a more agile instrument, the alto has become the bastard child of the jazz world, relegated mostly to swing bands and concert music.

Unlike all the other kids who ditch the alto as soon as their fingers get big enough to pick up the tenor to try to be the next 'Trane, Kenny Garrett knew that he wanted to chunk it out on the alto. Garrett's first professional gig was not too shabby; he got a seat in the Duke Ellington Orchestra, under the direction of Duke's son, Mercer. This gig led Kenny out of the Detroit music scene and into New York's. After a brief stint in some pit orchestras, he found himself playing for both Art Blakey's Jazz Messengers and Miles' Davis' group. From Miles he learned many musical lessons and some practical ones as well.

"Miles' genius was getting the best out of musicians but not controlling them--letting them be free but also getting what he wanted from them," says Garrett. Years later, when he found himself leading his own quartet, he adopted Miles' approach to being on the bandstand.

"What I want to do is let my music be as spontaneous as possible. Initially, of course, I need to let my musicians know what I am looking for, but after that, the music is free to evolve."

Evolution is an eloquent choice of words to describe the output of this gentleman. Unlike many traditionalists who believe that jazz ended when Wayne Shorter took over for Coltrane in Miles' group back in 1964, each new Kenny Garrett project is a complete redesign of the genre and its possibilities. Garrett's expansiveness has also found him seeking inspiration in Asian folk music. On his first trip to Asia, Garrett became enamored with both the languages and the music of the Pacific Rim, and has recently begun to study the music of China, where he's scheduled to tour next August.

"Once you start checking out the music in a new place, you start to understand the connections between the verbal and the musical, and it's another window on the culture."

Garrett's interest in new sounds also applies to contemporary American music. Unlike many of his contemporaries in the jazz world, Garrett doesn't believe that hip-hop is having a deleterious effect on the evolution of the music. In fact, some of his most recent tunes show a strong bent toward this genre.

"I have a 15-year-old daughter who keeps me current, and so does my drummer. People think that hip-hop is new, but it has really old foundations. The other night I went to go see Johnny Griffin, and he was quoting all these different songs in his solos. You can hear his story, and the history of the music in everything that he plays. So sampling has an old foundation."

While Garrett has the freedom to work with almost anyone in the jazz community, he has chosen to build his band around people with open ears who are unafraid to follow him in his sonic wanderings. "I like working with younger musicians, because older musicians might not know new tunes or even want to play them, where younger players like to keep it fresh."

This attitude, combined with his boundless energy and sense of fun, has made Garrett one of the more interesting and hip players to watch in the jazz world. Not too shabby for an alto player.
---
Kenny Garrett Quartet plays Monday, March 28, at 7pm at the Kuumbwa, 320 Cedar St., SC. Tickets $20-$23. (831.427.5100; www.kuumbwajazz.com).
---
[ Santa Cruz | Metroactive Central | Archives ]