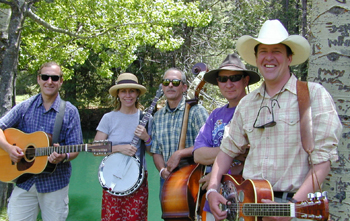 Gritty Moments: From weddings to wakes, the Harmony Grits have played it all.

The Passion of the Grits

SC's Harmony Grits celebrate 20 years of marrying and burying the good folks of Santa Cruz

By Meribeth Malone

A psychologist working in his downtown office after the '89 earthquake saw nerve-wracked citizens wandering the rubble. He made a quick call. In short order, his unique, down-home prescription was filled--as the calm, mellow tones of Santa Cruz's own Harmony Grits flowed down the stairs of the Civic Center. The hours they played left a sweet memory tucked into the psyche of those who lived/worked in the quake's aftermath, according to Grits guitarist Jim Lewin and mandolin player Mike McKinley.

Sitting in a local cafe, where, as usual, a fair percentage of cafe patrons greeted him and Lewin, McKinley talked about the earthquake call and marveled that a band with just a single CD to its credit could reach so many people--and continue to reach plenty.

"Not only have we married 80 or so couples, we also get asked to direct the events because we've done it so often," says McKinley. "We've played wakes and funerals--marrying and burying the good folks of Santa Cruz. Couples still meet at our shows and marry, so the band has commitments well into the future."

Bringing their own history and musical interests to the stage, the Grits, angelic and psychedelic, sit on the fence between old-timey and bluegrass, with echoes of country rock, country blues and rousing "play and pay" gothic gospel.

Originally known as the Continental Drifters, the Grits met as UC­Santa Cruz students. Each brought friends, family and other musicians--including a young Gillian Welch--into a newly birthed country/grass scene. Friends and family watched talent evolve as McKinley, Lewin and dobro player Jeff Baldwin moved from local pubs to the Kid's Stage, then graduated to the Main Stage at the prestigious Strawberry Music Festival. Closer to home, the Grits organized the Santa Cruz Bluegrass Fair and various benefits that drew family-style audiences and musicians in support of an old genre infused with modern sensibilities.

According to Lewin, the West Coast sound (specifically in Colorado and California) "reflects a more open and diverse culture," and "bluegrass musicians and those who love the music see the 'Holy Trinity' [Ralph Stanley, Bill Monroe and Flatt & Scruggs] as the root."

The Harmony Grits continue to promote that culture with an 18-year tradition of performing the second Saturday of every month at the San Gregorio General Store, which is a perfect venue, since it is equal parts community center, cafe, bookshop and general store. And as for the Grits' 20th anniversary show at Don Quixote's, it includes several surprises and appearances by a short list of occasional Grits players. Yeah, for 20 years, The Grits have been giving and loving. The time has come to go give some back.
---
The Harmony Grits, Wednesday, March 30, at 8pm at Don Quixote's, 6275 Highway 9, Felton. Tickets are $8-$10; 831.459.0908.
---
[ Santa Cruz | Metroactive Central | Archives ]