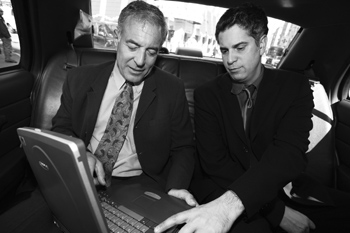 Rev

Car Blogs

Of course, being an environmentalist, I love Green Car Congress

By Novella Carpenter

Bloggers. Real journalists hate them because bloggers do for free what journalists do for money. They provide information and opinion, and often they are more in touch with the way "real Americans think." The blog, derived from "web log," has become ubiquitous. Bloggers work in real time and usually are the first to report on breaking news.

They've made headlines in the recent Apple Computer v. Bloggers court case, about the release of secret Apple product data into the blogosphere, and in the 60 Minutes phony documents scandal. Bloggers were instrumental in getting CNN chief news executive Eason Jordan to resign. They have made their way into the thread of everyday life. There are blogs for everything--sports, sex, food and cars.

I thought I'd blog the bloggers and break down your car blog options (but still, please read my column!). OK, so Cars! Cars! Cars! (carscarscars.blogs.com) is a little like having your best friend sitting at the kitchen table with you, talking about cars and dumb laws and news reports. In this case, your good friend is Bob Schulties, auto journalist.

Like most blogs, it has a heavy dose of opinion--suggesting that Saturn should repackage itself by selling only green hybrids and that Pontiac should aspire to be the poor man's BMW. Hee hee. The "What Should I Buy?" posts offer solid suggestions for the car-unsavvy on what are the best sedans, minivans, convertibles and crossovers.

Along with Le Weekend, we now have Le Car Blog--those crazy French! Though I have no idea what they are saying (er, it's in French), there's nothing better than some Frog car freaks. Good photos and links to European car news. C'est bon! Of course, being an environmentalist, I love Green Car Congress (www.greencarcongress.com), a blog devoted to sustainable transportation. In the last couple of days, they reported on experiments at Brookhaven National Laboratory with nano particles that could be used in catalytic converters, a renewable hydrogen fueling station in Vermont and a commercial biodiesel bus service in India.

Remember The Smoking Gun (www.the smokinggun.com)--that wonderful gossip gallery of real-life documents? Auto Spies (www.autospies.com/) is like that, but with surreptitious photos of secret (and not-so-secret) new vehicles. You can check out shots from the Geneva Auto Show, suggestions that Infiniti is stealing Alfa Romeo rear-end designs, and candids of the 2006 Mercedes S-class (looking like blurry celeb shots). One is shocked (me) at the number of blogs devoted to their Mini Coopers. They include: users.adelphia.net/~rocketboy/index.html, "a boy and his Mini in Western New York," and miniblog.guapacha.com, the "ramblings of a Mini-owning Brit in the Imperial Valley." There are probably at least 100 such blogs. These Mini geeks dish on how their Minis don't have an outside air source (what?!), how people compliment them every day on their cars and which roof color is the best.

Sensing the rich advertising possibilities (or do they just have a lot of spare time?), GM features a weblog at fastlane.gmblogs.com. It's interesting to see how GM executives think. We get comments from the likes of vice chairman Bob Lutz and chief of design Ed Welburn weighing in on why interiors are always gray and how rear drum brakes aren't really that bad. No word from them (yet) on whether GM's set for bankruptcy (gulp!).

The best and my favorite is Jalopnik (www.jalopnik.com). He covers the auto shows and new gadgets, and he dishes gossip--will GM fold soon?--on a slick platform that is part of the Gawker blog media syndicate, which includes Gawker (gossip), Kotaku (gaming) and Wonkette (politics), among others. We're surrounded! Jalopnik is very funny, though, and he scored by having his blog sponsored by The New York Times auto section. Can you say "jealous"? That's it! I'm starting a blog--tomorrow.
---
Email Novella at [email protected]
---
[ Santa Cruz | Metroactive Central | Archives ]