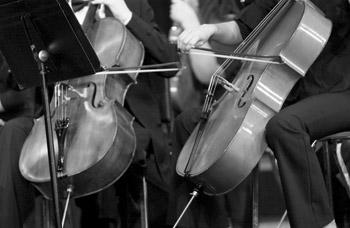 Cello Search: Can Julie Albers find a snarlier instrument?

Snarlier Is Mo' Better

Julie Albers captures Dvorak with flair, but her cello lacks inherent snarl

By Scott MacClelland

Julie Albers' performance with the Santa Cruz Symphony last Saturday of Dvorak's great Cello Concerto in B Minor is, at last, a work in progress. While it packed them in at the Civic Auditorium, and gave real life to a work overexposed on classical radio broadcasts, it has space ahead for improvement.

The work is not only the grandest concerto ever written for the instrument, but shares its grandeur with Beethoven's Emperor, the last and, by far, most dominant of that composer's seven major concertos. Even Brahms, whose concertos attain similar heights, was astonished by it. But while scores of solo cellists perform it, the artists who soar above this Everest are few and far between, and most of them have Slavic blood in their veins.

Albers has captured the piece with extraordinary technical authority and flair. Where she came up short was in risking soul--the composer's or her own--in the poetry of the work's intimate moments. This requires personal insight, a deeper refinement of tone and the telepathic alchemy of pulling her audience into a private whisper as if she had a secret to share, one-on-one, with each individual in the room. (A big boost in this direction would be a cello with more inherent snarl in the tone, a quality that benefits all cello concertos.)

For the Dvorak, John Larry Granger's orchestra came up with powerful symphonic force and rhythmic intensity between those many quieter moments essential to keep the solo part out front and clear. The respect he and Albers paid one another assured focused and concentrated progress throughout. Albers also riveted attention on concertmaster Kristina Anderson during their big duet in the last movement.

Granger opened the program with Stravinsky's Suite for Small Orchestra of 1921, a set of four cheeky and cleverly asymmetrical dances that provided trumpeter Warren Bartold a spotlight opportunity among many other workout solos for the winds.

Schubert's Symphony no. 5 in B-flat, which the composer wrote at age 19, gave witness to his recent studies of Mozart--who is imitated in the first movement--and Haydn. The aging teenager was emboldened to enlarge his development skills considerably in the finale, and he punctuated the first movement with a startlingly original premonition of Schumann. The orchestra gave the work's melodic treasury and rhythmic spark their stylish due.
---
Season Tickets Time: This season includes the works of Beethoven, William Schumann, Gliere, Tchaikovsky, Strauss, Bartok and Dvorak. For more information please visit www.santacruzsymphony.org.
---
[ Santa Cruz | Metroactive Central | Archives ]