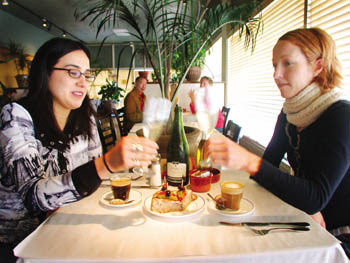 Photograph by Stephen Laufer

Tapas of the World, Ma! Almar Grill diners Julietta and Jane toast to little dishes.

You Go, Grill!

With its new Spanish menu, the Almar Grill will change the way you think about eating--and anchovies

By Ann Parker

"Do you like anchovies?" I hesitated. For one thing, I loathe the salty little devils, but hated to be rude. For another, it was 9:30 in the morning and I was afraid that Almar Grill owner Roger Grigsby would make me eat one.

I needn't have worried about insulting Grigsby, but my other concern was right on the money.

"You hate them," he said cheerfully, getting out a container of what looked suspiciously like (shudder) anchovies. "Because they're salty and oily and fishy--right?"

He handed me a plate. "Just taste this."

And there I was, facing down a plump, glistening strip of fish with the day barely begun.

Gingerly, I speared it on a toothpick and sniffed; Grigsby beamed at my surprised expression. Instead of exuding that dreaded fishy odor, it smelled--and tasted--fresh, tangy and piquant. Typical, he explained, of anchovies preserved in the traditional manner of northwest Spain, using vinegar, wine, bay leaf and cloves.

The Almar Grill is full of surprises. When Grigsby and his partner, Karl Cook, opened the restaurant in November of 2000 (taking over the location previously occupied by Aldo's) their menu featured what Grigsby calls "standard American grill fare"--steaks, chops and chicken, plus breakfast.

Last December, however, saw a major change. Breakfast was dropped, and lunch and dinner items veered across the world to Africa and the Mediterranean. The menu has evolved further now, to traditional Spanish-style items only, including wines from Spain (plus some locals).

Grigsby is no stranger to introducing quality ethnic cuisine to Santa Cruz. His acclaimed O'Mei restaurant has been one of the area's top Chinese restaurants since opening in 1979; it's still owned by Grigsby, and is managed by his Almar partner, Karl.

A well-traveled chef, Roger lived in China for over a year, and has made forays into countries around the world. His enthusiasm for ethnic food and cooking is equaled by his passion for touring "the real country" whenever he travels, preferably on bicycle; Spain is a favorite destination.

"The Spanish aren't famous for their food," says Grigsby. "They don't get so worked up about it, but they know how to enjoy it."

All items on the Almar menu are listed in Spanish, but accompanying descriptions explain, for instance, that the Spanish tortilla, unlike its Mexican cousin, is a round omelette containing cooked potatoes and other tasty ingredients.

Most savvy diners have some familiarity with tapas, or "little dishes." On this menu, the tapas range from a daily fish stew or lamb with apricots to Cochon Asado, which has a mouth-watering description including the warning, "Only for those who know that roast pig has skin and fat."

Tapas on toast, or Pintxos (pronounced PEEN-toes), include manchego cheese and quince jelly, hummus with black beans--and Boquerones, those awesome anchovies.

Hard to choose between these unusual and tempting variations? That's the idea. As the menu notes, "Tapas is about how you eat food, it's about small portions and sharing."

Sharing is good. And Almar Grill prices are reasonable, encouraging the choosing of several small dishes. Lunch service is designed to be quick and convenient, but diners with time to linger at lunch or dinner are enacting what the Almar Grill is all about: enjoying, sampling, sharing. "This is also the Chinese approach to eating," Roger points out.

Another unfamiliar item, Bocadillos, turned out to be Spain's version of a sandwich, served on traditional zapatilla bread. The low-yeast zapatilla dough ferments for 30 hours; the final result is a crusty brown bread with a deliciously nutty flavor of wheat.

After 5pm, patrons who order drinks and sit at the bar are served complimentary tidbits, or Algo a Picar ("something to pick at"). The Almendras Garrapinadas --almonds coated with a red crust containing sugar and smoked paprika--are particularly good with a glass of Sumarroca cava, or Spanish champagne.

Make haste to the Almar Grill if you want to sample the dishes described--Roger is always coming up with new ideas and the menu also changes to reflect seasonal shifts. Now that it's spring, for instance, their house gazpacho returns. This version of the savory chilled soup is made from a base of bread/garlic/olive oil paste blended with fresh crushed tomatoes, cucumbers, peppers, vinegar and spices.

And don't forget to try the anchovies, even if you think you hate them.
---
The Almar Grill
Address: 841A Almar Ave. (at the edge of Almar Shopping Center, off Mission Street), Santa Cruz
Phone: 831.420.0114
Hours: Lunch 11am-2pm Tue-Fri, dinner 5-9pm; brunch 9am-2pm Sat, dinner to 10pm; closed Mon
---
[ Santa Cruz | Metroactive Central | Archives ]