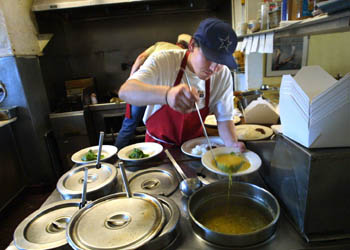 Pots of Plenty: Carlos Ramirez at work in Asian Rose's kitchen.

Rose-Colored Masses

Powered by the local passion for authentic flavors of the East, Asian Rose remains true to its mission

By Christina Waters

THE FOOTPRINT of a bygone era, when a coffee shop offered counter seating to its breakfast clientele, still lingers at the Soquel Avenue branch of Asian Rose. The pale yellow walls of the establishment offer only a few posters from Sri Lanka to coax ambience out of what is otherwise a bare room. There are chairs and tables in front of the counter; chrome appliances behind the counter. Otherwise it's the throng of faithful patrons who make up the visual core of Asian Rose. The small restaurant takes no credit cards, has no beer or wine list, and no desserts. So why is it packed every night?

The menu reveals all. Prices are low, low, low for complete meals, nothing priced above $7. Here coolers, involving ginger, lemon and hibiscus, substitute for beer and wine. If you crave a crisp sauvignon blanc or an icy Kingfisher beer with your Sri Lankan fare, you are welcome to supply it yourself.

Ceylon--a beautiful word, like Siam--has given way to Sri Lanka and Thailand, post-colonial names that only thinly disguise pasts rich in sensory nuance. The flavor of the tropics lingers. The hallucinogenic scent of cloves hit with the first bite of a crisp, deep-fried Sri Lankan spring roll ($2.75). These tooth-intensive cylinders, packed with potato, legumes and cloves, arrived with a sweet, gooey chutney. Tara and I were glad we had our drinks, hers a classic India Joze-style hibiscus cooler, and mine a light, very refreshing ginger creation.

Asian Rose is popular with a youthful clientele and with families--there's no tablecloth to stain and no snooty waiter to intimidate you because you forgot to change your grungy jeans.

In addition to the can't-be-beat prices, there's portion largesse. Dinner plates arrive brimming with entrees all served with excellent basmati rice and a substantial crunchy, pappadam cracker full of nutty chickpea flour.

EDIBLE MOSAICS of orange, green and brown, our entrees were nothing if not big. A sampler curry platter ($6.75) offered dizzying textures piled onto one plate. Chickpeas lounged in a sweet red curry, next to a spicy slaw. By the lovely rice sat a lackluster, pale green curry creation involving basil, potatoes and peas that I hurried past. A third variation, marinated tempeh in a rich red curry, was quite delicious, and I returned to it often, in between bites of the crispy pappadam.

We also liked a coconut milkinfused crunchy tempeh stir-fry sitting on crispy rice noodles. A lot of different samples on one plate, alas, can quickly become a mono-flavor.

Tara's order of Kofta Joe ($6.95) was composed not of the promised "dumplings," but faux falafel balls made with green peas and cashew, allegedly spiced with cardamom (not detectable) and cilantro. These ingredients should have tasted wonderful, but didn't. These ersatz "meatballs" were swimming in an orange sauce of vaguely tomatoesque origin.

The third entree was the best. Gado Malabar ($5.75) is worth getting in the car for. A fresh stir-fry (unlike the other dishes, it arrived steaming from the kitchen), it was loaded with plump triangles of tofu, lots of broccoli, zucchini, celery, onions, carrots and sprouts. The odd cauliflower and pea added more textural interest. An excellent nutty gado gado sauce adorned an island of basmati rice, and there was a distinct and welcome kick at the end of every bite.

A lone waiter worked the entire room and we could have written a long letter to the editor complaining about Bruce Bratton in the time it took to get our modest check. No frills, workmanlike, with some fine flavors peeking through here and there, Asian Rose delivers quickly prepared, abundantly spiced dishes. That some of these are uninspired doesn't seem to faze the fans.
---
Asian Rose
Address: 1116 Soquel Ave., Santa Cruz
Phone: 831.423-7906
Cuisine: Vegetarian Ceylonese
No credit cards; no beer or wine; no reservations
Hours: Lunch and dinner
Service: *1/2 Rushed, but accommodating
Ambience: * Lively crowd does it all
Cuisine: ** Some obvious expertise lies behind a menu of very similar stir-fry and slow-cooked recipes
Overall: Practically a religion with hard-core vegetarians, Asian Rose offers spice-laden politically correct dining--no mad cows or dotcoms round here
---
[ Santa Cruz | MetroActive Central | Archives ]