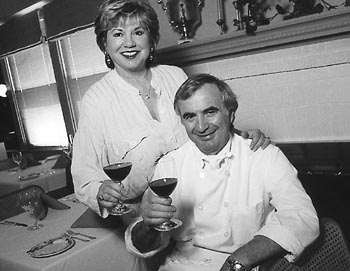 Photograph by George Sakkestad

One Last Toast: Renee and Jack have provided discerning diners some exceptional meals over the years.

Au Revoir, Chez Renee

After an astonishing, award-winning 17 years, Jack and Renee Chyle are ending their long reign as pace-setting restaurateurs

By Christina Waters

SOMEBODY HAS TO TELL you. Chez Renee is closing its doors on April 23. It's hard to say what I'll miss most, Jack's duck or Renee's cheesecake. Probably Jack's duck, before which I've genuflected since Day One, almost two decades ago. As stylish a "mom and pop" bistro as was to be found in California, Chez Renee came to Aptos in time to catch the dining-as-entertainment wave of the '80s. It was a short, sweet ride to gastronomic glory--one that enriched the palates of the Chyles' devoted Central Coast clientele.

"We wanted to go out on top," Renee grinned over coffee last week. "Like Seinfeld." The logic is impeccable. They've both been at "the store" five days (and nights) a week for 17 years: Renee managing every detail in the front of the house, Jack finessing those memorable meals. They've garnered Wine Spectator awards, Zagat guide praise, and four stars from everyone who mattered. All their professional goals satisfied, the culinary artists found themselves still full of adventure. The pace had lost its charm. Retirement called. (And so did caterer Ann Confer of Southern Exposure, who's purchasing the restaurant.)

Cheerful workaholics, Jack and Renee met in San Francisco almost 30 years ago. "From the day I met the man I have been on a diet," Renee groans. He was a Silicon Valley engineer/financial analyst, she an accountant. They both loved to cook and entertain. One thing led to another, and soon Jack Chyle enrolled in the California Culinary Academy. After her husband started work in a South Bay restaurant, Renee went to the California Culinary Academy.

"All our friends, one by one, were moving to Santa Cruz," she recalls. And--charmed by the community and climate--so did they.

"We kept it small--Jack was always the chef." Indeed, Renee was always at the front door, and Jack was always the man in the kitchen. His deft, exceptionally light touch defined each dish, from the house-smoked salmon to the fresh duckling sauced with whatever was in season. This week Jack's duck is served with a fresh kumquat and red wine sauce, finished with green peppercorns. The first time I ever tasted it, fresh pomegranates heightened the game.

And there was the time that Jack couldn't resist his neighbor's plum tree. The result was Duck with Purloined Plums--a stellar creation of tart fruit and rich duck. The neighbor was handsomely repaid in fresh plum chutney--made by Jack.

Asked what dish he has loved most in a career long by any restaurant standards, and the unassuming chef replies, "usually whatever I'm making that day." Like his latest batch of smoked salmon. "It takes three days to make, and everything came together just about perfectly," he says with a modest smile. The chef contends that having everything come together--the cooking, the presentation, the timing--is what his work is all about. The man who routinely made mascarpone cheese from scratch has no regrets. But he does grow misty about closing shop.

Occasionally there were disasters. "Our first New Year's," Renee suggests. Jack nods. "There was gridlock in the foyer--it was chaos. So I just opened a few bottles of wine, gave everybody glasses and told them we'd do the best we could."

"Working with prime ingredients, never following trends," Jack offers unhesitatingly--that philosophy has defined his craft. "Even after all our travel in France and Italy, it still comes down to the same thing: simplicity and quality." Not to mention consistency other restaurateurs would kill for.

The Chyles will miss the restaurant--and so will their patrons, some of whom have gotten engaged, married, divorced and remarried over Grand Marnier soufflés. "Our love affair with food, wine and people won't just ride off into the sunset," Renee promises.

What's the first thing they're going to do when Chez Renee finally closes its doors? "Sleep!"

Thanks for the delicious memories.
---
Chez Renee
Address: 9051 Soquel Drive, Aptos
Phone: 831.688.5566
Hours: Open for dinner Tue.-Sat. until April 23.
---
[ Santa Cruz | MetroActive Central | Archives ]