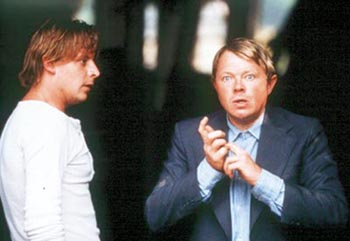 In Farm's Way: Anders W. Berthelsen (left) and Jesper Asholt bond while running a broke-down farm in 'Mifune.'

The Danish Lash

'Mifune,' like the other Dogma 95 films, denies the fascination of cinema

By Richard von Busack

WHY IS IT THAT THE NEXT new thing ages so quickly? Not even half a dozen movies bear the official certificate of the austere Danish directors known as Dogma 95--the Good Filmkeeping seal--and already the films are beginning to merge into one another in the memory. Firstly, they all deny artifice and shock: no soundtrack music, no dubbing in of sound, no gunfire. Secondly, they all share the same hue. The use of available light is an article of faith, which means that the Dogma 95 filmmakers have given up the tricks with artificial light that have made movies glow for a century. Admittedly, the lighting process is time-consuming, expensive and a bore to the actors. But with artfully arranged light, the viewer sees gradations and the play of color, texture and mood that make movies implicitly fascinating, no matter what stories they are telling.

Dogma 95 films, by contrast, exhibit a uniform mustard color. There's been a range, to be sure: neon-mustard in the solarized scenes of Harmony Korine's Julien Donkey-boy, flaming goldenrod in the summer scenes of The Celebration and a murky, baby-dung-yellow light in the living-room scenes of Søren Kragh-Jacobsen's Mifune. The yellow light of the Dogma films seems at this point a sort of jaundice; there haven't yet been any breakthroughs of narrative or acting that justify the restrictions. The films' would-be naturalism clashes with lurid subject matter, probably to keep the audience interested during the substandard visuals. Boil Mifune down, for instance, and you have a Danish version of Rain Man.

A city heel named Kresten (Anders W. Berthelsen) learns to bond with his mentally disabled but goodhearted country brother, Rud (Jesper Asholt). While taking care of the newly orphaned young man, Kresten learns to enjoy the beauty of farm living, which he couldn't get away from fast enough when he was a boy. A romance unfolds between Kresten, the new master of the broken-down farm, and Liva (Iben Hjejle), his hired girl with a shady past.

Mifune seemed uncomfortably similar to the last Scandinavian film I'd seen, the very commercial Under the Sun. In between the moments of drama and the bonding between Rud and Kresten, we see the bitter malice of some of the locals and an attack by some friends of Liva's. More conflict is provided by the angry arrival of Claire (Mira Sorvino look-alike Sofie Grabøl), Kresten's newlywed wife, who believes her husband has ditched her to meet with the statuesque servant girl.

By being sent to the Danish hinterlands, we learn interesting local facts, such as that country Lutheran ministers still wear starched ruffs around their necks, like Sir Walter Raleigh. Aside from the travelogue, Mifune is a minor drama, right from opening with the whooping climax Claire has during her honeymoon scene--doesn't a fake orgasm violate a Dogma tenet? Watching Mifune, I was plagued by a troubling question: If the intent of Dogma 95 is to bring cinema closer to verisimilitude, why are the Dogma films always jammed with preposterously melodramatic situations, full of incest and whoredom and saintly idiots and violent miscarriages?
---
Mifune (R; 98 min.), directed by Søren Kragh-Jacobsen, written by Anders Thomas Jensen and Kragh-Jacobsen, photographed by Anthony Dod Mantle and starring Anders W. Berthelsen, Jesper Asholt and Iben Hjejle, opens Thursday at the Nickelodeon.
---
[ Santa Cruz | MetroActive Central | Archives ]