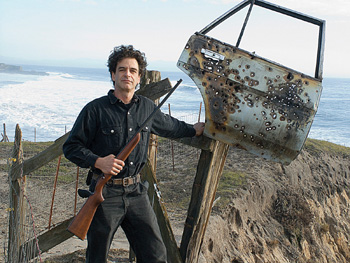 Darryl Ferrucci: If you're happy and you know it, shoot a car.

Cosmic Trigger

Range shooting comes to a downtown art gallery

By Mike Connor

Gun enthusiasts like to shoot stuff, and no amount of analyzing, deconstructing, rationalizing, blaming or speechifying will change that simple fact. But if you've never shot a gun, a unique opportunity awaits you at the Attic. As far as we know, it's the only venue that will be hosting a shooting range, this Thursday during the closing celebration of local visual artist Darryl Ferrucci's installation, "Shot Up."

"Everyone is so familiar with the image of a gun," says Ferrucci, "but so many people have actually never picked up a gun. We're kind of demystifying this in this safe, nonthreatening situation, to invite people to come up and give it a shot, and to find out it's rather different than it's portrayed in the movies or on TV."

"Shot Up" is an assortment of brutally crumpled, rusted and bullet-riddled car doors, all delicately lit with the same care and attention to detail that might be given an exquisite sconce. Colored light glows through the doors' wounds, the rust around the holes bleeding roughly into the remaining skin of weathered paint.

Ferrucci found most of the doors decaying in the harsh Nevada desert owned by the Bureau of Land Management. "It's a wasteland," says Ferrucci, "so people go out there and blow up anything they can get their hands on."

What kind of people do that? Ferrucci thinks a couple of likely candidates once stopped by his campsite in the desert to say hello. "They said, 'We're going out to Solider Meadows, we're gonna drink beer till the beer runs out, drink whiskey till the whiskey runs out, and then shoot the bottles.'"

Ferrucci's analysis of the shooting ritual is decidedly romantic. "Some Americans still perform a traditional ritual of Freedom, Individuality and the Right to Bear Arms, by hauling old cars and other pieces of metal junk out to desolate areas and blasting them full of bullet holes." And he's not just talking about gun-toting rednecks. Ferrucci, 43, is as much an intellectual as he is a longtime local artist, but he's also a gun owner, as is his friend Marcus Negron, a 41-year-old card-carrying NRA member, hardware engineer and Buddhist who will play the roll of "rangemaster" at the makeshift shooting range.

At the closing party of this elegantly displayed show, Ferrucci is lowering the brow level with a sort of home-grown recontextualization--he's bringing the spaghetti Western music, cheap beer, guns and people back to his objets d'art formerly known as targets, and car doors before that. The shooting range will be equipped with a high-powered CO² pellet gun chained to a pedestal inside a Plexiglas case, making it impossible to shoot anywhere except downrange. And downrange will be completely blocked off, save for a narrow aisle, at the end of which will be a bale of hay adorned with your choice or target: pictures of old cars and pickup trucks, cans of Coca-Cola and Budweiser, all yours for the taking after you've riddled it--or missed it--with your 10 shots at Ferrucci's nostalgic take on the American Dream.
---
Shot Up closes on Thursday, March 30, at 6pm at the Attic, 931 Pacific Ave., Santa Cruz. The shooting range is open from 6 to 9pm. Admission is free. (831.460.1800)
---
[ Santa Cruz | Metroactive Central | Archives ]