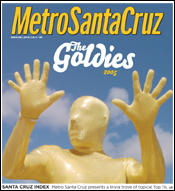 For the Week of
March 30-April 6, 2005
Cover Story: The Goldies 2005:
Once again, you picked the best of Santa Cruz to be honored with the one and only Goldies Award for 2005. Nice work!
Tsunami Aftermath: One woman's experience of doing direct relief in Thailand--and of finding out what isn't getting done.
A School for Survivors: Jack Schultz is back from Bali--and has another tsunami relief project in the works.
Nüz: Development Thumbs Up; Barging Through The Deficit; Seriously in Salinas.



Rev: Superheroes: This is his explanation. He's actually helping fellow drivers by driving slowly, thus preventing them from driving fast.



San Carlos Street Style Rez: An artistic revolution hits the skateboard decks at MAH.



Black and White: Robert Rodriguez and Frank Miller pig out on knuckle sandwiches in 'Sin City.'
Christmas in March: Trainspotter Danny Boyle makes one, you know, for the kids, with sentimental 'Millions.'
Sweet and Salty: A German accordionist dreams of Texas in 'Schultze Gets the Blues.'



As Handsome As They Wanna Be: Handsome Boy Modeling School wants to show the world just how handsome 'White People' are.
Windy Repairs: Instrument repair specialist John Thomas moves his store downtown.
Roll Over Beethoven: Watch Out, Beethoven! The Guarneri Quartet famously revisits your classic quartets in Carmel this Friday.
The Rock Show: The Supersuckers; Kyle Gass of Tenacious D; All Ears; Edmar Castaneda.



Annie Get Your Dip: In which our intrepid food columnist discovers the dip that rocks the spot.



Please don't forget to write! Metro Santa Cruz welcomes letters. Like any great work of art, they should be originals -- not copies of letters sent elsewhere. Include address and daytime phone (for verification purposes only). Letters may be edited for length and clarity or to correct factual inaccuracies known to us. Postal: Metro Santa Cruz Letters, 115 Cooper St., Santa Cruz, CA 95060. Fax: 831/457-5828. Emailers, please include name, city of residence and phone number. Letters printed will list email address unless otherwise specified. Letters to the editor are not currently published in the online version of this paper.
Copyright © Metro Publishing Inc. Maintained by Boulevards New Media.