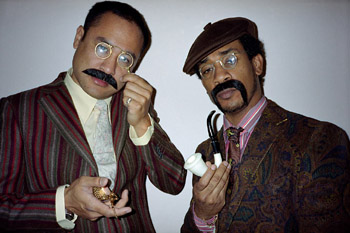 Model Mustaches: A faux fur mustache is a must-have Handsome Boy fashion accessory.

As Handsome As They Wanna Be

Handsome Boy Modeling School wants to show the world just how handsome 'White People' are

By Christine Lee

Handsome Boy Modeling School is like an infomercial. At first glimpse what they're hawking induces skepticism, and you're ready to write them off as a gimmick. But keep listening, and you'll find yourself furiously jotting down the toll-free number so "you too" can fork over $60 to become a Handsome Boy Modeling School graduate.

Handsome Boy Modeling School attributes its origins to Chris Elliot's short-lived Fox sitcom, Get a Life, and is currently presided over by "food guy" Nathaniel Merriweather, alter ego of Dan "The Automator" Nakamura, and "wine guy" Chest Rockwell, a.k.a. Prince Paul. Both of these gentlemen are well-known producers in their own right--Dan the Automator blew onto the hip-hop scene with the 1996 collabo project Dr. Octagon with Kool Keith, and more recently into the mainstream via "Clint Eastwood" with the cartoon crew Gorillaz. Prince Paul engineered the skit-infused De La Soul album Three Feet High and Rising as well as the dark horror-hop that was the Gravediggaz. Together they combine their production skills and ridiculous guest list with the lofty aim of spreading their ideas of handsomeness far and wide.

"The Handsome Boy Modeling School was formed before the idea of us applying it to music," explains Dan, who manages to conduct the entire interview as Nathaniel Merriweather. "Music just became one of the avenues where you could bring out that handsomeness. Because handsomeness is not just about looks. Yes, it's your appearance, class, hygiene, manners. But it's also a state of mind. We look for people who love music and are trying to do something for themselves, and then we help make them more handsome."

The first Handsome Boy Modeling School graduates were featured on So ... How's Your Girl?, released in 1999 on Tommy Boy Records, and immediately garnered thousands of fan testimonials. Five years later, previous graduates like Del the Funky Homosapien, De La Soul and Father Guido Sarducci (of '80s Saturday Night Live fame) have stayed with the program, making reappearances on their new Atlantic label release, White People, last year. They're joined by new beauty seekers Jack Johnson, the Neptunes' Pharrell Williams and Tim Meadows, as well as O.G. handsome icons such as reggae veteran Barrington Levy and John Oates (of Hall & Oates fame), many of whom run in the same handsome circles. But that doesn't mean they don't flex their mustaches when necessary.

"We like to work with people that we already know and like," Dan discloses. "Everyone on White People was already a friend, except for John Oates. We sought him out because of that mustache and his vast knowledge about the handsome way of life. And though they may come to us with a preconceived notion of what they want to do, we don't always follow that. When you've spent so many years of your life honing and becoming as handsome as we have, we feel that we have the experience to give some of that back to them."

The music in White People has the same cheeky airs about it--loosely based on hip-hop, it layers and drapes its tracks with reggae, rock, soul, jazz and classical, all the while patting your head knowingly and pooh-poohing you with a "you'll thank me for it later" when you question whether it all really works or not. For the most part, you do, and it does. A handsome idea, indeed. What was that number again?
---
Handsome Boy Modeling School plays with Buck 65 on Friday, April 1, at 8:30pm at the Catalyst, 1011 Pacific Ave., Santa Cruz. Tickets $18/adv, $20/door; 16 and over. (831.423.1338)
---
[ Santa Cruz | Metroactive Central | Archives ]