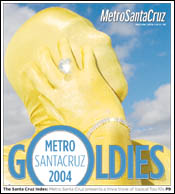 For the Week of
March 31-April 7, 2004
Cover Story: The Goldies 2004:
Once again, you picked the best of Santa Cruz to be honored with the one and only Goldies Award for 2004. Nice work!
Nüz: Gore vs. Nader: the real story.
The Invisible Primary: Anybody remember the Green Party?
Synthetic Science : The FDA banned silicone breast implants last month. Should saline be next?



Junk in the Trunk: Director Alex Cox reveals how 'Repo Man' went from dead-on-arrival to cult classic.
Omar Never Dies: Sharif is still the Arab world's cultural emissary to America in 'Monsieur Ibrahim.'
In a Lather: Former madam Heidi Fleiss on 'Shampoo' and the importance of goals.
Little Criminals: The Irish import 'Intermission' is crusty yet mushy.



More Than a Feeling: What does William Hung's loss and subsequent rise say about pop iconography and ourselves?
Coming Full Solcircle: One of the most visionary bands in the history of the Santa Cruz music scene regroups at the Kuumbwa.
Born Freestyle: This area's most talented verbal shock troops cut each other down to size for your amusement at the Serendipity Project's incredible freestyle battles.
The Rock Show: Ziggy Marley; Spearhead; The Breeders; Mix Master Mike.



Everybody's Fool: April Fool's Day touches off a full-scale raid of local bookstores by eclectic authors.



The Taste of Victory: Goldies medalists cop to their winning recipes.



Please don't forget to write! Metro Santa Cruz welcomes letters. Like any great work of art, they should be originals -- not copies of letters sent elsewhere. Include address and daytime phone (for verification purposes only). Letters may be edited for length and clarity or to correct factual inaccuracies known to us. Postal: Metro Santa Cruz Letters, 115 Cooper St., Santa Cruz, CA 95060. Fax: 831/457-5828. Email: . Emailers, please include name, city of residence and phone number. Letters printed will list email address unless otherwise specified. Letters to the editor are not currently published in the online version of this paper.