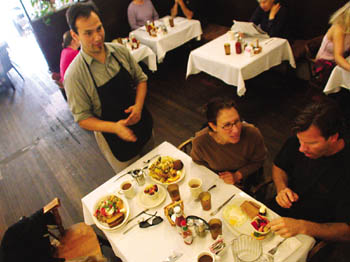 Photograph by Stephen Laufer

Wanna See the Real Mike's Mess? Jon Teachout (right) and Helen Nunburg decide whether to let their waiter Jesse karate-chop their breakfast.

The Champion of Breakfast

Goldies winner Zachary's continues to be Santa Cruz's AM institution, delivering your all-time favorite comfort foods

By Christina Waters

The Breakfast of Champions (and of picky musicians and surfers) is alive and well and served with home-cooked flair at Zachary's.

The ever-bitchen dining room's brick walls and worn wood floors could probably tell a tale or two about some high times back in the Wild West of 19th-century Santa Cruz, where high ceilings and big-shouldered breakfasts were the law. Zachary's continues that tradition with legendary pancakes, heartland cereals and omelettes so authentic they could teach Kierkegaard a thing or two.

Noah, Jack and I were ravenous from one of our early-morning workouts, so we did the only reasonable thing possible--we went to Zachary's and took a corner booth opposite a wall of hanging plants.

"Are those plants on steroids?" Noah wondered. He obviously missed the hippie era when le tout Santa Cruz was dripping with philodendrons. Zachary's definitely has the homey, laid-back vibes of another, happier, more mind-expanding time. Very pre-earthquake.

Swing music got our adrenaline jumpin', and so did the bracing coffee that greeted us the minute we sat down. The excellent coffee was necessary to get our endorphins in gear enough to take in the full acreage of Zachary's menu. The expression "I want it all" comes to mind whenever I survey the possibilities--the perfect eggs and hash browns, the endless scrambles, Mike's Mess, the gazillion grain cereal combos. If you crave a little something more with your oatmeal, you can add a side of two eggs for a mere $2. One dollar per egg. What year is this? 1890? 1955? Nice to know there are some freedoms as yet untainted by the current administration.

Noah chugs his giant glass of OJ while we swill coffee. Food arrives the minute it's freshly done from the kitchen, and not a moment before. Aromatic to the max, my pancakes are the genuine article. Even better, they're done exactly the way I like them--not big, fat Michelin blimps, but thin, tender, moist and sourdough tangy ($3.25 for 1/2 order). I remove the unnecessary slice of orange, slather on butter, pour on the syrup and enter a state of ecstasy. Every bite is deeply satisfying, not filled with gooeyness or tasteless fluff the way pancakes tend to be at most diners. Nor is this a decorator gourmet experience. It's just the best pancakes in town, that's all.

Meanwhile, Noah is going into one of his post-surfing trances over a plate of industrial-sized French toast. These babies are thick, golden and eggy, and made of some amazing oatmeal molasses bread ($4.50). We all taste. We all nod. Killer French toast.

But as I consider Jack's order of chili and eggs with that incomparable jalapeño cornbread that is an excuse to stop at Zachary's all by itself, I realize that he has won this breakfast lottery. On top of a substantial stoneware bowl of fragrant, complex, homemade chili con carne (made with at least six kinds of beans) sits a yellow mass of scrambled eggs -- hearty, eggy eggs (not that whipped air stuff all too frequently served in public places). And on top of that sits a thick dollop of the finest guacamole Jack has ever tasted ($6.95). The chili and egg dish is a major meal of layers, meaty chili, rich, full-bodied guacamole. It's a stupendous achievement by any kitchen. Here is the food to eat if you have no fear of calories. For après marathon. For lumberjacks who have just clear-cut half the Sierras. John Wayne would eat here. Janis Joplin would eat here. Even Claude Monet would eat here. Calista Flockhart probably wouldn't.

Breakfast at Zachary's gives a whole new meaning to "Have a nice day!"
---
Zachary's
Address: 819 Pacific Ave., Santa Cruz
Phone: 831.427.0646
Hours: 7am-2:30pm Tue-Sun, closed Mon
Service: *** Right on the money and quick with the coffee
Ambience: *** If you're thinkin' funky breakfast house in paradise, you're there.
Cuisine: *** Breakfast doesn't get much better. Anywhere.
Overall: A righteous and enduring landmark of real food, made by and for real (or virtually real) people. Wouldn't be Santa Cruz without Zachary's.
---
[ Santa Cruz | Metroactive Central | Archives ]