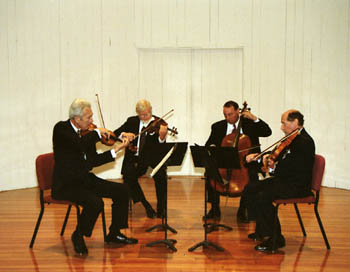 Bow Ties: The Guarneri String Quartet have been together longer than most married couples, and yet they still refuse to share a toothbrush.

Fellowship of the Strings

After almost four decades with its original lineup intact, the renowned Guarneri String Quartet does some re-arranging

By Scott MacClelland

Have an obsession? No, thanks, I've already got one. That would likely be most people's response to such a question, at least those among us who pay therapists big bucks to get free of their obsessions. But Michael Tree nurses his obsession without apology.

For four decades, Tree has played viola in the Guarneri String Quartet. He and fellow Guarnerians Arnold Steinhardt and John Dalley continue to feed their collective musical obsession by performing the great works for string quartet from the last three centuries, and their first Santa Cruz appearance, for UCSC Arts & Lectures this Saturday, includes works by Haydn, Lukas Foss and Beethoven.

Steinhardt, Dalley and Tree are founding members of the Guarneri--their fellow founder, cellist David Soyer, retired in 1998 after 38 consecutive seasons, making way for his protégé (and the quartet's "new kid"), Peter Wiley.

Classical music has undergone dramatic upheavals in recent years, not the least of which is the shift away from minimalist style. Sales of classical CDs have dropped so precipitously that the industry itself has suffered not one but many identity crises during the last dozen years. Familiar record labels have disappeared, and, if they resurface at all, often introduce a whole different stable of artists, including nonclassical "crossover" musicians. (Instead of maintaining a CD inventory, the venerable Vox catalog will burn a fresh CD and mail it for $20 by online special order.) As reported daily by Andante.com, the number of domestic symphony orchestras in trouble continues to increase, with hair-raising life and death scenarios abounding.

All of this tends to make such veterans as Guarneri seem like incipient dinosaurs or immortal mystics, or both. To put their career in perspective, I asked Tree how many times the Guarneri has played the 16 Beethoven quartets, works whose unique vision continues to beguile aficionados.

"Through the years, we've played the Beethoven cycle hundreds of times," he finally declares, having first tried mentally to calculate the number accurately. Regarding the work on this program, the 45-minute op. 132 in A Minor, he adds, "over 20 times this season alone."

After marathons like that, an ordinary mortal might wonder how Tree and his colleagues are able to sustain their enthusiasm. Doesn't there come a point when it's just weight lifting?

"It doesn't feel that way," says Tree. "A work of that complexity and majesty is always yielding new secrets, new ways of interpreting even a single phrase."

But he admits that reaching consensus can be contentious. "It would be boring as hell if we sat down to rehearse and agreed on everything," he says.

The quartet was launched in 1964, at the Marlboro Festival, the famous chamber music camp in Vermont. "We had all known each other years earlier from Curtis [the conservatory in Baltimore] and, except for David, had formed the Marlboro Trio," says Tree. "But we never had the privilege or opportunity to study quartet music directly. That is, we never had a coach."

Instead, the musicians took as unofficial mentor the famed Budapest Quartet, and, in fact, participated with two of its members in a Marlboro reading of Mendelssohn's Octet for Strings. The Budapest's second generation of players dominated the art from the 1930s through the mid-'60s.

The program at UCSC opens with Haydn's Quartet in C, op. 54/2. Foss' Quartet no. 5, which follows, is a reworking of a previously composed orchestral piece, and "somewhat minimalist in character."

When I asked Tree about the quartet's commitment to new music, he admitted, "At this stage we are primarily concerned with introducing our new cellist in the great standard repertoire." He went on to explain that the new member has brought about new challenges for the other three--that Wiley is "an entirely different player, with a different sound, a different approach. It's a learning experience for us all, and, as a result, the quartet now has a slightly different slant on things."
---
The Guarneri String Quartet performs Saturday, April 5, at 8pm at the UCSC Theater Arts Mainstage. Tickets are $23 general, $19 seniors and students with ID, $15 UCSC students with ID; call 459.2159.
---
[ Santa Cruz | Metroactive Central | Archives ]