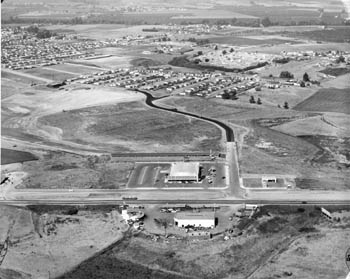 Covello & Covello Historical Photo Collection

Watsonville, 1956: This is Main Street (Hwy. 152) looking down on the 'Register-Pajaronian' building at Arthur Road and Main Street. You can almost guess that the 'Pajaronian' building used to be a Safeway store.

Bruce Bratton

MAY DAY LABOR FILM FESTIVAL. Plans are still being made, but there'll be a collection of famous and meaningful films (not like the Oscar nominees) shown in five places on eight days, April 28-May 4. Salt of the Earth, Roger & Me, Watsonville on Strike, Dollar a Day, Ten Cents a Dance, Matewan, Bread and Roses will all be featured. Cabrilho College, the Del Mar, the Nickelodeon and Community Television Studio will be some of the locations. The festival is called Reel Work and is being presented in celebration of International Workers' Day. Several labor unions are doing the planning. Call 454.2373 for more information.

DARK PLEASURES. In spite of some absolutely magnificent effects, I had to leave Clockstoppers. It is ruined by a teenage mentality--don't go. Robin Williams has never been my favorite actor, and he's no better in Death to Smoochy. Even Edward Norton, who is always good, can't help the bad plot--avoid this one too. The Rookie, starring Dennis Quaid, is an amazing baseball film. It has no sex, no murders, no graft, no drugs, and it's still a nice little picture. Go if you like nice. Jodie Foster's The Panic Room is a mess--and boring. The villains act like rejects from Shakespeare Santa Cruz, and the plot is all over the place. Somebody send Jodie some better material; she's too good for this dreck. The excellent film is Y Tu Mamá También. Directed by Alfonso Cuarón, who also directed Gwyneth Paltrow and Ethan Hawke in Great Expectations. It's one of those films that hits you on different levels for days after you've seen it. Lots of sex but with a purpose; lots of comment on Mexican culture and society. In spite of the ban on it being shown in Mexico, it's well worth seeing. Probably you should see it twice, because it takes you by surprise the first time.

BOOK SHOW & TELLS. Poet Morton Marcus will be at Bookshop Santa Cruz Monday (April 8) at 7:30pm with his new poetry book, Moments Without Names, as you undoubtedly know. Joe Collins, who wrote How to Live Your Dreams of Volunteering Overseas, which is a paperback encyclopedia of everything you ever wondered about the topic, will be at Bookshop Santa Cruz April 25 at 7:30pm. (Hint: Buy the book now and barrage him with questions at the appearance.) I've probably read 100 books about jazz over the years, but one of the finest, most thought-provoking is Eric Porter's What Is This Thing Called Jazz?, just published by the University of California Press. The unusual idea of having jazz musicians themselves write about their ideas of what jazz is has rarely been done, and Porter really figured out how to do it. He's got every racial and musical slant possible in this book, plus stuff ranging from Buddy Bolden to Wynton Marsalis. Porter is an assistant professor of American Studies at UCSC. Now somebody has to organize a forum or a talk at Kuumbwa to hear more from Porter and what he's collected.

BERLIN BOUND. I'm leaving on April 10 and will be back May 6. Aside from the 10 Wagner operas I'm going for, I have even more good news. Dr. Ekkehard Klausa of the Berlin Senate for Knowledge, Exploration and Culture is going to meet with me to discuss the city of Berlin's possible contribution to our Santa Cruz Peace Park. Berlin has many such thought-provoking monuments and memorials. Klausa was impressed by Hiroshima's willingness to assist in our Peace Park. I'll let you know as and how it develops.

MARY WARSHAW SHOW. Mary's one of the finest artist/graphics/illustrator people around these parts. She has a solo show at the Eloise Pickard Smith Gallery (at UCSC's Cowell College). It runs through 21. Don't miss it. The opportunity to see five decades of Mary's work at one time is rare and rewarding.

SANTA CRUZ, ONLY IN. Don't miss the Fourth Annual Children's Day downtown Saturday (April 6), 10am-4pm, on Front Street by the post office. It's all about kids and the activities and services that are available for them. There's no selling allowed, so it's all fun. The Santa Cruz Symphony plays that night at the Civic Auditorium at 8pm. Guest conductor Jung-Ho Pak will perform the music of Glinka and Glazunov, and Rimsky-Korsakov's Sheherazade--no dancing allowed. Tickets are available at 420.5260 or at the door. There's an adult fencing class being taught at the Vets Hall; it starts Wednesday (April 10) at 5:30pm and will be taught by master Courtney Blackburn. Just go watch; it's fun. I started out on foil, went to epee and ended up mostly sabre--that was then.

CAMPUS EARTH FESTIVAL. It's almost a secret, but there's a big Earth Festival happening (after we turn our clocks ahead) this Sunday from noon to 6pm at UCSC's Quarry. It's sponsored by the Alumni Association and many other groups and colleges. There'll be live music, tables, discussions and a chance to exchange ideas and work together on all the efforts to save our environment. Go to http://www.soar.ucsc.edu/enviroslug to get more specifics.
---
Reach Bruce at [email protected] or 457.5814, ext. 400.
---
[ Santa Cruz | Metroactive Central | Archives ]