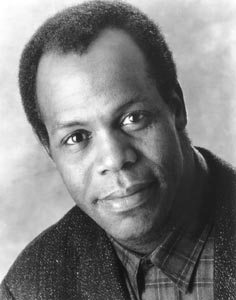 Rio Bravo: Danny Glover addresses social justice at the Rio Theatre on Friday.





Nüz

Beloved Glover

Like the Fashion Police, the Patriot Police know way more about right and wrong than we do. But while the F.P. will usually only go as far as sneering at us and our atrocious khaki sensibility, the P.P. publicly spouts vicious epithets, like "un-American," "unpatriotic," and "dangerous."

Hell, Ollie North might even call for a boycott of your latest movie, The Royal Tenenbaums, on his national radio show--especially if you are Danny Glover, and you tell a graduating class at Princeton that even Osama bin Laden should not be subjected to the death penalty.

Better known for Lethal Weapon than for a nonlethal response to crime, Glover has nevertheless spent years honing his views on social justice. This Friday, April 5, Santa Cruz will be honored with a rare appearance by Glover when he speaks at the Rio Theatre, at 5 and 7pm, an event sponsored by a long list of nonprofit groups, including Women as Allies, National Association for the Advancement of Colored People, American Civil Liberties Union, Resource Center for Nonviolence, Santa Cruz Women's International League for Peace and Freedom, UC Santa Cruz Center for Justice, Tolerance and Community and Sinsho-Mugen Daiko.

Born in San Francisco to activist parents, Danny (may we call him Danny?) has been a vocal critic of capital punishment for years, but has drawn the most criticism from his controversial speech at Princeton University on Nov. 15, 2001.

In his speech, Glover argued fervently against the death penalty, and when pushed to face the logical conclusion of his argument--that even bin Laden's life should be spared--stood his ground. He talked about how innocent people are put to death every year, how race plays a part in conviction and how "the use of homicide as an official tool of the state" is just plain barbaric. He talked about Ashcroft and Bush and the erosion of our civil rights via the Patriot Act. Glover remained measured and articulate throughout his speech, never surrendering to inflammatory rhetoric for inflammation's sake.

Glover's skill as a speaker should come as no surprise. After all, he's an actor and has starred in films like The Color Purple, Beloved and Buffalo Soldiers. (We'll get to Lethal Weapon in a minute.)

In an interview with YES! magazine, Glover told Sarah Van Gelder that black women writers like Toni Morrison, Alice Walker and Zora Neale Hurston give him a fair assessment of who he is as a black man.

"What I saw in those writers was a level of honesty and a level of love that is far too easy to lose track of when there is too much anger. There's something about the insidiousness of racism that doesn't allow us to look at ourselves honestly. ... They were saying, 'This is who we think you are, but we love you.'"

Leaping nimbly from the issues of power dynamics and exploitation to working with the world economy and the environment, Glover sounds more like an articulate progressive activist and less like a Hollywood action hero.

When Nüz heard that he was coming to the Rio Theatre to speak, we figured he was returning to his standup comedy roots like Whoopi Goldberg and Robin Williams, giving audiences an intimate look at the comedian who became a star. We did think it a bit strange that he would choose Santa Cruz for a stroll down memory lane, but we were hopelessly intrigued, having grown up de facto fans of the Lethal Weapon series, and having enjoyed the camaraderie between the hot-tempered Riggs and the affable family man Roger. Never mind that they killed hundreds of people, revoking the diplomatic immunity of villainous foreign ambassadors with bullets to the head. That was justice, and that was the best part.

Maybe our sense of aesthetics and politics has changed a bit since then. But then Danny is a different man to us now, too, in much the same way a pro wrestler's every headlock and suplex would appear different if we'd heard him peacefully protest the use of sweatshop labor. So, we feel a bit calmer floating in that pleasant kind of cognitive dissonance that lets us know the world sometimes works in mysteriously unlethal ways.

For ticket info contact www.riotheatre.com.

Sacred Sleuth

Learning about alchemy, Zoroastrianism and even sacred sexuality got a little bit harder last month when a student at the Freie Universität in Berlin hacked into the Santa Cruz-based Sacred-texts.com

Site administrator John Bruno Hare says a German hacker, purportedly a Christian fundamentalist, nearly brought down the site, which is one of the largest on the web on the topic of religion and carries a wide spectrum of religious texts in an effort to promote religious tolerance.

Determined to keep the site open, Hare sleuthed out the hacker, one Robert Mücke, who apparently used a machine in his university's physics department to conduct a series of denial of service attacks (which means a program is used to download the pages at a website repeatedly, thereby overloading the web server and preventing other users from accessing the site) against the sacred-texts archive for a 10-day period in March. Mücke reportedly downloaded the site twice a day, with attacks peaking mid-March, when he downloaded it five times over.

Hare says he first became aware something was wrong when sales of the Sacred-texts CD-ROM dropped dead.

"I had just shipped a new version of the CD, which had drawn a lot of interest, and I was mystified as to why it wasn't selling," says Hare, noting that customers leave if response time is slow, which is what denial of service does.

Concerned, Hare examined the site logs and found a massive number of hits arriving from a machine named "broiler.physik.fu-berlin.de."

Recognizing this address to mean the Freie Universitaet of Berlin, Hare contacted system administrators who promptly barred the hacker.

So, why did Mücke muck with Hare's sacred site?

An email (reproduced verbatim below) Mücke sent to Hare on being closed down may shed some light.

"I surely can not agree with to mix up all the pagan cults, idols, witchcrafts (6. & 7. book of "Moses"), esoteric, ocullt, theosophic and even satanic views and the God that created heaven and earth that hates these former things with one another without distinction. I am probably not the first who tells you this, but also not the last. God will be last one for sure. There would be no martyrs Fox could have been writing about, and no John Bunyan suffering persecution and writing such precious allegories about the way and fight of believers towards Heaven, if these people of former generations had such relativistic view of truth that comes more and more common today, that calls evil good and good evil."

Hare says the site usually gets a positive response.

"I get emails from people of all faiths saying that it's a valuable resource. Two days after Sept. 11, we saw a big spike in use, with up to a million hits a day, with people mostly referencing Nostradamus after receiving an email, saying the terrorist attacks were part of his predictions--a claim our site helped show to be an urban legend."

Noting that Buddhism, Taoism and Sacred Sexuality usually get the most hits, Hare says the purpose of the site is to promote religious tolerance.

"Unfortunately, there are also a lot of people who don't like the idea of religious tolerance and are willing to go to any extreme to quash it. Fundamentalism is beyond my comprehension and everybody is welcome at the website, but when someone starts denying others access, I have to draw the line. I'm just glad the whole episode is over."

Us, too. Come to think of it, Hare probably has the only functioning dotcom left in town.

Poppyheads, Unite!

Nippy weather, overcast skies and random showers of hail have discouraged the California poppy from showing itself, says Johnny Poppyseed, a.k.a. R. David Herndon, founder and director of the California Poppy Project, whose goal is to abate litter on trails and highways, coastal areas and parks.

"Poppies do not readily tolerate extremes in coldness or heat and it's possible the 99th anniversary of our State Flower on April 6, 2002, will be a bit disappointing," says Herndon, who meanwhile is searching for the oldest postcard depicting the California poppy image.

"It's a USA-wide effort to get people to look in their attics, old scrapbooks and in antique shops," said Herndon, adding that postcards must show original postmark and stamps, and date back to before the 1960s, "but nothing contemporary."

Email [email protected].

Nude Shocker

To the person who was shocked by last week's Bold Truths (3/27), which stated Palookaville will be hosting nude shows, all Nüz can say is, "APRIL FOOL!"
---
Drop a line to 115 Cooper St, Santa Cruz, 95060, email us at , or call our hotline at 457.9000, ext 214.
---
[ Santa Cruz | Metroactive Central | Archives ]