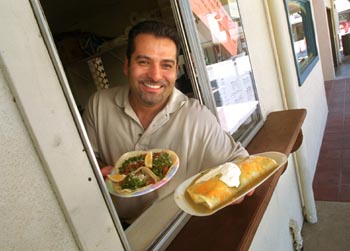 Photograph by George Sakkestad

Taqueria Time: La Mission owner Filiberto Torras

Metro Munchies

Taqueria La Mission at the bus station satisfies with hearty Mexican fare

By Janet Blaser

NOT HUNGRY? Then don't go to the new Taqueria La Mission in the Metro bus station downtown. Don't do it, because you won't get away empty-handed or empty-bellied. Especially before the lunch rush, when head cook Fernando Castillo is ready and waiting to fill you up with all kinds of Mexican goodies. Now, I know there are many--maybe too many--taquerias around here (almost as bad as the coffee shop invasion, some say). But hey, when a newcomer offers authentic, homemade tacos, burritos, quesadillas and the like at rock-bottom prices from a clean and well-managed kitchen in a central location--quickly--what can I say? I'm there.

And so it is with Taqueria La Mission, which is literally tucked into a tiny space that has housed various eateries over the years. New owner Filiberto Porras has cleaned the space up nicely and made it bright, welcoming and efficient. (Some of you may recognize Porras as the owner of Taqueria La Mission on the West Side; this is his second location.) Although there are two small counters inside, take-out is the most expected form of ordering. On the menu, you'll find hearty burritos (made with whole beans) for breakfast or lunch, pan-fried quesadillas, meal-size nachos (guacamole and sour cream always included, $2.77 with your choice of meat, or $1.85 veggie-style), tacos (two for $1.39) and a $1 cup o' coffee to wash it all down. The House Special Santa Cruz Burrito ($3.70) is a plate lunch served with beans and rice and a large burrito with your choice of meat, the standard fillings, all bathed in a piquant green mole sauce. The half-dozen meat choices include carne asada, pastor, chicken primavera and carnitas. Taqueria La Mission is open daily from 11am to 10pm, and the actual address is 920 Front St., Santa Cruz (466.9066).

Humans and Beans

Speaking of beans, remember that old school-yard rhyme "Beans, beans, they're good for your heart; the more you eat, the more you ..."? Well, golly gee, it's been proven true. No, not the second part, silly (that's common knowledge), but the first bit about being good for your heart. Turns out new research has found that eating beans four times a week can reduce the incidence of heart disease by 20 percent. Speculation is that the vegetable protein in legumes helps to lower blood pressure and reduce cholesterol.

I think I hear a horn tooting--and no, it's not mine. My fellow food writer here at Metro Santa Cruz, Christina Waters, has been nominated for one of the country's top culinary honors, a James Beard Foundation Award. Her story on red wines, "Blood Red and Ready to Rock," was chosen by a group of food, beverage and journalism professionals as one of three newspaper articles on spirits, wine and beer being considered for the award. A celebration gala will happen May 8 in the Big Apple to recognize a plethora of award winners, from chefs to cookbook authors to culinary journalists of all types. Christina's story can still be read online in the Metro Santa Cruz archives; its publication date was Oct. 6, 1999.

Sweet tooth? Check out Nell Newman's newest, another venture into the world of good-for-you treats. Newman's Own organic chocolate bars have been around for awhile, but now there's actual candy: peanut butter cups and mint patties. How are they? Well, a professional (ahem) taste test at my house tallied a vote of one adult, three kids fighting over the peanut butter cups; and a tie in regards to the mint patties. The package seems a little misleading, as the all-organic candies are much smaller once unwrapped; but the flavor is big and satisfying. Find them at natural-foods and grocery stores everywhere. Now, Nell, where are those fortune cookies we talked about, eh? I'm waiting.
---
Send tips and tats to Janet at [email protected]
---
[ Santa Cruz | MetroActive Central | Archives ]