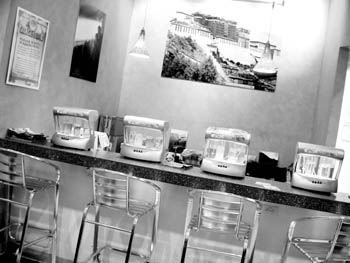 Belly Up to the Oxygen Bar: Gelatomania puts a high-tech twist on all-natural.

The Gelato of Love

Gelatomania owner Robert Clayton and manager Sarah Love bring some lofty ideals to the dessert table

By Jessica Neuman Beck

When you think of gelato, you also think, of course, of Buddhism and world peace. What, you don't? Well, then you never met Gelatomania's Robert Clayton and Sarah Love.

It was at Land of Medicine Buddha that owner Clayton and manager Love were inspired to go into business together, for some surprisingly lofty reasons.

"Our teacher wanted us to create a business that would profit world peace organizations," says Love. "We've already donated $50,000 this year, and after we get all of our money back from our building costs, we hope to do 50 percent of our profits."

It's a very Santa Cruz business model behind a very un-Santa Cruz facade. Gelatomania may look like a typical big-business franchise, but it's actually a startup for Love and Clayton. In many ways, its incongruities are what make it unique--modeled after a traditional Italian coffeehouse, Gelatomania also features wireless Internet access, vegetarian lunch specials and an oxygen bar.

If the owners think globally, they also act locally. Gelatomania's menu of hot foods comes from local favorites Star Bene, and their breads come from Kelly's French Bakery.

"We make all of our panini and salads ourselves," says Love. The daughter of restaurant owners, she's been in the business all her life, and says she's committed to using only the best ingredients. "Star Bene uses 99 percent organic, and [for] all of our produce, we use organic."

The thing you notice when you walk into the restaurant, of course, is the gelato. Two big cases of the colorful dessert dominate the front counter, featuring more flavors than the average person can imagine. "Right now we have over 30," says Love, "and that's gelato and sorbet." Some of the more exotic flavors include tiramisu, kiwi and grape.

The menu is constantly changing; Gelatomania likes to use the freshest local ingredients, so flavors like Last Summer's Peach and Apricot tend to be seasonal. "I love our Red Raspberry gelato," says Love, "and our Zabajone, which is a traditional gelato from Italy. It's crema-based, with Marsala wine and chocolate."

The gelato is also authentic. On-site gelato maker Fabrizio Pallotti hails from Italy, where his father, Oscar Pallotti, has been making gelato for 25 years. All of the ingredients that can't be found locally are imported. "Our pistachios are from Sicily, and our vanilla bean is from Madagascar," says Love. "We really try to get the best ingredients for every flavor." She adds, "The pistachio is amazing."

The oxygen bar takes the all-natural theme to a new level. Combining refined, concentrated oxygen with aromatherapy, oxygen bar patrons have found that a typical session does wonders for their well-being. "You know how after you do a really long workout you just get that energized feeling? It's kind of like that," says Love. "Some people say it detoxifies your blood. It's really good for your skin and your hair. It's a proven hangover remedy." Students love it for the extra mental boost it seems to give before a big test or a long paper, she says. "Everybody has a different experience," says Love. "I sat on the oxygen bar for about 25 minutes and I felt completely rejuvenated."

The public's response to Gelatomania has been overwhelmingly positive, the owners say, and the staff couldn't be happier. "I absolutely love it here. We've tried to create an environment that's peaceful," says Love, in an echo of her Buddhist roots. "We're really working on communication skills, and working things out with ourselves. It's a really great place to work."
---
Gelatomania is located at 110 Cooper St., Suite B, Santa Cruz. They're open from 11am to 10pm Sunday through Thursday and from 11am to 11pm Friday and Saturday. Reach them at 831.426.7117 or www.gelatomaniadesserts.com.
---
[ Santa Cruz | Metroactive Central | Archives ]