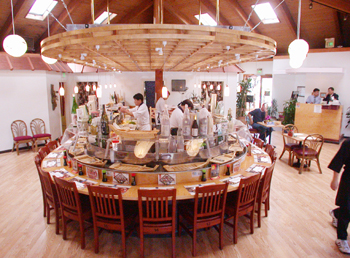 Photograph by Stephen Laufer

Shipping News: We don't want to gossip, but we heard these sushi boats really get around.

Rocking the Boat

Armed with a fleet of well-endowed sushi boats, the new Yamamori gives Scotts Valley a reason to say 'Arigato!'

By Christina Waters

Half of Scotts Valley seemed to have surfed up to the central island of Yamamori last week, an island inhabited by a crew of sushi chefs encircled by a flotilla of little boats.

Yamamori Sushi Boat & Grill knows that few combinations can match that of eye candy and oral gratification--so it gives us both. The sushi boats, laden with color-coded plates bearing freshly-made gems of sushi, pass before an outer circle of diners. See something you like? Just reach out and pluck it from the deck of the tiny ship. Instant, no-waiting, sushi satisfaction. The concept is irresistible, blending the best of interactive TV, computer games and designer smorgy.

We joined the fun, sitting at the polished wood wrap-around bar between a duo of girlfriends and some power lunchers with cell phones. Grabbing a pretty trio of tekka maki slices ($1.90) filled with rice, crimson ahi and pale avocado--a girl's gotta eat--I checked out the main menu. Yamamori isn't simply an enormous bar ringed by sushi boats. It's also a full-on Japanese restaurant, lined with cozy booths, dripping with round paper lanterns and featuring such greatest hits as donburi, udon, katsu, tempura and other grill items, in addition to classic sashimi and exotic specialty sushi creations.

Jack loves wakame, the glistening green seaweed salad drenched with sesame seeds and sake dressing ($4.25). And I wanted to try one of the grilled hamachi appetizers ($5.50). An order of little shrimp shumei dumplings ($4.95) seemed like a good idea at the time, and we also ordered two specialty sushi items--the seductive spicy tuna handroll ($3.80) and something exotic called a Cherry Blossom ($9.50) involving salmon and avocado wrapped in maguro. Now that's my idea of righteous excess. Sushi bars are adult candy stores--sampling a little of everything is the whole point.

The tiny shrimp dumplings arrived on a long enamel tray, little walnut-sized treats of transparent thin won ton stuffed with a shrimpesque filling with the consistency of mashed potatoes. Not enough texture (or flavor) to fire my rockets. The seaweed salad was terrific--chewy, gorgeous to look at and somehow tasting of the deep sea, it was large enough for us to share.

Guns of Yamamori

Jack's handroll came in its own little holder, sort of like a miniature lacquered gun rack. Laced just enough with hot sauce to be bracing, yet not mind-blowing, the spiced tuna in its nori cone was as good as we'd hoped. The whole deal with sushi, in addition to sheer beauty, is about contrast--soft plus crunchy, salty against sweet, hot next to pungent--and a bowl of grilled hamachi served with napa cabbage and carrots in a sweet and sour glaze almost brought those elements together. Almost. The glaze stopped short of getting interesting however; too sweet and rather thin tasting, and not enough gutsy tartness to really enhance the appealing and moist yellow tail. For the price, though, this was a fine little hot appetizer, and with the addition of wasabi it took on new interest.

The hit of our lunch last week turned out to be an opulent specialty roll, the Cherry Blossom, which arrived on a wooden plank with pretty sushi ovals arranged as petals of a huge blossom. In the center was a brilliant orange froth of tobiko. Each petal, a bit difficult to negotiate--"You really have to put the whole thing into your mouth at once," Jack insisted--hit the palate with savory salmon, sweet ahi, chewy (maybe too chewy) nori and sticky rice. Each petal was punctuated by chartreuse avocado and never was there a more elegant delivery system for the sinus-clearing properties of wasabi horseradish--the Tabasco of the East--and soy sauce. Chase that with a slice of pickled ginger and give thanks that you live on the Pacific Rim.
---
Yamamori Sushi Boat & Grill
Address: 5600C Scotts Valley Drive, Scotts Valley
Phone: 831.438.9262
Hours: 11:30-2:30 and 5-9:30pm Mon-Sat
Ambience: **1/2 Cavernous and lively, the interior pulses with sushi action and attractive décor.
Service: **1/2 Swift and precise
Cuisine: **1/2 Well-made sushi specialties, plus a full offerings of Japanese dishes
Overall: Great place to sample sake, swill sushi and watch those tasty little boats go by.
---
[ Santa Cruz | Metroactive Central | Archives ]