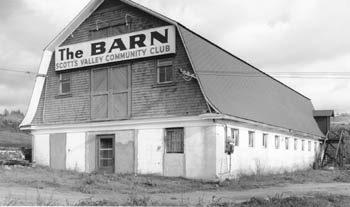 Covello & Covello Historical Photo Collection

Scotts Valley Barn: This photo was taken Jan. 25, 1954. That's long before the barn became famous in the Beatnik era for wild Ken Kesey-type Kool Aid parties. It was a stopping point along the coast, as were the many coffeehouses like the Sticky Wicket for travelers. Where were they traveling? I'm not sure they really knew, but eventually they got there. In the '70s and '80s, this barn housed dinner-theater shows like 'South Pacific.'

Bruce Bratton

RE-ENACTMENT OF THE 1942 EVACUATION. There's going to be a once-in-a-lifetime opportunity to see a re-enactment of the evacuation of persons of Japanese ancestry from Santa Cruz County that happened in 1942. The event will take place April 27, beginning at noon at the Watsonville Veterans Memorial Building on Beach Street and then moving to the Mello Center. More than 150 volunteers are involved in this presentation, and it'll be a Day of Remembrance like no other. Stories of the loyalty of Japanese-Americans who volunteered to serve in the Army and more stories of the brave relatives who suffered such cruel, unjust and undeserved treatment in the relocation centers will be re-enacted. As Susan Tatsui-D'Arcy said, "With similar discrimination facing our country, this event couldn't take place at a better time." Sandy Lydon will emcee, and Norm Mineta will be the keynote speaker. Tickets are free but very limited; call 722.6859.

DARK PLEASURES. As long as you remember that Amadeus is a play or a fantasy based on three facts about Mozart's life, it's a great film. See if Tom Hulce, who plays Mozart, doesn't remind you of a young Mickey Rooney. Santa Cruz's Adam Scott, along with Morgan Freeman and everybody else in High Crimes, does a fine job of acting, but it's still just another military murder cover-up story. Go see Y Tu Mamá También and Last Orders if you want to see good films. I'm not planning on seeing any films in Berlin, but I hope to visit the original sets of Fritz Lang's Metropolis and Robert Wiene's The Cabinet of Dr. Caligari.

A VERY IMPORTANT FILM. UCSC's Department of Film & Digital Media and other departments are sponsoring a one-day film festival titled "Against the Grain," Friday (April 12) at 7pm. It's free and takes place in the Media Theater behind the box office. There will be several short films and videos, all dealing with the theme of "identity," as in gender identity. HBO showed the 90-minute documentary feature Southern Comfort, and that film will be part of the festival. Southern Comfort won a Grand Jury prize at the Sundance Film Festival and is an important film. It's the too-real story of Georgia farmer Robert Eads, a bearded, gun-loving guy who was invited to join the KKK and who is dying of ovarian cancer! Southern Comfort is the name of the transgender group that Robert belongs to. It's a story that Sundance calls "a wonderfully humanistic portrait of transgendered life. Questions of sexual orientation, operative transitioning and discrimination are effortlessly explored. Raw, emotional and provocative, it will open minds as it opens hearts." Go see it, whatever you do. Call 459.1497 for more information.


MINI-JEWISH FILM FESTIVAL. Temple Beth El and Santa Cruz Hillel are sponsoring a mini-Jewish Film Festival in three locations on three dates. On April 28 at 7pm at Temple Beth El, there will be a screening of The Life and Times of Hank Greenberg, a documentary on the struggles legendary baseball player Greenberg faced as a Jewish presence on the baseball field in the 1930s. On May 4 at 9pm, Left Luggage starring Isabella Rossellini will be screened at the Baskin Engineering Building, Room 152, UCSC. It's about a 20-year-old woman in Belgium in 1972 who has her own views on religion, culture and herself and who wants to move forward without losing her history. On May 5 at 6:30pm at UCSC's Media Center, it's Trembling Before G-d, a documentary about gay and lesbian Orthodox Jews who want to remain Orthodox. Rumor has it that the film is powerful, provocative and surprisingly funny. Tickets are available at Santa Cruz Hillel (426.3332) or Temple Beth El--and info at 423.2505.

JUST A QUESTION. I've seen two local plays already this year that were so bad I didn't want to write about them. I used to pass along my reactions to local productions, but the reaction from the play groups has been so bitter, unrelenting and so self-suffering that it no longer seems worth dealing with. Give me a little feedback on this. If a play is here for more than one weekend, should it be treated like a film and damned if necessary? To be honest, I feel guilty not writing about the zingers. Would it make any difference anyway?

PACIFIC AVENUE MOTORCYCLE NOISE. Let's get this clear: I'm not against motorcycles, although I wouldn't touch one with a 10-foot crutch. I'm only asking if there isn't something or somebody that can stop the unmuffled, useless revving and polluting on Pacific Avenue. One lout phoned to call me lots of names and tell me that they aren't motorcycles, they're Harleys! One concerned citizen wrote to say the noise and pollution problem is bigger than local enforcement. He says we need a new section of the California Vehicle Code requiring motorcycle owners to comply with federal laws mandating that stock exhaust systems not exceed 80 decibels. He states that of the 60-80,000 new Harleys sold every year in California, it's estimated that 90 percent of the owners remove the legal exhaust systems. The other problem stated by the emailer is that the few state laws covering motorcycle noise must be enforced by a sound meter or the personal judgment of the arresting officer. Those sound meters require two-man teams and need periodic calibration. The CHP abandoned its meters in the '70s, and Capitola just got a unit, so we'll see. There are probably many Harley owners who do care about the environment, and obviously, they enjoy our Pacific Avenue downtown, but why do they take such delight in ruining our very successful downtown experience?
---
Reach Bruce at [email protected] or 457.5814, ext. 400.
---
[ Santa Cruz | Metroactive Central | Archives ]