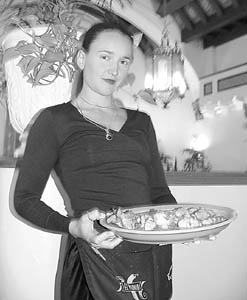 Tastes Like Chicken: El Palomar waitress Rochelle Knight offers up a signature dish of Pollo ala Michoacano.

Photograph by Stephen Laufer





Spicy Sensations

The mighty El Palomar continues to show why it's more than simply a fiery fiesta housed in a historic hotel

By Christina Waters

SINCE THE DAYS when El Palomar was first opened by Jose Espinoza almost two decades ago, I've been coming here for the sassy salsas, spicy seafoods and soft, meltingly tender house-made corn tortillas. Last week's loquacious dinner with four friends simply reminded me all over again why El Palomar flourishes. The arcade taco bar provides inexpensive bounty for the young and restless and those in need of a quick, cheap salsa fix. The lounge--still cavernous and no-frills--offers an oasis for happy-hour aficionados, and pours some of the finest firewater this side of the Yucatan. But I always prefer the beautiful, barrel-domed main dining room, which bears the traces of its former ballroom glory in polychromed beams, graceful covered fireplace and lofty ceiling.

We slid into one of those hemispherical booths and went where the margaritas took us, wishing that the table had a few candles to dispel the murky lighting. Inner clarity was, however, provided by my favorite margarita, made expensively (but since I only drink one a year, it's worth it) with the ne plus ultra Tres Generaciones tequila. Perfection with that haunting smoky finish for $8.25. The house salsa is pretty terrific, even if the copious, highly salted chips are only okay. Who really lets that stop them from megaloading chips when they've got their hand wrapped around an icy cocktail? Exactly. A very patient waitress understood that we needed to talk nonstop for at least a half hour before ordering our food, and she came back at least three times to check on us before we finally caved in.

Our resident biochemist craved the nightly seafood special of mahi mahi ($14.95) slathered with tropical fruit salsa in a fiery red sauce. He was prescient--the dish, like almost every nightly special El Palomar has ever perpetrated, was stupendous. I called for chile verde, received chile colorado ($11) and didn't mind very much the mix-up since it was all that succulent, falling-apart tender pork infused in a colorado sauce with more than enough zip to clear my windshield. Sarah, inspired by a second margarita, opted for a succulent entree spread of prawns in guajillo sauce--one of the true house specialties ($16.95), while Lea demanded an order of wrapped tacos, two Mexican handrolls filled with shredded cabbage, soft beans, moist charbroiled snapper, guacamole and salsa fresca ($13.95).

The big attraction here is the soft corn tortillas, so tender and delicious they will utterly change your entire corn tortilla consciousness. We even ordered a basket of them ($1.75) for the center of our table, and all took turns filling them with bits of our entrees before inhaling.

Each order arrived on huge, brightly glazed stoneware platters--very festive and pretty--along with wonderful refried beans, rice (which I ignore but others adore) and shredded cabbage, guacamole, sour cream and salsa fresca. No one ever keeled over from starvation at El Palomar. Sarah gave me a prawn to sample and I admired its firm, moist texture, the firepower of the red chile-infused guajillo sauce and the cilantro and garlic glaze bathing each fat prawn.

The huachinango tacos are a splendid packages of protein, although I have no idea how a single person (or even a married one) could actually finish both of these substantial tacos. Our wait person recommended that we share a layered ice cream torte for dessert and brought us one of these monuments to cream and chocolate, along with four forks ($5). Drizzled with chocolate sauce and topped with whipped cream, it was a rich, sweet, gooey, playful finish to a deliciously fun meal. Delicious fun with a Mexican accent pretty much summarizes the whole point of El Palomar--long may it live.
---
El Palomar
Address: 1336 Pacific Ave., Santa Cruz
Phone: 831.425.7575
Ambience: *** Gorgeous main dining room offers lively atmosphere and spacious party-making booths.
Service: *** Smart, patient and helpful
Cuisine: *** Unbelievably consistent fresh creations, lavishly accompanied by killer beans and salsa fresca
Overall: Still one of the main reasons for a visit to downtown Santa Cruz
Price: Moderate
Full bar
---
[ Santa Cruz | Metroactive Central | Archives ]