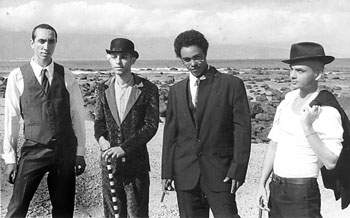 Arabic Groove: Hawaii, Jordan and gay politics influence Juha.

Come the Revolution

Queer people where you at, put your fists up!

By Mike Connor

THIS SATURDAY AND Sunday, the 418 Project will be hosting funky queer Arabic hip-hop from Hawaii. It may sound hard to swallow at first, but like all vital cultural expression, hip-hop didn't start out prepackaged, complete with a catchy label, nutrition facts and a predefined mission statement. Still, it's a shame that Jojoboy, one-quarter of hip-hop act Juha, still has to answer questions about what it's like to be an openly queer hip-hop artist. He patiently explains that there are more queer hip-hop acts these days, including a queer hip-hop festival coming up in September.

And then he answers the question: "[Hip-hop] has been a very macho thing; the word "faggot" is thrown around a lot--queer hip-hop acts have had to define a space for themselves and try to make their way in it. Queer hip-hop kind of seems like a contradiction--but hip-hop started in basements as something revolutionary, and it went from something underground to a huge culture that is really extraordinary in the way that it has empowered people. [Hip-hop's] appeal for us is this empowerment."

Citing influences from Boogie Down Productions and Yoko Ono to Siouxsie & the Banshees and Public Enemy, the music on Juha's album Polari is richly diverse. Lyrically, Juha is all about a revolution of freedom against violence and hate, doing what they can to keep it fun and freaky along the way. At times they conflate "Phallistinian," English and a little bit of extra sumpin' to get a language and a flow all their own. In "Melt by Your Mouth," Juha criticizes the more destructive currents in hip-hop through a sympathetic skewering of Eminem. "I was a sissy on the playground hanging limp from a tree / that I knew only grew to help the kids taunt me / Now look at you, little man, running round with its seeds / that you claim you must plant cuz somebody made you bleed. / Once twinkling after Pride my friends and I / we got our spines smashed in / and I was sure once we'd survived / mere words could not hurt me again. / So will you please get real & please stand up / We all been beat, we all been abused / Don't talk to me bout walking in your shoes / cuz look at my feet, you little dick --I got shoes too."

Juha also recognizes that you can't win a revolution without a sense of humor. The title track of the album Polari is a gay man's free-for-all raunchfest, showing the world that straight MCs aren't the only ones who can rhyme about waxin' that ass. "Hold up daddy cuz your eyes gonna cross / if they keep swayin back and forth with my ass as I toss it / but I say if you got it then you gotsta flaunt / so try to keep steady as I tell you what I want. / All the parents in the house go make some noise / cuz some other daddy's in charge of yo' boys / Fuck all their leather--when it comes to skin, / I like mine live like yours and I'm in / that ass--slow then fast /If I do it harder how long can you last?"

But with Juha, they always come back to the revolution. In "Popcorn Money" they sing the absurdity of paper money and power. "You can keep the people hungry, but turn around and cough / the people got so skinny that they shackles fell off. / We be drippin with the juice of our minds turned loose / from the rope of their hypnosis. / Lawd, we slipped out the noose! / Can I get an amen?"
---
Juha performs Polari April 13 and 14 at 8pm at the 418 Project, 418 Front St., Santa Cruz. Tickets are $10/$8 and are available at Madame Sidecar, Chocolate and Libelula. (466.9770 or www.four-eight.org)
---
[ Santa Cruz | Metroactive Central | Archives ]