Illustration by E. A. Chase

War on Peace

Seems that Santa Cruz likes to fight about everything--even peace

By Rebecca Patt

WHEN A PLAN for a "Peace Park" creates conflict, and when the park's main feature--a wall--creates divisiveness, the irony's enough to make anyone groan. But that's precisely what's happening in downtown Santa Cruz as proponents of the Doug Rand Peace Park strive to establish their vision at the Town Clock Plaza. The potential implications of this project make the River Street sign debacle seem minimal, for the peace park signifies way more than a place to turn left, unless we're talking left wing.

Supporters see the Doug Rand Peace Park as a great opportunity to encourage a dialogue about peace, honor peace activists and create a meaningful work of art.

Detractors call it an ill-conceived idea that serves the interests of only a few. They are challenging virtually every aspect of the project, from the park's name, expense and location to the very philosophy underpinning its design. And in the post-9/11 fallout, the park has flustered patriotic sentiments, provoking a fuzzy debate about the differences between "peace" and "antiwar."

The proposed site of the Peace Park has been a central community gathering spot since downtown's formative years. Poised at the crossroads of Pacific Avenue, Water Street and Front Street, the Town Clock Plaza is a cement traffic island purchased by the city in 1966 and home to three of Santa Cruz's key landmarks: the Town Clock, Morris Fountain and the antiwar statue known as Collateral Damage.

In recent years, the park has fallen into disrepair, marred by broken pavement, shabby landscaping and incohesive design. The Doug Rand Peace Park Committee says it seeks to renovate the run-down plaza, rename it after Doug Rand, and build a fourth monument--the Wall of Consequence.

The wall would consist of a base of river stones embellished on the inside with labeled artifacts from war zones around the world throughout history. Along the outside of the wall, plaques would list the names of people who have been peace activists in Santa Cruz.

"Wouldn't it be great to have it in the main area of town, to stop and think about our own actions and how we can promote peace?" says Mathilde Rand, Doug Rand's widow and head of the Doug Rand Peace Park Committee.

Give Peace a Chance

Few argue--although some do--that a peace park is a bad idea, but people have a very different perspective as to what that should look like. And some, when they find out the particulars of the Doug Rand Peace Park Committee's vision of a peace park, feel anything but peaceful.

Patricia Morales, an El Salvadoran native who has lived in Santa Cruz for 13 years, says the whole notion of the Wall of the Consequence deeply disturbs her. She says that the wall is using people's pain and sorrow without their permission, and she could just see people climbing on it to get a better look at the happenings of First Night.

"As a native from a war-torn country, I just found it disrespectful and intrusive to have those countries who have been torn display their war ruins in some wall," she says. "I love the idea of peace, I cherish what that feels like, but I really don't think that's what this will convey. I don't think the community at large is ready to look at something like that and give it the respect it deserves."

"I think it's clearly exploiting the victims," says Karen Christopherson, a Santa Cruz native who worked on a disaster relief crew at ground zero in New York. "It's not really a peace park dedicated to the civilian victims of war. It's an antiwar park dedicated to an antiwar activist."

At the center of this dispute hovers the ghost of Doug Rand, who died of a brain tumor in 2000. A diligent and influential activist during his 45 years, Rand frequently took a stand in objecting to war, weapons and violence. Among his activities were counseling conscientious objectors on resisting the draft and organizing protests against a U.S. Navy ship docking in Santa Cruz in 1989.

Rand also left his mark on Santa Cruz by facilitating the installation of the sculpture Collateral Damage, which was dedicated on the 50th anniversary of the Hiroshima bombing in August 1995. Along with Collateral Damage's creator E.A. Chase and a few others, Rand was instrumental in conceiving of the Wall of Consequence as a way to enhance the antiwar theme Chase's statue brings to the park.

The Doug Rand Peace Park Committee says it seeks to honor Rand's work by renaming the park after him--an honor Mayor Christopher Krohn doubts Rand would welcome.

"He touched a lot of people," said Krohn. "Doug would definitely want a peace park. He would not want it named after him."

In Glass Houses

Meanwhile, many residents feel naming a public park for Rand is inappropriate. A friend and inspiration to many, Rand was also a controversial figure who was often met with disagreement. His character has also been questioned over an incident where he allegedly threw a rock through a loud neighbor's window, an episode his widow Mathilde insists was purely an accident.

"I understand that people admire Doug Rand," said Rachel Kliger, the webmaster of www.santacruzwatch.org, which is the website of a coalition of residents opposed to the Doug Rand Peace Park. "They think of him as some sort of hero, but there's a lot of us in the community, an equal number or greater, who didn't know his name. But when we found out the things he did, we didn't like the things he did."

Some argue that naming a public park after an individual is wrong--an issue the City Council addressed in 1975 by directing that geographical location be the foremost priority in naming a park.

As the city faces making $1.5 million in budget cuts, others have loudly criticized the expenditure on the park. Steve Hartman, who is targeting the issue as part of his campaign to repeal the city's utility tax this November, is loudest. But Parks & Recreation Department associate planner John Akeman says fixing up Town Clock Plaza is a high priority.

"The site needs attention. It looks run-down, and if it doesn't get the attention then you are going to have activities that are run-down," Akeman said.

Last summer the City Council voted 6-1 to spend $93,000 on improving Town Clock Plaza with a focus on establishing the Peace Park. The funds are designated mainly for renovation of the deteriorating pavement as well as the fountain's irrigation and the clock tower's electrical system, which are in danger of failing. The sum doesn't cover all the expenses of the improvements needed to give the park a makeover, but Peace Park organizers say private donations will defray the total cost of upgrading the park and implementing their vision--including the cost of building the wall.

Akeman explained that the time is ripe to repair the park, as PG&E will be ripping up the concrete over the next few weeks to install underground electrical vaults. He noted that people tend to underestimate the costs
involved in maintaining city parks as safe, quality places. For example, the city recently completed renovations of over $100,000 each in San Lorenzo and West Lake parks.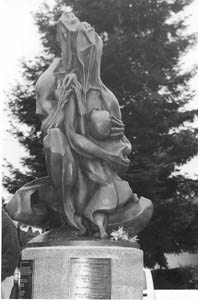 Stand Tall: The proposed Peace Park would adjoin Santa Cruz landmark 'Collateral Damage.'
Photograph by Ella Seneres

Krohnyism?
Councilmember Mark Primack was the lone vote against the expenditure.
"I felt that it was one of those cases where the council was responding to a small group in the community and mistaking their enthusiasm for consensus and a communitywide interest," said Primack.
He feels the City Council is prone to this mistake with a project involving Doug Rand because many of the councilmembers had a close friendship with him. In fact, Rand managed the campaigns of Krohn, Keith Sugar and Tim Fitzmaurice in 1998, when they all opposed the controversial Beach Flats development plan.
Krohn said that his goal is to make the City Council more inclusive and that they are willing to consider the requests of any group that comes forward. He defended his yea vote on the funding, saying that his support of a park that celebrates peace is independent of his relationship with Rand.
"The Peace Park is the issue here and not somebody's personality," he said.
Krohn said he believes the concept of a Peace Park would be an appropriate gesture considering the city's character as a progressive haven since UCSC was established in 1965. He also thinks the location is right given that it is already a place where people gather in times of crisis. He sees the park's potential to be an asset for residents and visitors.
"I would expect it to be an attraction for people outside of Santa Cruz. It could be incorporated into the tourist economy of Santa Cruz. I think people would travel to see that," he said.
The Doug Rand Peace Park Committee is now jumping through hoops to gain formal approval for its design. In spring 2001, they held two public workshops to gather input about the design, both of which were poorly attended. They have also made presentations to various public committees. Once an engineering firm has finished approving their concept, they will go before the committees again and follow the City Council's direction.
"This is an incredible project. If we can take away all of the trivialization and attacks and have people really look at the potential of the park, people would see the potential to continue the longstanding dialogue about peace in Santa Cruz County," said Rand.
Question Authority
Robert Darrow, who in 1976 led the effort to restore the Town Clock and place it at its current site to celebrate the U.S. bicentennial, objects to the theme of peace dominating the Town Clock Plaza.
"In our history we haven't had peace without freedom, unless people were willing to fight for it and lay down their lives," he said. "The Town Clock embodies that spirit, but to change the focus now to a political activist spirit that says you shouldn't lay down your life for your country completely changes the focus."
Peace Park committee member David Rigler said he disagrees that peace and patriotism are contradictory.
"Isn't it true that the goal of those of us who do fight is to fight for peace?" he said.
Although the Wall of Consequence monument questions war and military action, Rand says its intention is not to oppose the military-and therein lies an important distinction.
"Everyone needs to ask questions. If you question authority, it doesn't mean you are against authority. I know firsthand because I am in a position of authority," says Rand, who is the principal of Mintie White Elementary School in Watsonville. "But to question something there has to be respect."
Rand says that she invites respectful questioning of her authority as principal just as she embraces it as essential to the health of any community and democracy.
"My late husband was very good at asking questions," says Rand, who encourages respectful questioning of the Doug Rand Peace Park Committee's plans. "We are very interested in having a peaceful and civilized discussion about the peace park," she said.
Krohn emphasized that he is taking people's concerns very seriously and that he welcomes further input.
"I'm in favor of a peace park," he said. "I'm not in favor of disrespecting people."
[ Santa Cruz | Metroactive Central | Archives ]