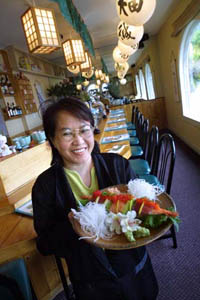 Crowning Creation: Manager Pam Nanongkai displays Paradise Sushi's rainbow roll.

Photograph by George Sakkestad





Paradise on The Beach

Is sushi as good as sex? Sometimes, for example at Capitola's Paradise Sushi--a tekka mecca that lives up to its name.

By Christina Waters

DANE DIDN'T mince words. He was going to be our "cooked food" guy that night at Paradise Sushi. "I will eat California roll," he added with an adventurous grin. Jack and I just rolled our eyes and headed up the stairs to the sushi bar-with-a-view that is Paradise.

Green textile banners punctuated the pale-wood room dividers. A psychedelic aquarium created happy vibes in the center of the main dining room, and the sushi bar was stocked to the gills with the long, slender columns of ultrafresh hamachi and maguro--the superstars of sushi.

The staff runs a tight ship at Paradise Sushi. Asked if they had shiso leaf, the sushi chefs fired back: "We've got it, and we know how to use it." That was good enough for me. That and the gorgeous glimpse of the blue Pacific shimmering atmospherically beyond each window.

Jack and I steered Dane to a table in the far corner but not before we'd had a few minutes to consider the blackboard list of nightly specials. "Beast of Eden"--great name. Salmon, avocado, garlic shiitake. ... hmmm. But then Jack spied the Soylent Green. Not just another witty, only-in-Santa Cruz title, this one sounded beyond intriguing. Fresh asparagus, shiitake, smoked tofu, pickled daikon and garlic all rolled up and then tempura fried. Sign me up.

Along with a small sake for me and beer for the boys, we shared a delicious Ocean Salad ($3) of soft, chewy marine veggie (a.k.a. seaweed) in a brisk, rice-vinegar dressing. Fabulous texture, we all agreed. Dusted with sesame seeds, this appetizer was a hit. Dane had time for only a brief update on his house on Maui before our huge tray of sushis arrived.

Perfect maguro nigiri ($4.75), with long, crimson slices of ahi like oceanic odalisques, lay next to a legion of perfectly made tekka maki ($4.50), pungent shiso leaf tucked into every slice. In the center lay an archipelago of spicy tuna roll ($4.75), all gooey with hot filling, and next to that was the better-than-average array of California roll ($5). Dane was happy.

But the crowning sushi creation of the night was definitely that awesome Soylent Green ($5.25). Gorgeously constructed--thin, crisp tempura crust outside and an interior mosaic of plump asparagus, crisp pickled daikon and smoked tofu--it was absolutely wonderful. Once Dane was hooked on the Soylent Green, we tempted him with a small tekka maki, and before he could even think about it, he had eaten--and loved--raw tuna. There was no going back, and we had to fight him over the remaining sushis containing ahi.

Thank goodness, our order of ebi tempura ($7.95) arrived. Arriving on a clever wooden serving tray, six enormous prawns were cloaked in a filigree of ethereal golden batter. Sweet, moist prawn in crispy wrapping--these terrific textural contrasts were enhanced by a light ponzu sauce, although I still preferred dipping the tempura into my own blend of soy sauce and wasabi.

We all agreed that this particular selection of sushis went beautifully together. From low-key Cal roll to very hot and spicy tuna roll, with the tekka maki and complex Soylent Green filling in the middle.

What is there about soy and wasabi that makes you crave a sweet dessert? There was no need to deprive ourselves with Gayle's Bakery just up the hill. So we finished up our evening talking around one of those inviting back tables near the espresso area. Of all our desserts, it was that voluptuous slab of Key lime pie ($3.25) that really hit the spot. It's hard to beat the combo of citrus, cream and graham cracker crust. Jack wasn't thrilled with his overly thickened cherry pie, but we all loved that Key lime creation. Perfect after sushi straight from Paradise.
---
Paradise Sushi
Address: 200 Monterey Ave., Capitola
Phone: 831.464.3328
Hours: Noon-9:30pm
Ambience: *** Crisp and colorful, with ocean panoramas from every window
Service: *** Friendly, swift and observant, at tables as well as sushi bar
Cuisine: *** Ultrafresh ingredients are crafted into generous, good-looking presentations
Overall: Attractive, smart and graced with one killer location, Paradise is Capitola's sushi Eden
---
[ Santa Cruz | MetroActive Central | Archives ]