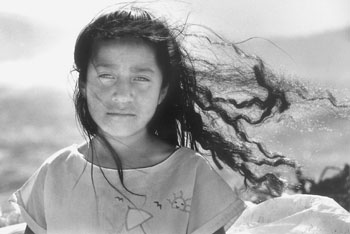 Cast Offs: 'Ana del Basurero' is from Janjaap Dekker's photo essay of Oaxaca's impoverished trash pickers.

Captive Truths

Photographer Janjaap Dekker documents the powerful and the powerless

By Richard Pitnick

THEY ARE CALLED the pepenadores, a group of impoverished villagers living outside Oaxaca, Mexico, who travel each day to the basurero, the city's massive garbage dump. There they eke out a meager living picking up recyclables like glass, plastic and metals, and whatever food that might still be edible.

As documented in 1998 by Soquel photographer Janjaap Dekker in a series of stark and powerful images, the pepenadores appear as wraithlike reminders of how in a world of incredible plenty, some people are still forced to scavenge off of the remains of human indifference.

For the past five years, Dekker has served as chief photographer and photo editor for El Andar, a Santa Cruz-based national magazine of Latino culture and politics. Regardless of whether he is photographing the Zapatista rebels in the Chiapas highlands of Mexico, the frenzied prayer of Pentecostal worshippers at an east San Jose church, or a patrician celebration among the upper crust in Laredo, Texas, Dekker's work is marked by an abiding passion and interest in both the dispossessed and the powerful.

"A lot of my work has what I hope is a social relevance," says Dekker, who has been living in the United States for the past 20 years. "What I'm drawn to at heart is photojournalism. I photograph for my own enjoyment, but also to convey things and influence people. I do have an affinity for the socially disadvantaged, which is where traditionally photojournalists and writers go; people like Gene Smith, the [Farm Security Administration] photographers, Cartier-Bresson and Sebastio Salgado."

Life Studies

ALTHOUGH HE retains a heavy Dutch accent and a degree of European refinement that is somewhat of an alien concept in this country, Dekker has embraced the mad, intoxicating vortex that is American culture. His incisive images in El Andar reflect his ambivalence of how raw life can be in this country, yet how enticing in its declaration of freedom.

"America wasn't looked at as a pretty place among the left student rebellious types where I came from," recalls Dekker of that period in the mid-'70s when he first entertained the idea of coming to the United States. "But I had traveled around Europe with Americans who had a zany energy that you couldn't find in Europe or Holland, and that totally fascinated me. America was the 'evil empire' coming out of Vietnam and world hegemony. I saw it as arrogant but wanted to come see it anyway."

Before coming to the United States, Dekker worked in Amsterdam earning a living as a puppeteer, doing stage lighting and designing theater posters, and some photography work as well.

"I had always drawn and sculpted and was always visually busy; it's where my imagination goes," explains Dekker.

Dekker's first introduction to the United States was in the streets of New York, a mad mix of noise, people and concrete that Dekker found overwhelming and not to his liking. He ended up hitchhiking to Salt Lake City to stay with friends. There he bought a motorcycle and traveled around the West until finally settling in California.

Dekker says he "dropped out" for a while in the early '80s living and farming in the mountains in Siskiyou County. He eventually moved to San Francisco, where he worked as a carpenter until 1990. In 1991, he gave it all up to move to Santa Cruz and fulfill his lifelong dream of becoming a photographer.

According to Dekker, his work with El Andar, which went from newsprint to a quarterly glossy magazine two years ago with a circulation of approximately 10,000 readers, is a perfect match in terms of his political and photographic interests.

"El Andar is great. I can do a whole range of photography from portraits to social documentary to quasi advertising," Dekker says. "I enjoy both documentary and photo illustration; they're different and get different parts of me. Photojournalism is a different bag, traveling through a crowd with a little camera, observing. I like to keep myself in the background as an observer. I also enjoy setting up tableaux similar to a documentary image.

"You still have to interact and watch the energy flow and try to take care of all the parameters," he continues. "But when things are happening I let the people go and let myself go and become again like a photojournalist, but in a controlled situation to capture the energy."

Regardless of the type of image or style of photography, Dekker's primary goal is to capture that moment of overriding truth that is the essence of a great photograph.

"I use everything to pull out all the stops and win people's trust," he says. "I get the most satisfaction when the photograph transcends what I think it means and touches people in ways I can't predict."

Dekker hopes to return to Mexico to follow up on his coverage of the Zapatista rebels, and possibly travel to Cuba as well. Although he also works as a regular freelance photographer, his work for El Andar remains a priority.

"The magazine talks about issues, human issues that I care about," says Dekker. "I've found a home at El Andar with these socially conscious people."

"I'm going to apply for citizenship so the United States can't kick me out," he adds with a laugh. "It takes me a long time to feel at home, but I feel American enough to formalize it."
---
'Los Pepenadores de Oaxaca' by Janjaap Dekker can be viewed online at www.elandar.com/back/winter98/stories/oaxaca.html.
---
[ Santa Cruz | MetroActive Central | Archives ]